Polka: an eco-friendly alternative to traditional plastic bags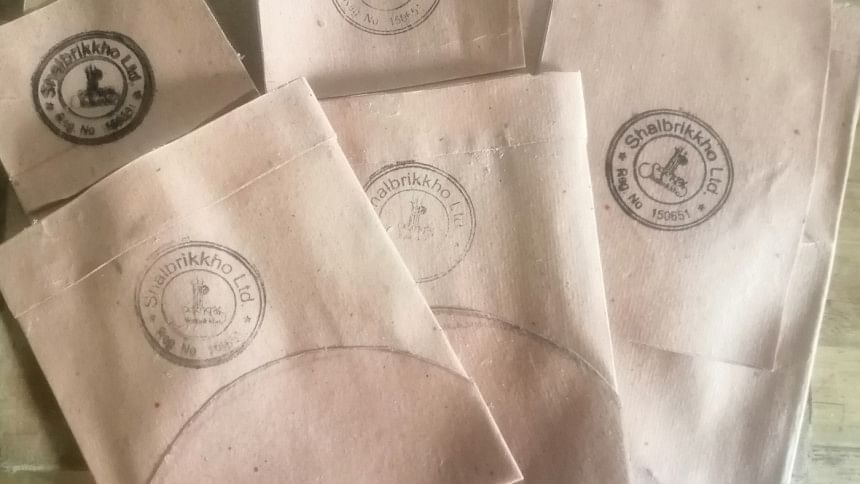 The uses of plastics cannot be curtailed completely, but eco-friendly plastics may step in to reduce environmental pollution as well as to fulfil consumers' different purposes. Environment-friendly alternatives for plastics can be created using either recycled plastics or natural materials. Shalbrikkho, a Bangladeshi startup working with biodegradable and recycled products has initiated 'Polka', a green and sustainable alternative to traditional plastics using the way to create such alternatives with natural materials.
What is Polka?
Polka is a bioplastic product that is made from potatoes or potato starch. It is not plastic at all. However, this product is semi-transparent like traditional plastics making it a good alternative against polybags. Normal plastics can easily be attached or put together with the help of fire. Polka is different from this characteristic of plastics. It has a quality of fire retardant materials, which prevents the fire from spreading or slows down its spread. Traditional plastic bags take thousands of years to decompose completely because they are hydrophobic. Since Polka bags are hydrophilic, these start absorbing water gradually after being discarded, and soon these get completely decomposed in soil. It takes the highest 180 days to degrade in soil.
The main raw material of 'Polka' is potatoes. After grating potatoes finely, they keep them in water for some minutes and then extract the liquid from those grated potatoes as much as possible. After a few important steps such as heating and appropriately drying this liquid, the starch is being extracted from potatoes. This starch along with other essential products is used to make a special chemical formula, which is then spread evenly on a solid surface to produce Polka bags. The preparation of this innovative chemical from the extraction of potatoes manually takes around 2 hours, whereas the further procedure to make the 'Polka' sheets from this chemical formula takes seven to eight hours. Then these sheets are attached or stitched like a normal bag to complete such bags. Some handheld pieces of machinery have been developed by the team of Shalbrikkho for this purpose.
An expiry date for polka bags
As these bags are made from natural materials, they need to be used for a certain period before they start to degrade. In general, Polka bags can be stored for three to four months in hot and humid areas. But if the area is cold and dry, then these bags will be good enough to store and use for around 8 to 10 months.
How did it all start?
A few years ago, Mahbub Sumon, the founder of Shalbrikkho came to know personally how potato farmers and cold storage businessmen struggle due to the surplus of potatoes while working to create solar electricity for cold storage in Munshiganj. He already had an idea about the possibility of creating compostable bioplastics from starch. So Mahbub thought that it could be a good plan to use this surplus of potatoes to make starch, and then use this starch to create bioplastic products for our country. In this way, the loss of potato farmers and cold storage businessmen could be reduced, along with the pollution of using poly bags. This thought led Sumon to start making 'Polka' bags.
Mahbub Sumon said, "These are many uses of plastic. And many of them can be replaced by Polka. But to develop such alternatives, we need to carry out our research uninterruptedly which is quite expensive. Since we work with a self-fund, it is hard to continue such research and to arrange good pieces of machinery, lab and raw materials at the same time."