NASA to livestream intentional spacecraft crash: Where to watch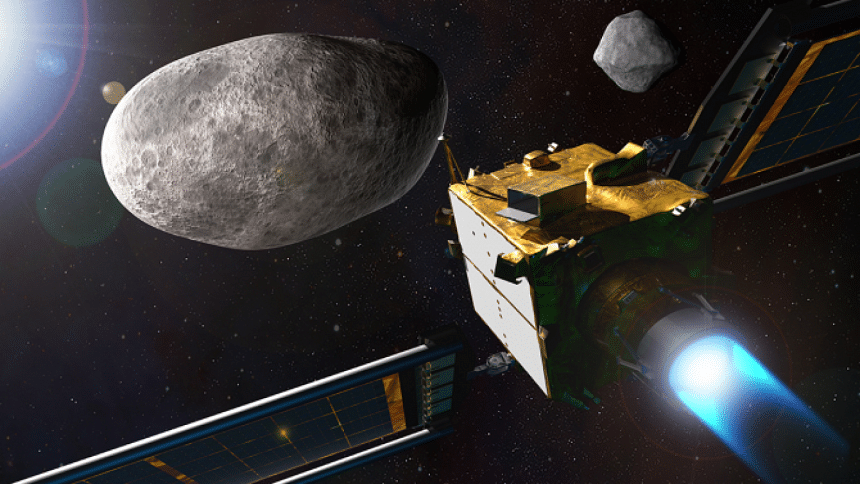 NASA is deliberately crashing a spacecraft named Double Asteroid Redirection Test (DART) into an asteroid called Dimorphos, in an experiment to prove the possibility of deflecting space rocks using objects launched from Earth. The crash will be streamed live on the NASA TV website and their YouTube channel on September 26 at 6 pm ET (September 27 at around 4 am Bangladesh time). 
NASA has made it clear that the asteroid or the clash will pose no harm to Earth, and it will happen millions of miles away from our home planet. The project is aiming to test if Earth is equipped for asteroid deflection and if intentional spacecraft crashes such as this could be a viable method to prevent future asteroid collision courses. 
The asteroid Dimorphos orbits a larger parent asteroid named Didymos. NASA has stated that the crash will occur at a speed of 15,000 miles per hour, which is expected to change the rate at which Dimorphos orbits Didymos, cutting off about 10 minutes from current orbit time. The current orbit time for Dimorphos around Didymos is a little under 12 hours. 
The spacecraft DART will be carrying a navigation system called SMART Nav to guide its journey. Additionally, it will be equipped with the specially built Didymos Reconnaissance and Asteroid Camera for Optical (DRACO) navigation camera, which will be showing a live feed of the journey as well the crash. At the time of the crash, the asteroid will be about 6.8 million miles away from Earth.