MommyKidz: One-stop healthcare companion for parents and caretakers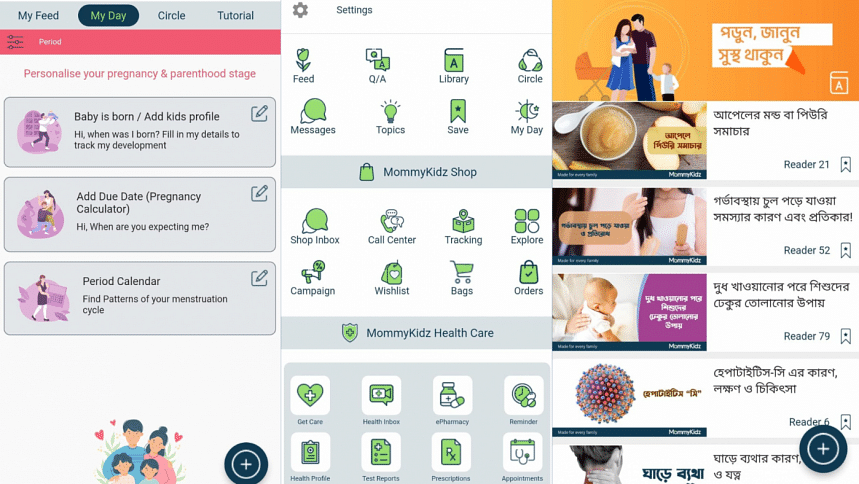 Picture a single destination for all your pregnancy and parenting needs, erasing the necessity for lengthy doctor visits and extensive online research. Launched last year, the Bangladeshi app MommyKidz aims to address such challenges, with the mission to make information regarding pregnancy and parenting more accessible to local users. Moreover, MommyKidz is not confined to just mothers; it's open to all caregivers, be it fathers or male family members. 
Being a community-based app, MommyKidz provides an interactive social platform for expectant mothers and parents. It aims to offer vital tools and support to empower everyone, including fathers, caretakers, and other male family members, to promote inclusivity in the world of parenting. The app currently has over 40,000 downloads and 28,000 active users, including 5,000 males involved in caregiving and receiving parental guidance, as per Nishat Anjum Palka, CEO and Co-Founder of MommyKidz. They also have a health team that regularly responds to user questions.
Features of the app
The MommyKidz app is a helpful resource: providing essential information, practical tools, and a supportive community for users from early pregnancy to the early years of parenting. Users can seek guidance from Health Officer Dr Fahima Aktar Chandni, an experienced gynaecologist at Enam Medical College & Hospital, or schedule a video consultation for BDT 100. 
The app also offers a Health Assistant - a certified nurse - who connects users with doctors for Q&A sessions. Users can also receive prompt assistance from the Health Assistant for any pregnancy-related queries, with the option to upload prescribed reports or test results to receive immediate guidance. Some of the most common queries of this app revolve around dietary recommendations, medication inquiries, and sharing ultrasound reports for assurance.
The app has a 'Health Care' feature that supports users in monitoring their pregnancy and baby's development, connecting them with the aforementioned Health Assistant, facilitating e-pharmacy orders, uploading reports, and prescription storage. The app also offers a flexible 'Health Profile' that can be used by family members beyond pregnant mothers to manage health-related data and share it with doctors during appointments.
In the 'My Day' section, users can personalise their pregnancy and parenting journey using a versatile tracker tool, which allows them to monitor their entire 280-day pregnancy and customise the calendar for specific needs. Additionally, the app provides a safe and inclusive space for its users, where mothers and parents can engage, seek support, and access resources specific to their unique journeys into motherhood and parenthood. Users can also join a 'circle', where, for example, a 3-month pregnant woman can find other women who are also at the same pregnancy stage. They can talk and chat with each other and get much-needed emotional support.
The app also features a 'Baby Growth Tracking' tool for monitoring a child's development from birth to age five. It covers weight and overall health; providing guidance for each growth stage. Users can opt to receive daily updates for tips on proper care and parenting. The app supports interaction among user-to-health assistant, doctor-to-user, and user-to-doctor. In this interaction, doctors can chat with users to understand their issues and offer guidance.
The 'Library' section offers tailored contents and references so parents and caretakers can get sufficiently educated. Sources include the likes of The US National Library of Medicine, the US Department of Health and Human Services, the National Health Service, and medically reviewed papers from experienced authors. 
The MommyKidz app also features an e-commerce section called 'MommyKidz Shop'. This online shop offers a wide range of essential items for pregnant women, including maternity pants, breastfeeding tools, toys, diapering and wipes, baby bath and skincare products, personal care items, healthcare essentials, and medicines. Users can easily place orders and purchase these products as needed.
Future plans
"MommyKidz plans to introduce new features like a vaccination tracker, keep counter, baby pee and poo tracker, checklist, do's and don'ts, and a baby feeding reminder", stated Palka when asked about future plans. The company also plans on gradually releasing a full set of pregnancy monitoring tools and kits over the next nine months.
MommyKidz has received a US$ 10,000 grant from the Bangabandhu Innovation Grant (BIG) in June this year. Palka was also recently recognised as a top 10 graduate of the Young Founders Programme by the Westerwelle Foundation in Germany. The startup behind the app also gained valuable mentorship and networking support through its collaboration with the Youth Co: Lab, a program jointly led by UNDP and the City Foundation.
In the future, MommyKidz plans to simplify healthcare for pregnant mothers, addressing their physical and mental health needs, and supporting the well-being of their infants. Their goal is to offer remote healthcare instructions, minimising the need for frequent doctor visits and improving parenting healthcare services.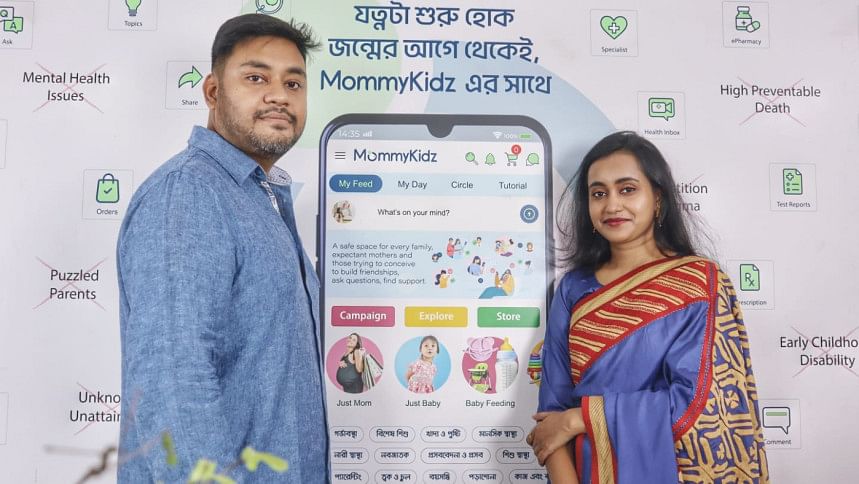 Nishat Anjum Palka, co-founder and CEO of MommyKidz, has channelled her personal experiences as a mother into a passion project that aims to support parents every step of the way. Her vision for MommyKidz is to provide knowledge, support, and camaraderie to those embarking on the enlightening journey of modern parenting.
In a recent statement, Shakor Ahmed, co-founder & COO, emphasised that MommyKidz is not just a platform but "a movement dedicated to promoting safer motherhood and creating healthier generations". He believes MommyKidz will help ensure that no parent feels alone in their journey, and that through this platform, parents are able to receive comprehensive support that empowers them with the knowledge and connections needed to navigate the beautiful adventure of parenthood.