A look inside TikTok's safety drives in Bangladesh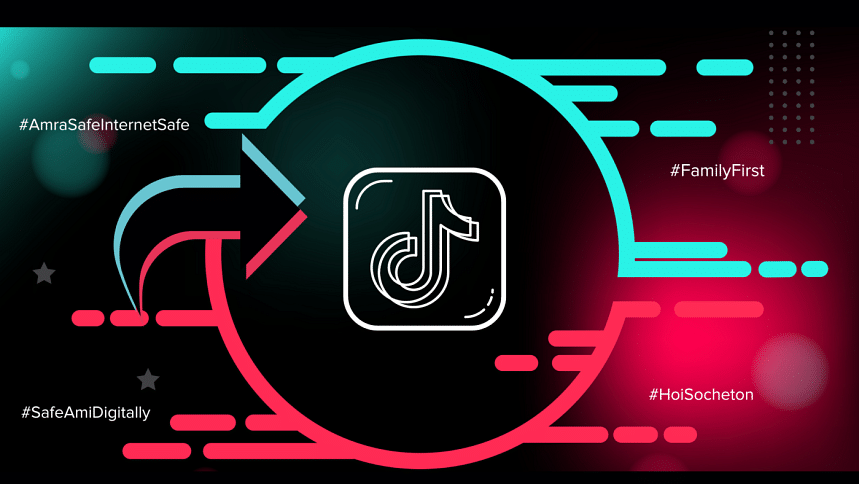 Bangladesh has always been an important market for the world's leading short video platform TikTok, as it connects millions of content creators and users across the country, and promotes creativity and joy.
It has been a rollercoaster ride since the beginning of TikTok's journey in Bangladesh. But the platform has always remained committed to generating awareness on matters related to minor safety, women empowerment, safe internet usage and responsible online and offline behaviour.
Over and over again, the platform has proven that, as a responsible platform that is committed to the safety and well-being of its diverse community of users, TikTok is always working to enhance and advance security efforts to safeguard the users and creators.
In the past, campaigns like #AmraSafeInternetSafe and #HoiSocheton actively promoted local safety initiatives and spread awareness. In more recent times, TikTok has ramped up its safety efforts in the country. We take a look at some of the most impactful ones.
Content Moderation
To ensure that objectionable videos that violate its Community Guidelines are quickly removed, usually, before they are seen by other users on the platform, the platform has made a concerted effort to strengthen its content moderation team for Bangladesh.
In order to make TikTok a safer and more welcoming environment for its Bangladeshi community, the platform proactively removes any inappropriate content and, in case of repeated violations, terminates accounts that do not comply with its Terms of Service and Community Guidelines.
This is done with the help of a committed team of native Bangladeshis who are familiar with the culture and language and a sophisticated, cutting-edge machine-learning mechanism that uses automation in the content moderation process.
The content moderation policy is tailored to the country's laws and regulations, as well as local public orders and morals.
Safety Centre
A localised version of TikTok's Safety Center recently was launched in Bangladesh. The language options are Bengali and English. It has resources and information to help parents and other caregivers, as well as new and current users.
The Safety Centre has all the resources users need to ensure their safety, including a detailed Privacy Guide, New User Safety Guide, Guardian's Guide, and resources on what to do to ensure safety.
Digital literacy
Together with the youth platform YPF, TikTok has recently concluded their 7-months-long joint campaign on safe internet usage for Bangladeshi netizens called "Safe Internet, Safe You".
For 7 months, YPF and TikTok have held numerous online workshops and sessions, and have developed a community of over 2000 registered participants from 10 universities in 6 divisions of the country.
The programme held multiple sessions and workshops so far and had over 1500 reach on social media and over 2600 direct, and nearly 500K indirect reach through the workshops. The campaign encouraged many youths to pursue safe internet usage, using the hashtags: #SafeAmiDigitally #LetsTokSafety, and #SafeOnSocials.
Family Pairing
Most recently, with its #FamilyFirst initiative, TikTok aims to create awareness on how parents can use the Family Pairing Feature to monitor activities on their teens' accounts including DMs, notifications, watch and download settings, forming an important part of TikTok's ongoing commitment to support and care for the safety of youths on the platform.
Family Pairing allows a parent to link their TikTok account to their teen's and set controls including Screen Time Management, Restricted Mode, Direct Messages, privacy and security settings etc.
Others
Apart from the ones listed above, TikTok also has robust Community Guidelines in place to help people understand how to use the platform in a positive and appropriate way, and what not to post. It is available both in English and Bengali languages.
Like many social apps and platforms, TikTok also has a broad set of safety features that allow users to select their own privacy settings according to their needs.
To effectively protect the community, TikTok is also committed to cooperating with Law Enforcement Agencies to resolve emergencies and facilitate legal requests for user data, while respecting the privacy and rights of users.
The safety of users is a key priority for the platform. And the recent efforts are a testament to the fact that TikTok is committed to maintaining a safe and positive in-app environment for users along with abiding by and complying with local laws.