Footsteps introduces new public drinking water model in Gulshan, Dhaka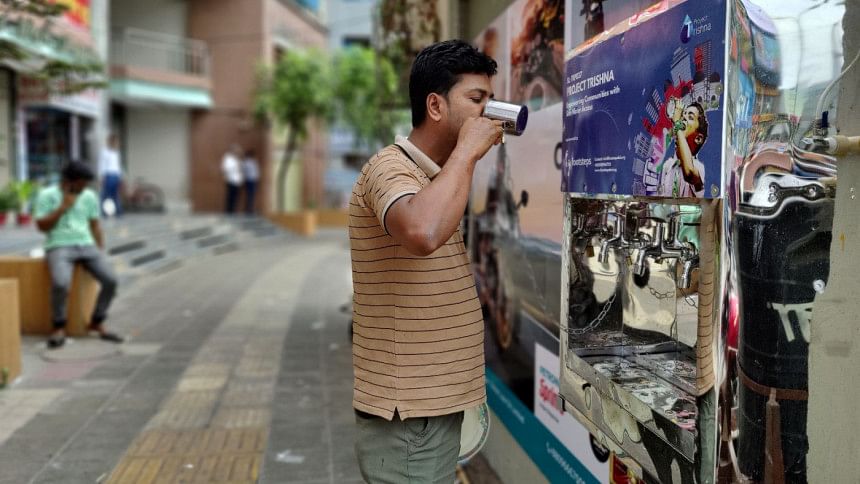 Footsteps Bangladesh, a local organisation focusing on addressing social challenges to water, sanitation and public health, recently introduced a new public drinking water facility at the Gulshan 2 intersection, Dhaka. This new facility was implemented in partnership with Petronas and Gulshan Traffic Police, and is a part of Footsteps' ongoing Project Trishna.
Inaugurated on May 16, this safe and clean drinking water facility is available for any and all pedestrians in the area, including but not limited to police officers and street vendors. According to Footsteps, the global energy company Petronas extended their partnership with Footsteps to ensure quality drinking water to the regular public, alongside keeping the company's advertisement adjacent to the water system. 
"The new public model of Project Trishna provides advertisement space on the public drinking water facilities located at key sites across urban spaces in Dhaka. The revenue from the advertisement space will be used for frequent servicing and maintenance of the water system to ensure the highest quality of drinking water every day," said Shah Rafayat Chowdhury, Co-Founder & President of Footsteps Bangladesh. Rafayat added that Footsteps plans on executing similar new models in other areas of Dhaka, as well as the other major cities such as Chittagong and Jessore.
Footsteps Bangladesh began their Project Trishna in 2015 and since then has helped provide safe water access in schools, public spaces, hospitals, and households for over 269,000 people across 11 districts in Bangladesh.