EBL launches wearable payment solutions in Bangladesh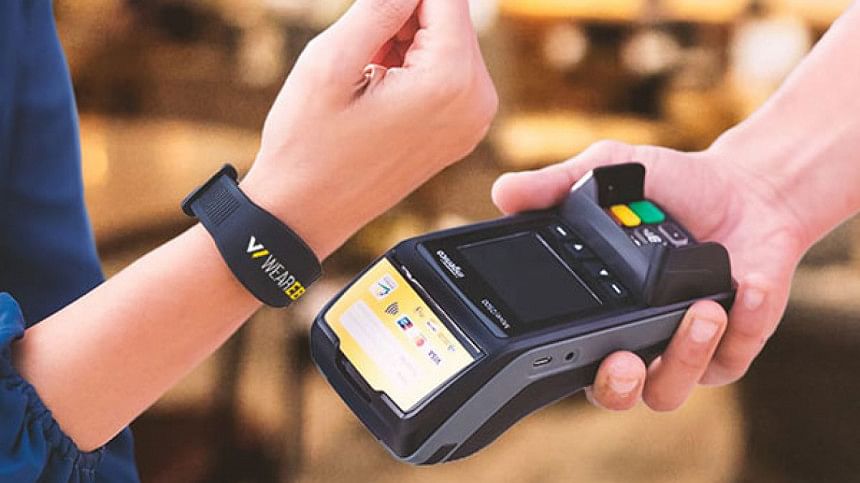 Eastern Bank Limited (EBL), in collaboration with Mastercard and Visa, has launched Bangladesh's first wearable payment devices, branded as 'WEAREBL'. The devices were officially announced on Monday and according to the bank, 'first of its kind' 'in the country.
The bank has been teasing about their new payment solution for a week in the social media for a few weeks but it was officially unveiled only recently in an in-house event with the top brasses of the bank. A top official of EBL who was at the launch event, requesting anonymity, has informed that the product ranges launched for now included: ceramic rings, wrist band, mobile phone grips & mobile phone holders. 
These accessories have secure concealed & embedded flexible with chip based Near Field Communication (NFC) antennas to make transactions without the use of a physical payment card. The source also informed that, this project was implemented by Thales Digital Identity and Security's local partner i-Clique Group in Bangladesh. 
What is WEAREBL?
WEAREBL is a range of wearable payment devices designed to offer secure, efficient, and contactless transactions. The devices come in various forms, including a compact payment ring, a phone holder and grip, a wristband, and a compact portable fob sleeve. The initiative aims to integrate technology into daily routines.
Available variants and fees
The devices are available in four different variants: a ring (International Size 10), a phone grip, a phone holder, and a wristband and fobs sleeve. The issuance, annual, and renewal fees are set at BDT 10,000 for the ring and BDT 5,000 for other forms. Replacement fees range from BDT 3,500 to BDT 7,000, inclusive of VAT.
Functionality and transaction limits
WEAREBL devices operate like contactless cards and are linked to the user's EBL card account. To make a payment, the device needs to be held close to a contactless payment terminal, where NFC (Near Field Communication) technology initiates and confirms the transaction. 
The transaction limits for these devices adhere to the existing limits of the primary card associated with the device. For transactions below BDT 5,000, no PIN is required, while transactions above this amount will require PIN verification.
Security features
The devices use NFC-enabled chips with secure encryption technology to ensure the security of transactions. Real-time transaction notifications are sent to users, allowing them to monitor their spending and detect any unauthorised activity.
Compatibility and additional payment method
WEAREBL devices are compatible with major payment networks. The device serves as an additional payment method and can be used alongside the primary EBL card.
Application process and eligibility
Both existing and new customers can apply for the devices. Eligibility is restricted to those holding Visa Platinum (or above) or Mastercard Titanium (or above) tier credit cards. Applications can be submitted through EBL branches, SKYCARE, and the Contact Center. After application, there is a 15-45 working day delivery timeframe. The devices can be activated by calling EBL's Contact Center at 16230. Users can also set their PIN through the same contact number.