Centre for Peace and Justice: On a mission to build a just, peaceful and inclusive society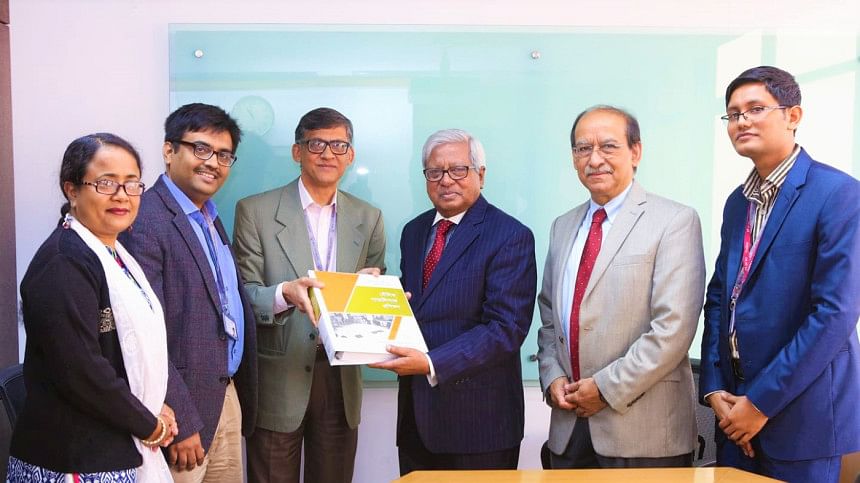 The Centre for Peace and Justice (CPJ) joined the impressive cluster of institutes and centres at BRAC University in March 2017 as a multi-disciplinary academic institute to promote global peace, social justice, and an open society through quality education, research, training, and advocacy. 
CPJ, which recently entered its sixth year of operation, has not only carved a niche for itself in the world of academia in Bangladesh, but has also gained widespread global recognition. CPJ has made significant progress toward achieving its core aims.
In this article, we will look at the history of CPJ, the scope and impact of its work, and the future direction it wishes to pursue.  
The beginning of the journey
Barrister Manzoor Hasan had a long-standing working relationship with the BRAC University, as he played an instrumental role in establishing the BRAC Institute of Governance & Development (formerly known as the Institute of Governance Studies) in 2005 and had served as its Director until late 2011. 
But it was not until 22 March 2017, that he received the approval of the Board of Trustees of BRAC University to form CPJ. Manzoor Hasan was so emotionally invested in the idea of forming CPJ that he remembers the vast amount of preparation that his team had taken before entering the meeting with the Board of Trustees. 
"I remember we developed a concept note that was finalised after 20 drafts," he said. 
"The idea was for CPJ to start as a Centre and then eventually it will become an Institute." he added.
However, the name CPJ holds a special place in his heart because it was proposed by the late Sir Fazle Hasan Abed KCMG.
Noteworthy accomplishments 
Perhaps the most important accomplishment of CPJ in its inaugural year was the launch of the ground-breaking paralegal training module, the development of which started in 2014 under SAILS, the precursor of CPJ. A total of 213 individuals received paralegal training under this module. Later, recipients of the training were able to guide others about the different phases of legal proceedings and the ways in which they could obtain legal aid.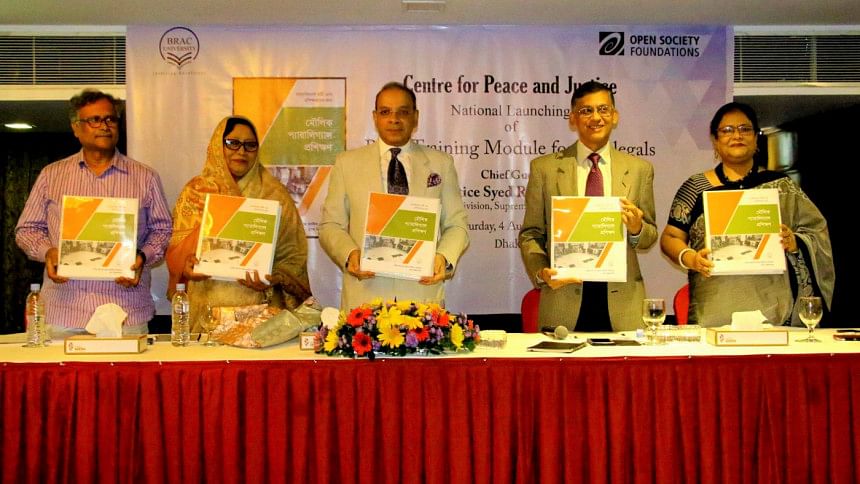 In 2018, CPJ implemented and initiated five research projects, two research workshops, six training programmes, and a short course. These focused on providing a deeper understanding of rights and protections of persons with disabilities, the nature, extent and causes of violence, social injustice, exclusion, etc.
Following the largest influx of Rohingya refugees to Bangladesh in 2017, CPJ organised a number of international conferences and seminars throughout 2018 in an effort to press for accountability of the then Myanmar government under international law in collaboration with other reputed organisations. One such conference saw the birth of the "Dhaka Declaration" which outlined measures to find sustainable solutions to the Rohingya crisis.  
Along with numerous research projects, short courses, workshops and training programmes, the progress of CPJ in 2019 can be marked by the launching of women Peace Cafés at Begum Rokeya University and Jatiya Kabi Kazi Nazrul Islam University. The Peace Cafés were created to empower young female students to promote a just, peaceful, and inclusive society where everyone will be treated with equal dignity and rights. In 2019, it also opened a field office in Ukhiya, Cox's Bazar.
Despite the disruptions created by the pandemic in the years 2020, CPJ experienced significant growth both in terms of activities and team size. During 2020, it published seven research papers, seven policy briefs, and one briefing paper. Six major advocacy events were organised. Issues such as empowerment of women, pathways to a peaceful, just and inclusive Bangladesh, complex humanitarian emergencies and disaster management in Bangladesh were explored through these activities. The field office, which was established in 2019, was renamed Refugee Studies Unit, with a "satellite" office in Ukhiya, Cox's Bazar, to help CPJ's researchers and trainers conduct research and other activities related to the Rohingya people and host communities.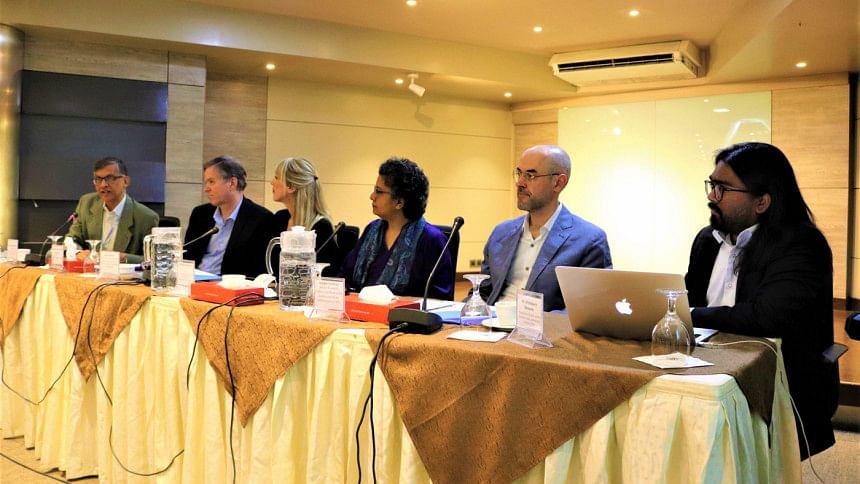 In 2021, CPJ initiated 7 research projects, 8 training programmes, 110 events and workshops, 8 policy briefs, and 3 reports. Peace Cafés were extended to 4 universities. At least 10,000 individuals benefited directly from these initiatives. These also revolved around many of the contemporary issues of the time, including inclusive policy-making during COVID-19, ensuring justice and accountability in Myanmar, community perspectives on access to justice, and climate change. CPJ carried out numerous evidence-based research initiatives to identify the needs of the most vulnerable communities, along with awareness-building events engaging 50 academic institutes and covering 23 districts. 
In 2022, the total number of research projects reached 12, while 3 short courses, 45 advocacy events, 13 training programmes and workshops, and 5 policy briefs were concluded. CPJ collaborated with the Asia Justice Coalition and Institute of Social Sciences in The Hague to edit the first edition of the book titled The Rohingya Crisis – Humanitarian and Legal Approaches, which was published by Routledge. CPJ also established a project in Bangladesh with the OSUN Hubs for Connected Learning Initiatives during this time and is a member of the OSUN Hubs leadership team. The activities of the Peace Cafés, which were five in number at the time, and the Refugee Studies Unit expanded greatly, resulting in the overall initiatives undertaken by CPJ during this year benefiting around 30,000 people.
A promising future awaits
Thus far, CPJ has worked with a host of academic institutions and has also collaborated with a number of other reputed organisations at the national, regional, and global levels.
Moving forward, the aim of CPJ is to expand its activities further and explore more diverse avenues. To that end, it launched Doorbeen, a podcast series, just days after celebrating its sixth birth anniversary in March of this year, to shed light on the most pressing issues concerning peace, justice, and social cohesion at the national, regional, and global level.
 
Md. Wahidul Islam is currently working with the Centre for Peace and Justice, Brac University (CPJ) as Communications Officer. 
Arafat Reza is a Research Associate at the Centre for Peace and Justice, BRAC University, Dhaka.