BUET beats IIT to become Asia West champion in Moscow programming contest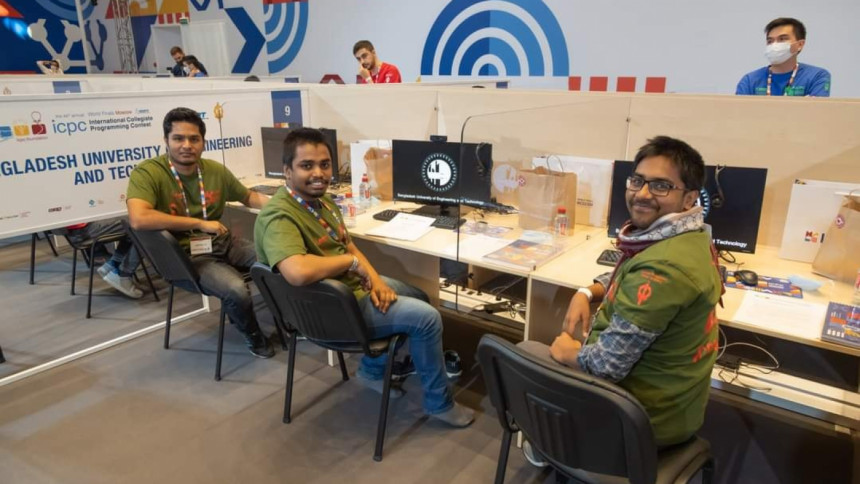 'BUET HellBent', a team from the Bangladesh University of Engineering and Technology (BUET), has earned the title of the 'Champion of the Asia West' in the International Collegiate Programming Contest (ICPC) Moscow World Final 2021. Globally, it has also secured the 28th position out of 117 teams participating from over 100 countries in this prestigious yearly multi-tiered programming competition.  
The team 'BUET HellBent', consisting of Arghya Pratim Pal (CSE-15), H M Ashiqul Islam (EEE-15) and Pritom Kundu (CSE-16) and coached by Mohammad Sohel Rahman, has overtaken the team from the Indian Institutes of Technology (IIT), Delhi to win ICPC Asia West region. 
BUET HellBent participated in the preliminary competition in Bangladesh in 2019, organised by Southeast University. They came first competing against 1792 teams. The selected teams went to the next stage, ICPC Dhaka Regional 2019, where 190 teams participated. They came out on top again leading them to the world finals. The finals of 2021 were held in Moscow where the teams were given a problem set of 15 questions. BUET HellBent solved 7 of those problems making them the Asia West Champion, and securing 28th place in the global ranking.
H M Ashiqul Islam, a team member of BUET HellBent, said, "We have a strong culture in BUET when it comes to programming competitions. Our teachers arrange different contests every week, and anybody from any department can participate. We also help each other with problems which enrich our own knowledge. Moreover, it has helped us maintain good relationships with seniors and mentors, who have always mentored us and helped us."
The ICPC is one of the most prestigious programming competitions in the world, where the finest programmers and coders around the world compete to be crowned as the champion. Every year, more than 60,000 student programmers from more than 3,000 universities of 115 countries take part in the qualifying rounds. 
Another team from Dhaka University, 'DU SwampFire' has also obtained the 33rd position in this event. The Nizhny Novgorod State University of Russia became the champion in the ICPC World Finals.