Bike rental venture rolls in Dhaka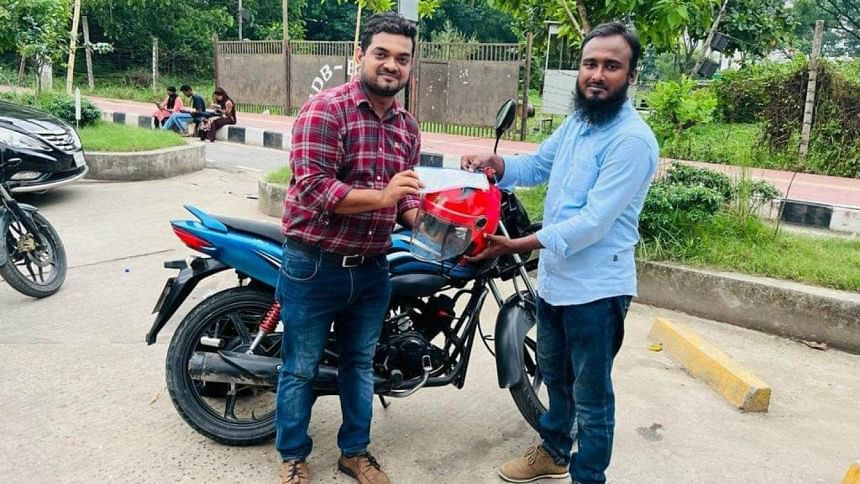 People from different walks of life rush to the capital city from different parts of the country for various purposes. On the way down, amid traffic jams, public transport hassles and lack of private transport, everyone gets in a hurry to reach the destination as early as possible. Many prefer motorcycles in this regard and as such, in May this year, Chaad Ride launched the first motorcycle rental company in the country. 
Anyone with a driving license can hire motorcycles or scooties from this company on an hourly, daily, or even monthly basis. If you rent a bike on an hourly basis, you have to pay Tk. 58 per hour. Monthly rent will cost Tk. 4,800 - 7,600 depending on the quality of the motorcycle you would like to rent. If taken on an annual basis, it will cost Tk 28,000 - 38,000.
Four friends - Naeem Hossain Mahtab, Soumitra Barua, Maksudur Rahman Faruqi, and Borhan Uddin Chowdhury - formed the company together. Although the four friends are from different professions, it is through Chaad Ride that they have turned business partners. In a conversation, Mahtab, founder and CEO of Chaad Ride, shared their journey. 
Mahtab used to work as a multinational company's country manager around 2018/19. Due to his job, he had to get to different districts of the country for office works and suffered a shortage of vehicles. If they rented a car from a rent-a-car company, it would cost around Tk 4,000 per day, even without oil costs. The monthly rent is so costly that you can easily buy a reconditioned car by saving a few months' rent. Even if you rent a car, you hardly stand a chance of going everywhere riding it.
"To get rid of this problem, I spoke to many district bike dealers. But there was no such company as bike rental. Again, some rent-a-car companies did not agree with my way. In pursuit of solving such a problem, the idea of initiating "Chaad Ride" crossed my mind," said Mahtab.
When discussing it with the remaining three friends, they also grew positive. During the pandemic, Chaad Ride started its journey with 20 motorcycles after making almost all the arrangements, including developing the app and bike tracking. Now, at least 30 bikes and scooters are being regularly rented from their company. There are currently 15 officers working with them.
Any man or woman can rent a bike if they have experience riding it. To rent a bike from Chaad Ride, you have to provide the following information: your name, photo, NID card, driving license photocopy, current and permanent address, mobile number, the guarantor's NID photocopy and mobile number. This guarantor can be any relative, friend or family member. Each bike is insured for safety, and accidental insurance is also available for those driving.
To use the app, install the Chaad Ride app from Google Play Store or App Store. Then open the app, enter your name, mobile number, password and OTP. After signing up, go to the sign-in page and enter the mobile number and password. The profile needs to be verified by the admin for successful bike booking. To get the profile verified, click on the My Profile option from the home page, update the profile by providing the required information, and wait for the admin to verify it. After getting the profile verified by the admin, the customer is ready for bike booking.
You can visit https://chaadride.com to learn more about their activities. The company also has a Facebook page. They have two hubs for garaging the bikes as well. Customers are required to collect the bike from the office, but if a customer wants to get the bike from the destination after his choice, the company's staff will deliver the bike, but in that case, an additional Tk. 300 charge will be applied.
Faruque Ahmed, customer relationship manager of the company, said, "Our experience so far is outstanding. No customers have met with any accidents in six months. And there is no possibility of losing the bike due to always tracking. It turns out to be a great relief when the customer returns the bike and the key with a satisfactory smile."
A customer named Sohel Rana rented a bike from Chaad Ride. He said, "Getting a bike on rent is a great thing. It is time-saving and provides personal freedom. And the rent is quite affordable. Moreover, on different days, I can go out with different bike models—it feels wonderful."
According to Mahtab, Chaad Ride is planning on providing their services to district cities in the future. Along with that, they plan to work with four-wheelers, private cars, and agricultural machinery.