10 most expensive smartphones in the world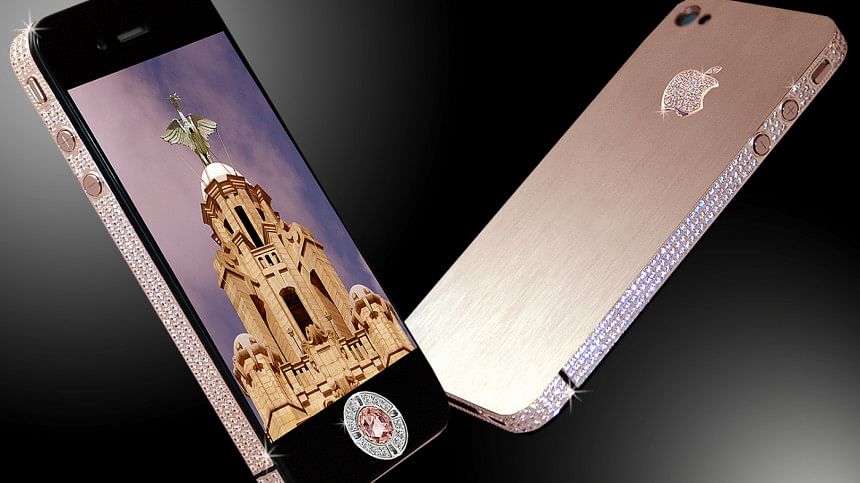 When considering a new smartphone to buy, one big factor we like to focus on is the price. While the design, camera and additional features are key traits of any modern smartphone, if a phone is outside our budget, purchasing it would be against our best decisions. 
However, we live in a world where even smartphones can reach price tags of over $1 million - owing to sheer exclusivity and the stupendous amount of gold and diamonds padded on the design, making them one of the boldest fashion statements known to man. 
If you have ever wondered just how expensive smartphones can get, look no further. Here is the list of the currently known 10 most expensive smartphones in the world. 
10. GoldVish Revolution – $490,000
Starting off the list is the GoldVish Revolution, contorted by the Swiss luxury phone manufacturer GoldVish. The Revolution was indeed a 'revolution' in the world of expensive phones, at least back in 2009 when gold-binged phones were slowly making names for themselves. 
Featuring a unique look that combines a cellphone with a mechanical watch, the GoldVish Revolution was encrusted in solid pink and white gold, with diamonds adorning the main frame. Despite looking like an old Motorola, only nine models of this phone were made, each with a price tag of $490,000.
Interestingly, minus all the gold and diamonds, the actual phone would have cost no more than $100 back in the 2009 market.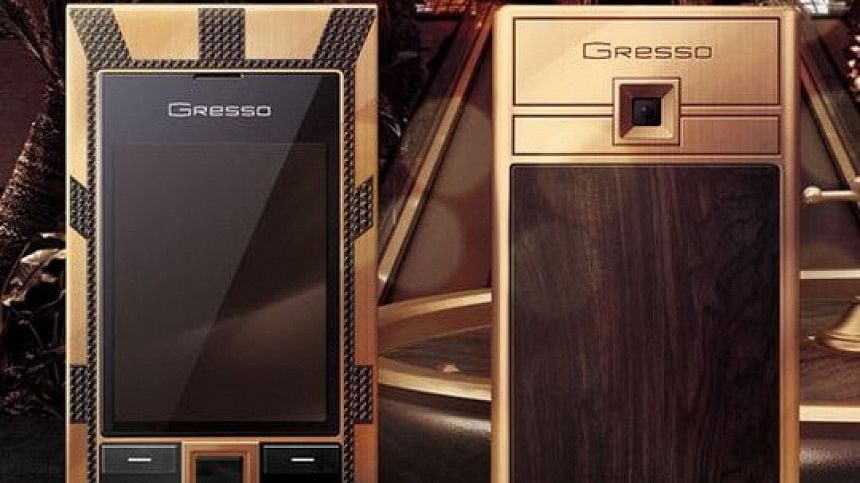 9. Gresso Luxor Las Vegas Jackpot - $1 million
The international luxury accessories brand Gresso released their 'jackpot' back in 2010. Sporting shiny black diamonds on the front and reportedly, 200-year old African blackwood for the back, the price tag of a whopping million dollars seems completely justified. 
Gresso Luxor Las Vegas Jackpot also features 180 grams of gold fashioned on its 12-mm frame, as well as 17 sapphires etched on to the design. According to Gresso, only three sets were created. When the Jackpot was released, Gresso also offered a cheaper alternative known as just the Gresso Luxor Las Vegas - the same phone minus the black diamonds, bringing down the price to a relatively lesser but still expensive $20,000. 
8. Diamond Crypto Smartphone - $1.3 million
It seems the best way to make an expensive phone is to adorn it with diamonds. At least, that's what the Austrian jewellery craftsman Peter Aloisson believed. 
Co-designed by the Moscow-based JSC Ancort Company, Aloisson's Diamond Crypto Smartphone provided a unique security function for its insanely wealthy owner. It featured end-to-end encryption on voice calls and SMS, making it a powerful tool against cyber attacks. While outdated now, it ran on the Windows CE operating system with a Motorola MX21 processor.
However, its $1.3 million cost stems from the 40 white and 10 blue diamonds adoring its frame. Sadly, the 2006 Blackberry-based functionalities meant that the Diamond Crypto Smartphone was soon on its way to becoming outdated, with the looming release of brand new iPhones in the 2007 gadgets market.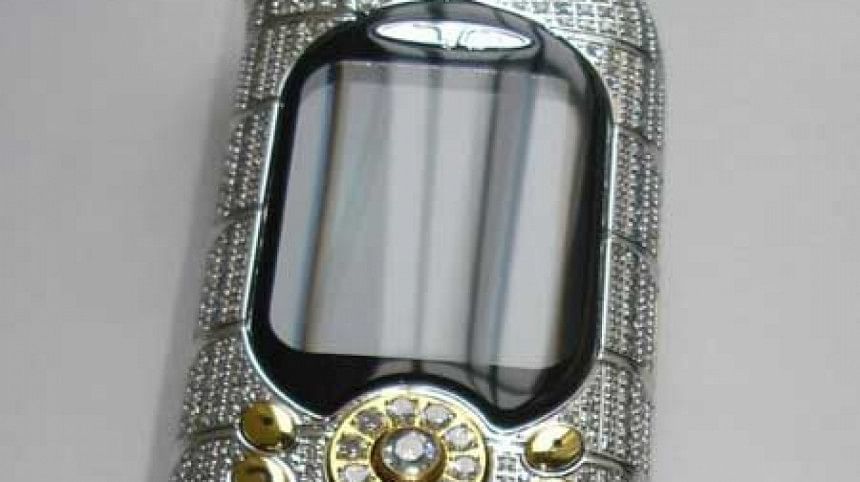 7. GoldVish Le Million - $1.3 million
Made for an anonymous Russian businessman, GoldVish made headlines in 2006 with the then-most expensive phone in the world. Designed by Emmanuel Gueit, a Swedish jewellery designer, the 'Le Million' lived up to its name - valued at $1.3 million.
In terms of bling, this phone featured 18-carat white gold with 120-carat high quality diamonds. In terms of functionality, it had a 2 MP camera with 2 GB internal memory. Despite being exclusively made for an unnamed client, GoldVish claimed a total of three models were ever produced - making its rarity higher than that of the Diamond Crypto Smartphone, despite both labelled the exact same price tag. 
6. Stuart Hughes' iPhone 3GS Supreme Rose - $2.4 million
When talking about the world's most expensive smartphones, Stuart Hughes is a name that deserves a special mention. Known as a luxury tech designer exclusively for the rich and wealthy, Hughes fashioned a number of iPhones in gold and diamonds to launch his own brand of ridiculously expensive luxury smartphones. 
An example of his brilliance, both figuratively and literally, can be seen in the iPhone 3GS Supreme Rose, which is made of 130 small flawless diamonds, each 75-inch, totalling to 97.5-carats. There is 112 grams of 18-carat rose gold on the rear part, with the rose hold Apple logo made of 53 small diamonds. The navigation button hosts a single cut 7.1-carat diamond on a 18-carat rose gold mount. 
Stuart Hughes' iPhone 3GS Supreme Rose is currently priced at £1,930,000.00, which is about $2.4 million at the time of writing.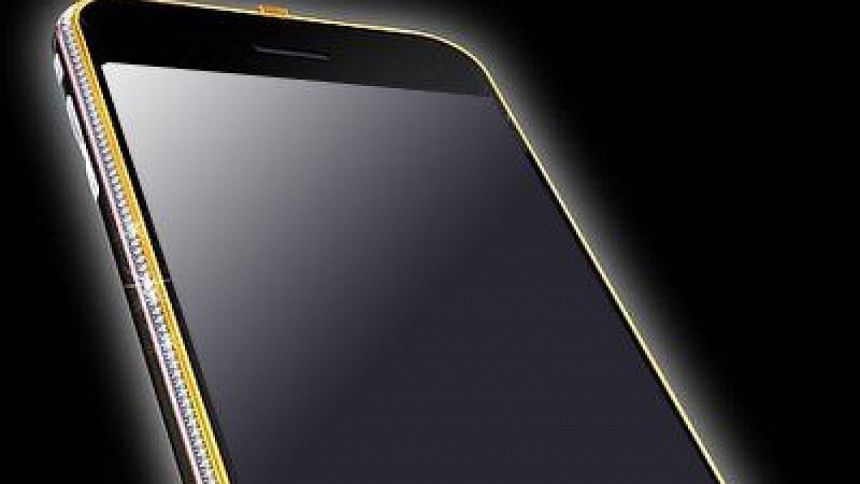 5. iPhone 3G King's Button - $2.5 million
Making a splash with the then-most expensive phone in the market, the $1.3 million Crypto Smartphone, Aloisson made heads turn again with the iPhone 3G King's Button - a standard iPhone 3G made of 18-carat yellow, white and rose gold and 138 cut diamonds. 
The home button of the iPhone 3G was replaced by a 6.6-carat diamond, putting the price of the device at a whopping €1,636,000 (about $2.5 million). It is currently unknown how much the price of this exclusive phone has changed since its 2009 release, but judging the rarity, the value is expected to rise higher.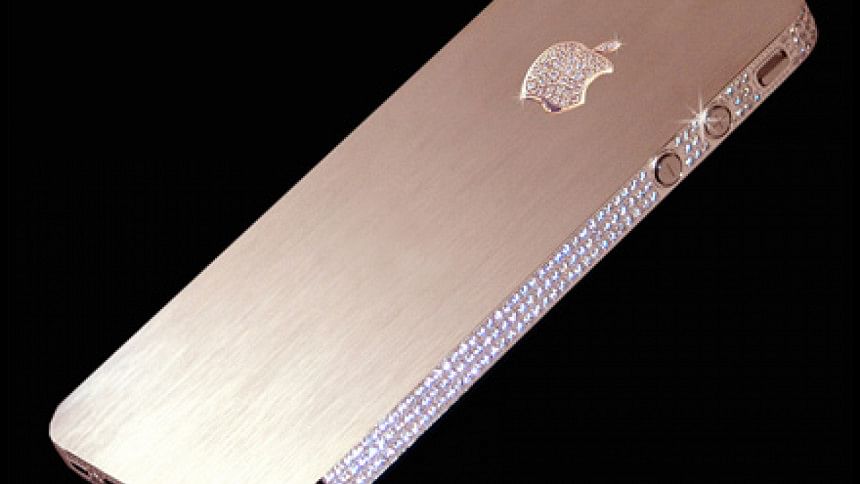 4. Stuart Hughes' iPhone 4 Diamond Rose - $6.2 million
Currently ranked the second most expensive smartphone in Stuart Hughes' website, this special iPhone 4 is aptly named Diamond Rose because of the handmade rose diamond bezel it comes with. Similar to the upcoming iPhone 4S Elite Gold, the iPhone 4 Diamond Rose contains 500 small diamonds that amount to more than 100 carat. The Apple logo is also made from 53 diamonds, with a platinum-encrusted navigation button that contains a single cut 7.4-carat pink diamond.
The box that the iPhone 4 Diamond Rose comes in is made of granite - designed in a pink hue and lined with high quality leather. This is the 32 GB version of Apple's original iPhone 4 and costs a million pounds less than the iPhone 4S Elite Gold, at £5,000,000, about $6.2 million. Only two have been ever made.
3. Stuart Hughes' iPhone 4S Elite Gold - $7.5 million
Currently, the most expensive smartphone in Hughes' website is the iphone 4S Elite Gold, which he dubbed "the world's most expensive phone". It is priced at £6 million, which is about $7.5 million. According to the website, this super exclusive iPhone 4S is made of 500 small diamonds, totalling to over 100 carat. The rear is made with 24-carat gold, with the Apple logo being made of 53 diamonds. 
Hughes' iPhone 4S Elite Gold comes with a 7.4-carat single cut pink diamond and a box made of platinum, with opal, charoite, star sunstone, rutile quartz and other rare stones embedded on it. In terms of functionalities, this is the 64 GB memory, 512 MB RAM version of the iPhone 4S. The phone cost a whopping £6 million to make, with only two models ever produced - making this one of the most difficult smartphones to obtain, both in terms of rarity and price. 
2. Black Diamond iPhone 5 - $14.5 million
While the phones in this list are all exclusive products meant to be purchased only by the wealthiest, this particular iPhone 5 is perhaps the most exclusive of them all. Custom ordered by an anonymous Chinese businessman, the Black Diamond iPhone 5, crafted by none other than Stuart Hughes, was priced at a value of $14.5 million at the time of its making. 
Understandably, Hughes put in a bit more effort and bling into creating his ultimate masterpiece. Adorned with a solid gold casing, 600 flawless white diamonds on the body and 53 diamonds on the rear Apple logo, the Black Diamond iPhone 5 is completed with the illusive black diamond - a family heirloom of the Chinese businessman who had placed the order. 
According to a report by CNN in 2013, Hughes said this was his most expensive project to date, and it took him nine weeks to create the solid gold iPhone 5 chassis. He completed the design by placing the black diamond on the home button, putting the appraisal at a mind-numbing $14.5 million. It is currently unknown if such a phone was ever recreated, but Hughes certainly has his own solid lineup of relatively less expensive, but similarly blinging, smartphones.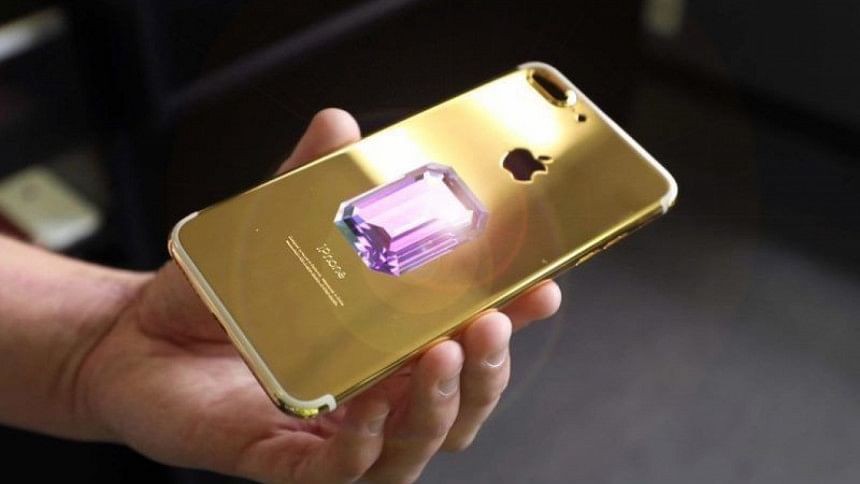 1. Falcon Supernova iPhone 6 Pink Diamond - $48.5 million
Topping the list is the Falcon Supernova iPhone 6, the Pink Diamond version. Released by Falcon, an American luxury company, this exclusive smartphone is covered with 24-carat gold and platinum, with a pink diamond on the back to complete the extravagant look. 
As far as specs go, this phone is pretty much the standard iPhone 6, with 4.7-inch display, 1 GB RAM, 16 GB memory, 8 MP back camera and 1.2 MP front camera. However, the solid gold plating and the huge diamond sporting the design pushes it to the astounding price range of $48.5 million. 
There are less expensive versions of the Falcon Supernova iPhone 6 available as well, with the diamond on the back being different colours. According to reports, the orange diamond version costs $42.5 million and the blue one $32.5 million.
It is currently unknown exactly how many of these smartphones are currently available, but assuming from the stupendous price, it certainly isn't something that will be seen in shops anytime soon. Nonetheless, according to reports, the Falcon Supernova iPhone 6 Pink Diamond is the most expensive smartphone in the world.