48% mobile phone customers in Bangladesh have a smartphone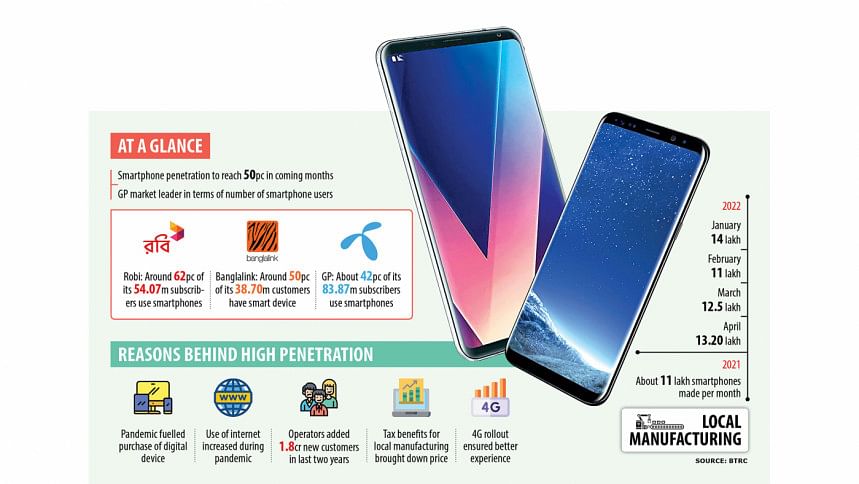 Smartphone penetration in Bangladesh is fast approaching 50 per cent as the coronavirus pandemic has accelerated the adoption of digital technologies to work, study and find entertainment using smart devices.
Pre-virus, 38 per cent of mobile phone customers in the country had a smart device. Currently, it stands at 48 per cent.
"We have made an impressive stride in boosting the smartphone penetration since the fiscal year of 2017-2018 when we provided tax benefits to local manufacturing of smartphones," Mustafa Jabbar, telecom minister, told The Daily Star.
"Thanks to the local manufacturing, the price of smartphones has come down significantly, helping more people purchase a smart device."
Presently, there is about 58 per cent tax on smartphone imports, whereas the tax on the locally assembled and manufactured handsets is around 15 per cent.
Since FY18, 14 plants have been set up in Bangladesh, creating jobs for around 16,000 people. and another four are in the pipeline.
The number of locally manufactured handsets was 2.6 crore in the last fiscal year, with smartphones accounting for 42 per cent.
Another major factor, according to industry people, for the increase in the smartphone penetration has been the pandemic.
From March 2020 to March 2022, mobile network operators added 1.8 crore new internet users, taking the total number of subscribers to 11.39 crore.
Before the outbreak of the health crisis, about half of the customers of Robi Axiata, the first operator in Bangladesh to have launched 4G, had smartphones. It moved past 60 per cent in March this year.
With 54.07 million customers, Robi Axiata is the second-largest mobile phone operator in the country.
Around 50 per cent of Banglalink's 38.70 million subscribers have smart devices at the present, while 42 per cent of Grameenphone's 83.87 million users use smartphones.
All data on smartphone penetration was collected from the respective telecom operators.
"Definitely, it's good news that smartphone penetration has increased," said Mohammed Shahedul Alam, chief corporate and regulatory officer at Robi Axiata, which operates under the brand names of Robi and Airtel.
One of the main reasons for Robi's leading position when it comes to smartphone penetration, says Alam, was its preparation to roll out 4G in 2018: just a day after receiving the licence, it introduced the service in 64 districts.
Robi's 4G subscribers are growing fast.
In March 2020, Robi had 39 per cent of its customers with 4G-enabled devices. This went up to 47 per cent in March last year and 55 per cent in March this year.
Alam said although the number of 4G subscribers has gone up in Bangladesh, it is still lower than in many other countries.
"Due to the higher prices of 4G devices, this service is yet to reach within the purchasing power of many."
Smartphone penetration among Banglalink's users has also been increasing for the last two to three years.
"But it's not enough since a vast number of customers still doesn't own a smartphone," said Taimur Rahman, chief corporate and regulatory affairs officer of Banglalink.
Both Alam and Rahman called for cutting the tariffs on 4G infrastructure products, special incentives for 4G devices, and launching the service in rural areas to popularise it.
Micro-loans for device purchase in collaboration between operators and banks should be introduced, said Rahman.
In a statement, Grameenphone says with the guidance and support of the Bangladesh Telecommunication Regulatory Commission, it has been working with device partners for many years to narrow the digital divide by introducing affordable smartphones.
"We have the highest number of smartphone users as of April in our network. We have already expanded our 4G network across Bangladesh. In order to ensure the maximum benefits of 4G and expedite digital inclusion, more industry collaboration is required."
However, the current pace of smartphone penetration could face a setback as the sales growth of smart devices slowed in the first quarter of 2022.
Device manufacturers sold 2.85 million smartphones in the January-March quarter, up by only 20,000 devices compared to the same quarter a year ago.
"The sales of smartphones witnessed a significant growth even during the pandemic. But 2022 has been frustrating so far," said Mohammad Mesbah Uddin, chief marketing officer of Fair Electronics, Samsung's local assembly partner.
"People might be tightening their belts due to the economic uncertainty caused by the ongoing Russia-Ukraine war."