State of cancer care in Bangladesh
The country lacks a national cancer control strategy and action plan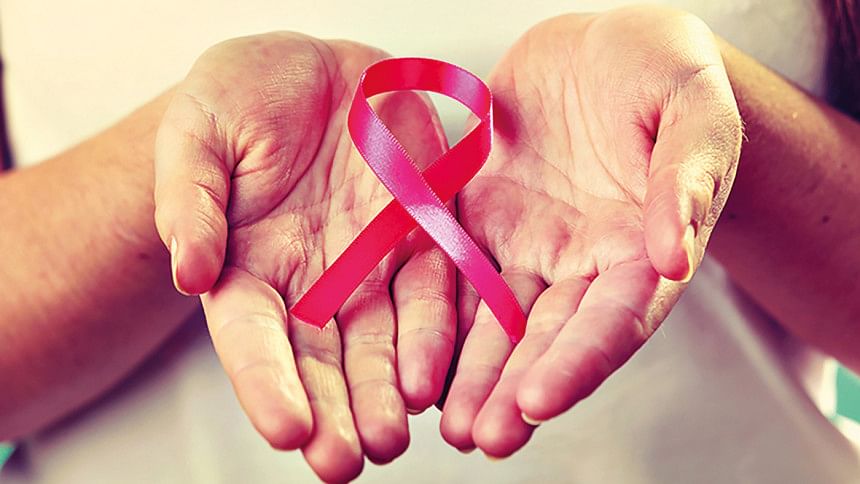 With the number of cancer patients increasing rapidly, the government should take urgent action to integrate early detection and screening into the national health system, developing effective strategies to raise people's awareness to fight the deadly disease, health experts say.
 An integrated approach with emphasis on prevention can significantly reduce the possibility of cancer because early diagnosis and screening have been proven to improve patients' chances of survival and reduce the cost, they note.
 Experts say that there has been some visible progress in cancer treatment in Bangladesh over the past decades, however, the country still lacks a national cancer control strategy, action plan and programme.
 "There is no conclusive national cancer screening system in the country. As a result, the majority of patients turn up to the physicians when the disease reaches advanced stages, making the possibility of recovery thin," said noted cancer epidemiologist Dr Md Habibullah Talukder Ruskin.
 "If we can detect early, in some cases, the chances of cure is almost 95 percent. Early detection will save money, reduce physical pain while the chances of cure is very high," said Habibullah, also the head of cancer epidemiology department at National Institute of Cancer Research and Hospital (NICRH).
 Cancer is the second-leading cause of death and represents a global annual economic impact of USD 1.16 trillion.
 According to a latest World Health Organisation (WHO) report, there are around 1.5 million cancer patients in Bangladesh with 150,000 dying each year. The report shows that every year two lakh people are attacked by cancer.
 However, the exact number of people suffering from cancer in the country is hard to get as there are no population-based data on the prevalence of cancer.
 Presently, there are hospital-based cervical cancer screening programmes, but its coverage is very poor. Moreover, the treatment facilities are centralised to Dhaka.
For example, the country's only specialised hospital for cancer treatment – NICRH – is located in Mohakhali of the capital. Now expanded to 500-bed, it is the go-to place for patients in the low-income bracket.
 Outside Dhaka, there are only nine government medical colleges that have the logistics for cancer treatment.
 To decentralise the treatment facilities, the government took up a Tk 2,500 crore project in 2019 to set up a full-fledged cancer centre in government medical college hospitals in the eight divisional cities. 
The progress of the work, however, has been slow because of the Covid-19 pandemic.
 Although some private hospitals have been offering treatment in recent times through their oncology units, none of them specialise in cancer treatment. They are also too expensive for most patients. As a result, many families lose all their properties and savings on cancer treatment.
 Experts say, cancer control is not all about treatment; a very important aspect of it is prevention as some of the common factors of cancer are chemical-tainted food, obesity, low level of physical activity, consumption of tobacco, betel nut, alcohol, and air pollution.
 Besides, factors like Hepatitis B and C, lack of hygiene during menstruation, HPV (a sexually transmitted infection), birth of several children within short gaps can also contribute to cancer.
 But the country has serious limitations in prevention strategy, they say, adding that a combination of public awareness about symptoms and access to seeking medical advice could improve cancer outcomes.
 Dr Habibullah Ruskin said prevention is a very important aspect of cancer control to reduce the prevalence of cancer, but it is still weak in the country.
 He said, there is a level of awareness about the disease among the urban population, but it is almost absent in the rural areas.
 "It is high time to bring all the cancer programmes under a single umbrella so that we can have a proper registry of patients and updated information about the cancer status of the country," he said.
 Dr Mollah Obayedullah Baki, president of Bangladesh Cancer Society, said screening on breast and cervical cancer is going on across the country and there are other private organisations that are doing screening and providing treatment. 
"The main problem is that the way the number of cancer patients are rising in the country, the services are not up to the billings."
 "According to WHO, one cancer centre should be in place for every one million people. But, in Bangladesh, we don't have more than 20-22 service centres while the population is around 17 crore," he said.
 Contacted, Prof Swapan Kumar Bandyopadhyay, director of NICRH, said the government is now running screening programmes for patients with early cervical cancer at the upazila level and providing treatment.
 It is planning to include breast and oral cancer in the early screening programme. "We are now doing the groundwork on the breast and oral cancer screening, and hope to start very soon," he said.
 The most important issue is the people's awareness and involvement as they have to come forward for screening and then the government can do the rest.
 "The government cannot do this alone; engagement of all the stakeholders is very necessary. We have the capacity of screening up to upazila level. We need people to come forward," said Prof Swapan.