Women's participation in the job market
Women's participation in the labour force has increased manifolds over time in Bangladesh. Compared to 4 percent in 1974, female participation in the labour force has increased to 35.6 percent in 2016.This change is much faster than the growth of male labour force participation which increased to 81.9 percent in 2016 from 80.4 percent in 1974. Interestingly, labour force participation among rural women is much higher (37.6 percent) than urban women (30.8 percent). Not only in the export oriented readymade garments sector but in many non-traditional and emerging sectors, such as hotels and restaurants, transportation, real estate services, telecommunications, banking and insurance sectors, women's participation is increasing.  This is due to the fact that with increased access to higher education, the prospect for getting into high valued job market has expanded for women in Bangladesh. However, as a late comer to such services, the number of female participants is still low in these sectors. Moreover, the progress has not been uniform in all sectors. There is also discordance within the sector. Not many women are seen at the managerial and senior positions of organisations. Under-representation of women in decision making jobs is due to a mix of economic, social and cultural situations.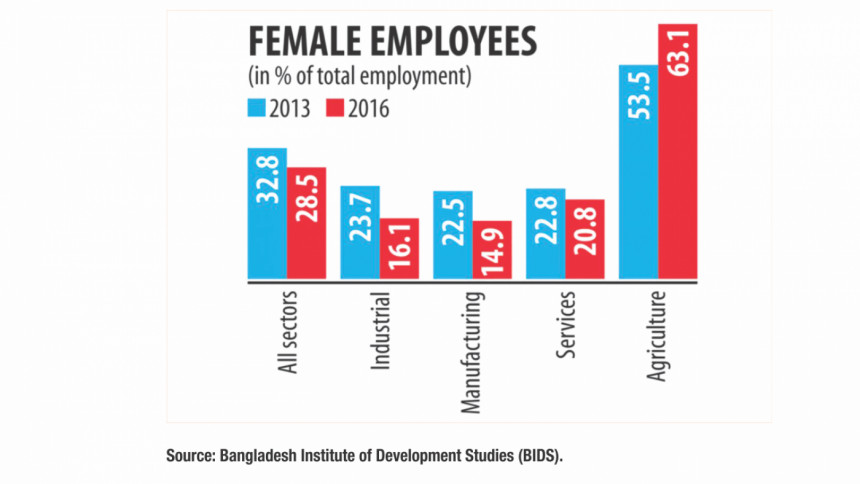 The number of educated women has increased over time; the rate of highly educated women is not large as yet compared to men. Statistics show that at the secondary level women's educational attainment is higher than men. For example, the share of female students is 33.8 percent as opposed to 32.4 percentfor male student at the primary level. At the secondary level female comprise 53.5 percent while male comprise 46.9 percent of total students at this level. However, it starts to decline afterwards. At the higher secondary level, only 8.9 percent are female students compared to 12.1 percent male students at that level. Moreover, only 4 percent female have tertiary level education compared to 8.2 percent in case of male. The unemployment rate is much higher for women- 6.8 percent of women are unemployed while 3 percent of men are unemployed. The educated unemployment is more prevalent in case of women than men. Women are also engaged in low paid jobs compared to men. According to official statistics, though on average women earn about 94 percent of what men earn, it varies across sectors. The low share of women's incomes compared to men's on average is partly due to women's involvement in the informal sector to a greater extent. Informal sector comprises the major share of female employment which is about 89 percent.However, this does not nullifythe fact that women workers receive substantially low wages compared to men in similar jobs. Job mobility is also very low among women. In the RMG factories most female are engaged as production workers and only a few as supervisors.
Several factors act as barriers for higher participation of women in the labour force. Lack of infrastructure, for example, lack of transport, toilet, child care facility and overall security hinder them to take part in the job market. Early marriage is another factor that does not allow girls to continue with their studies and enter the work force. Recent reports show that the number of early marriage is on the rise. It has increased from 52 percent in 2011 to 59 percent at present whereas this has reduced in most countries in the world. This is alarming not only because it will reduce women's participation in the labour force but it can also increase violence. Findings of several studies have reinforced such correlation.
Technological upgradation in many sectors has taken away more jobs from women than from men. For example, the largest sector for female employment is the RMG factorieswhere female participation was almost 80 percent of all RMG workers. Unfortunately, female participation in this sector has now decelerated to about 61 percent, thanks to the automation in the sector, according to a recent Centre for Policy Dialogue (CPD) survey.
Social factors play an important role in case of educated female job seekers as well.  Because of the reproductive role, many women are forced to choose between motherhood and careers. A large number of promising young university graduates enter the job market. But theenthusiasm starts to decline over time due to family responsibilities. This mid-way exodus of female employees reduces the number of potential women in senior positions. When they are ready to get back to the job market their skills become outdated. Some choose to be self-employed through small businesses whilst many cannotdue to lack of capital and information. Those who continue to pursue their careers juggle between home and work in an attempt to make a balance.
Societal mindset has to be changed to bring more women in the job market. Be it at the workplace or at home, the recognition of women's capabilitiesis something the society finds hard to accept. Female students outperform male students at universities. But this is reversal at workplace. It is not only about the structural predicaments they have, but also about values and cultures. There is a glass ceiling forprofessional women. They feel it irrespective of their positions and institutional affiliations. Thus, they try to work harder than men to advance their careers and reach leadership positions.
The need of work and family life balance is a critical issue that needs to be addressed. Wherever possible, through flexible working arrangements female employees can be retained. Gender sensitivity among men is critical towards enhancing opportunities for women in organizations. The structural problemsof bringing more women in the job market can be overcome through right type of policies, environments and attitudes at workplaces. For the larger section of female workforce, higher education, appropriate training and skills development, as well as use of technology are critical for entering into and continuing in the job market.
The writer is the Executive Director at the Centre for Policy Dialogue.