SPORTING RELIEF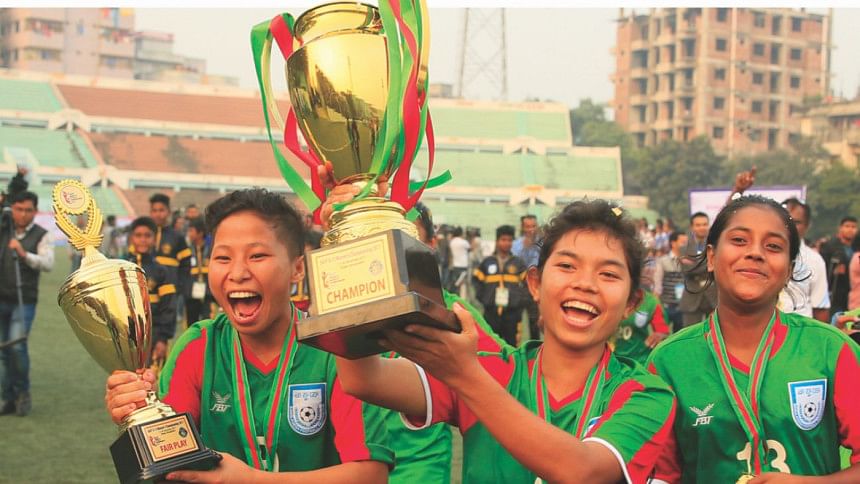 The world seemed to be careening towards apocalypse at the end of 2017, at a time when keeping up with the news is a depressing endeavour. Now more than ever, sport seems to be the escape hatch through which we can forget the wider world and bask in the sense of justice a level playing field provides. Fortunately, 2017 has been a year that had sporting occasions and triumphs worth celebrating sprinkled throughout, both home and abroad.
ROGER'S RESURGENCE
This was one instance when morning showed the day. But when morning came, the news from Roger Federer's room was that he was still having his coffee and would make an appearance at the breakfast table, just about in time. Abandoning the frayed metaphor for now, suffice it to say that perhaps the greatest tennis player of all time was widely expected to go no further than the third round on his return to top-flight tennis after having missed the second half of 2016 due to injury.
Federer had not won a single Grand Slam since the Wimbledon he won in 2012. Although undiminished in his unquestionable elegance, by mid-2016 when he lost a five-set Wimbledon semifinal to Milos Raonic, he seemed a spent force. So when he turned up for the season's first Grand Slam, everyone expected him to do what he had done for the past three years—dazzle in the early rounds before suddenly falling against a less-fancied opponent.
The setup (and the subheading, of course) should tell you that what followed was a Federer renaissance, but that is only half the story, much like the story of Federer's career would only be half told if we talk just of Federer. The other half is Rafael Nadal, Federer's fierce rival and friend. Nadal was on a resurgence of his own (and would finish the year ranked number one) after missing more of the previous year than Federer did. The two old men of tennis, both over 30, met in a fairytale final and as if the script was written by tennis gods, they duked it out over five sets before Federer, at 35, put away a forehand to claim his 18th Grand Slam. The two would put on masterclasses for the rest of the year, with Nadal romping to wins in the French Open and US Open and Federer gliding to an eighth Wimbledon crown.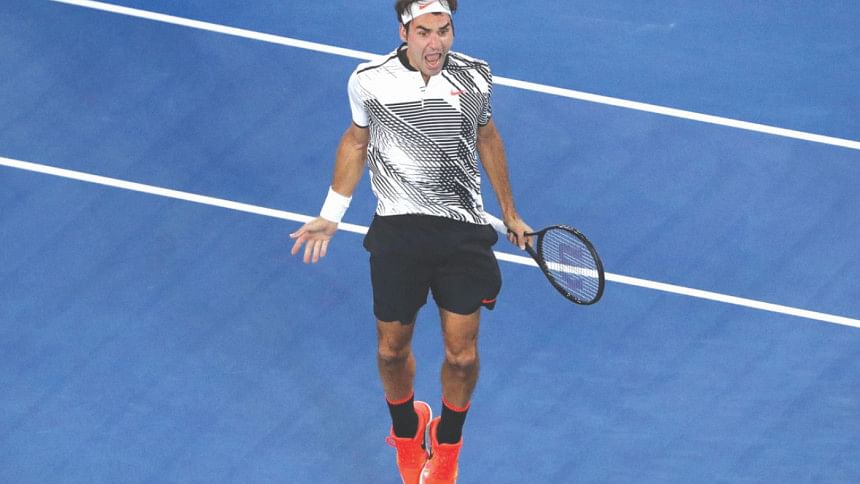 SHAKIB, MAHMUDULLAH PULL ONE OUT OF THE HAT
It is a measure of how dense 2017 has been cricket-wise that even as the year ended with an overriding feeling of gloom brought about by a catastrophic tour of South Africa, it can lay claim to three of Bangladesh cricket's all-time great moments. Although picking one from that collection is difficult, it is harder still to look beyond the 224-run partnership that Shakib Al Hasan and Mahmudullah Riyad put on out of nowhere and against steep odds in the Champions Trophy with a semifinal spot at stake.
The context is what made this special. The tournament was taking place in England—hardly the environs in which Bangladesh's cricket is expected to thrive. They were placed in the group of death with hosts England, Australia and New Zealand—teams that were not only superior to Bangladesh in the rankings table but were thought to be decisively so given the conditions. And last but not least, in being roundly beaten by England in the opening match and escaping thanks to the rain against Australia, Bangladesh had, before that last Group A match against New Zealand in Cardiff on June 9, looked thoroughly out of their depth and were showing the cracks that would widen into chasms a few months later in South Africa.
That is why, when Mahmudullah and Shakib came together at 33 for four in chase of 266 with Lady Luck still dangling the semifinal carrot that had begun to resemble a stick, a victory seemed unattainable and therefore, if attained, magical. Two batsmen from Bangladesh were not supposed to have the nous to pull off a rescue act as monumental as that in a crunch game, that too in foreign conditions. And while Shakib is and will always be Shakib, Mahmudullah was coming off a torrid period in his career, having been dropped from the Test team in Sri Lanka a few months earlier. They were also facing a top-class New Zealand attack unlike the one they faced in Ireland a few weeks ago when they achieved their first win over the Kiwis in a neutral venue.
The first 100 runs seemed like damage control and a saving of face Bangladesh fans are all too familiar with. But when the pair was still at the crease with the score going past 200 in the 41st over, the dream was well and truly alive. They were eventually separated with just 19 to get, when Shakib departed for a magnificent 114. Mahmudullah raised his own century soon after, and Bangladesh were through to their first ICC semifinal. It proved that even when pushed against the wall in hostile conditions, Bangladesh has the individual talent to defeat opposition that may have seemed superior before the contest. That was the true step forward for Bangladesh cricket in 2017.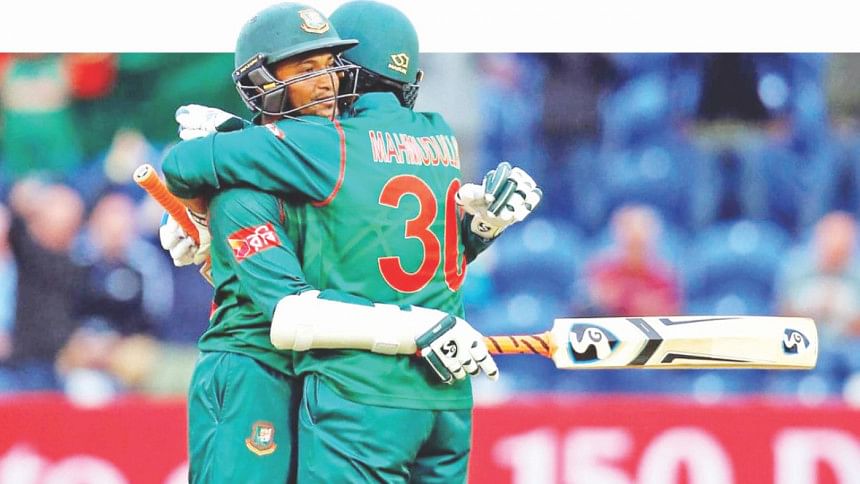 FOOTBALL'S FUTURE BRIGHT
2016 had ended on a grim note when the Bangladesh men's football team exited the Asian Cup Qualification Playoffs by losing 3-1 to Bhutan in October. That cleared up 2017 for the booters and while that may sound chipper, it was not. It meant that there really were no assignments for the team in 2017 and nothing for the football fans to get their teeth into until, into the breach, stepped the youth teams of both genders.
The girls have been carrying the country's football flag for quite some time now. The group of Under-15 girls had dominated two triumphant campaigns in the AFC U-14 Girls' Regional Championship in 2015 and 2016, and on December 24, 2017 they added another conquest to that list. This one was extra special as they triumphed in front of an adoring home crowd, beating India in the SAFF Under-15 Women's Championship final at the Birshreshtha Shaheed Mostafa Kamal Stadium on December 24. This time too, they went through the tournament unbeaten and were a cut above the rest. What was as inspiring as their performance was the level of interest shown by locals as more than 8,000 spectators turned up at the venue. They continue to show that with some investment in proper training and facilities, Bangladesh can produce world-beating athletes from groups previously not considered fit for the purpose.
The Under-18 boys got some poetic justice with a creditable campaign in the very place their seniors had suffered indignation less than a year ago. In the SAFF U-18 Championship in Thimphu, Bhutan the Bangladesh U-18s finished in second place as champions Nepal had a winning head-to-head record against Bangladesh, who were equal on points. Other than a 2-0 win over the hosts that put them in pole position, the high point of the tournament and arguably the country's year in football was a come-from-behind victory over regional powerhouses India on September 19 in their first match of the campaign. The boys had gone 3-0 down in the first half, but through a brace from Jafar Iqbal and goals from Rahmat Mia and Mahbubur Rahman the young booters ran away with the match in the second half.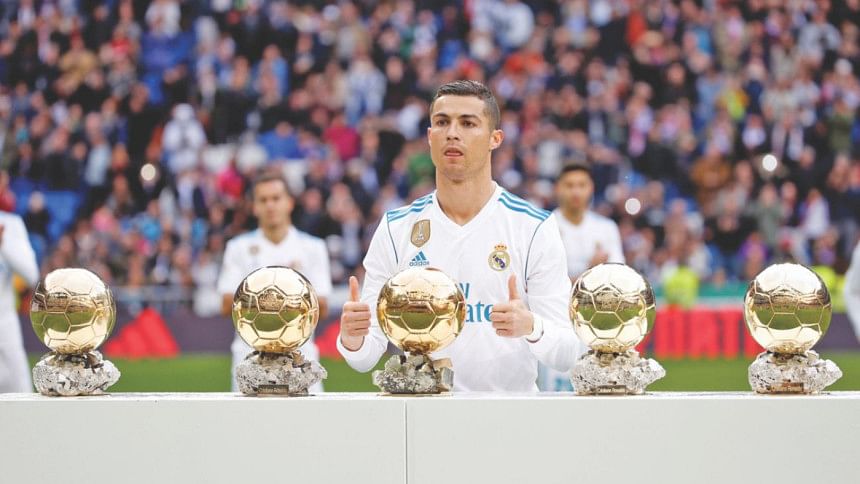 CRISTIANO RONALDO—GREATNESS ENDURES 
Before Lionel Messi had won the coveted Ballon d'Or for the first time in 2009, it was Portugal's national treasure Cristiano Ronaldo—who then seemed an impostor in the aftermath of the Brazilian Ronaldo—who bagged the trophy the year before in 2008.
Nine years later, no one bats an eyelid as these two keep winning the trophies. While Messi is much more celebrated in these parts, it is Ronaldo who has gotten the edge in recent times, winning four Ballon d'Ors in the last five years including one on December 7, 2017 which put him level with Messi on five. It caps a remarkable year for CR7—he led Real Madrid to the first ever successful defence of a Champions League title as well as winning the La Liga and Spanish Super Cup, and also helped secure Portugal's World Cup qualification.
A year that started with an affirmation of the permanence of class with the triumph of a 35-year-old Federer ended in much the same way with the 32-year-old Ronaldo standing head and shoulders above the rest in football.
Sakeb Subhan is a sub-editor for the Sports section, The Daily Star.