Another brutal year for children
AS we look back at the previous year which saw an increase of violence against children we must take a vow to play our part to make 2018 a better year for children. It is really hard to drive away our frustration at our collective failure to protect our children from the various forms of abuse that they have to suffer on a regular basis.
Let's look at the statistics from some leading child rights organisations. Although these statistics will not give us the whole picture of what our children had gone through in the last 12 months, since these are collected from the incidents that were reported in our national newspapers, we can at least have a glimpse of the horrific crimes committed against our children.
Bangladesh Shishu Adhikar Forum's (BSAF) Child Rights Violation Data shows that from January to October 2017, a total of 501 children were raped, among whom 64 were gang-raped. The number of instances of rape of disabled children was 40 and for attempted rapes was 57. 18 children were murdered after being raped.
According to this child rights organisation, whereas 446 children were raped and 265 were murdered in 2016, in just nine months of 2017, a total of 501 children were raped and 268 murdered, a worrying increase.
However, according to Ain O Salish Kendra (ASK), from January till November 2017, a total of 574 children were killed in the country. Among them, 135 were aged between seven and 12 years and 137 were aged six or below. During the same period of the year, ASK recorded 983 incidents of violence against children, including 431 rape cases and 66 attempts to rape.
As disturbing reports of child abuse continued to make news headlines throughout 2017, it just became obvious that all the laws and awareness raising programmes against child abuse have had very little impact in changing the situation on the ground. In fact, our failure to act has resulted in a rise in violence against children. I will mention some of the cases to get a picture of how deep-rooted the problem is and how we have totally failed to protect our children from different forms of brutalities ranging from sexual abuse and rape, to corporal punishment and murder.
THE RAPE OF A FOUR-YEAR-OLD GIRL
On July 31, Tanha, a four-year-old girl, was raped and murdered by her neighbour Md Shipon in the capital's Badda area. Shipon took the child to his room by tempting her with food and raped her before murder. He then dumped the child's body inside a common toilet at the victims' residence.
Although Shipon, the rapist and killer of the child, was arrested after the murder and is currently in jail, the charge sheet in the case has not been submitted as of now.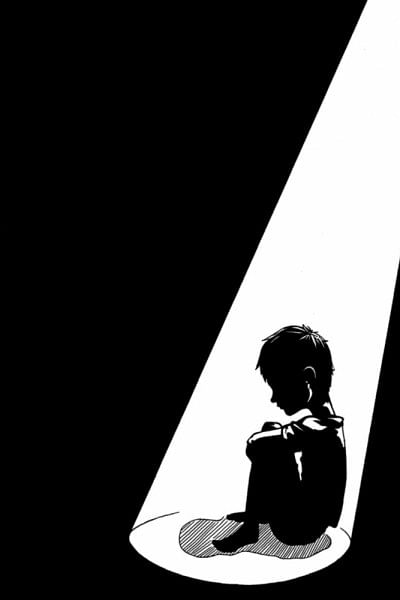 BRUTAL TORTURE OF SABINA AKHTER
In July 2017, an 11-year-old Sabina Akhter was tortured by her employer, Ayesha Latif, wife of Lt Col Taslim Ahsan, in Mirpur DOHS.  The photo of the child with her face bruised and eyes swollen went viral on social media. The girl managed to flee the house and later filed a case with Pallabi thana against her employer. The case was later transferred to Victim Support centre of Dhaka Metropolitan Police. The investigation officer of the case told The Daily Star over phone that they submitted the charge sheet accusing Ayesha Latif to the court in November last year. But Ayesha Latif was never arrested. She was even granted bail. This is just one case and there are hundreds of such cases of violence against domestic helps all across the country. Sabina's father recently told The Daily Star that the accused gave Sabina's family Tk 1.2 lakh and promised to pay another Tk 1 lakh to drop the charges. Since the Tk 1 lakh is still to be paid, the case has not been withdrawn as yet.
Although the draft of Domestic Workers Protection and Welfare Policy was approved by the government in December 2015, in terms of implementation of the law, we have hardly made any progress.
SAGOR KILLING
In September last year, a teenage boy named Sagor was beaten to death because he allegedly tried to steal a water pump from a hatchery in Char Sreerampur village of Mymensingh's Gauripur. Tied to a concrete pole, Sagor was beaten up by Akkas Ali, the hatchery owner, Quaiyum, his associate, and some of his employees. As he repeatedly screamed for help, cried for water and begged for his life, the group showed no mercy and continued to torture him. And at one point, he collapsed and died of his injuries.
Sagor's father Shipon filed a murder case against 12 people including Akkas with the Gouripur Police Station. The case was later transferred to DB. Presently, Quaiyum, Akkas Ali and two others are in jail, although Akkas's four brothers got bail. The charge sheet of the case has not been submitted yet. Md. Ashiqur Rahamn, OC    of DB Mymensingh, told The Daily Star over the phone that they could not submit the charge sheet in this case to the court because they are yet to get the post-mortem report.
FATHER-DAUGHTER'S SUICIDE FOR JUSTICE
On April 2017, a man named Hazrat Ali, committed suicide along with daughter Ayesha, by jumping before a running train near Sreepur Railway Station in Gazipur, after being frustrated because of no response from authorities to his complaints about an attempt by a local youth to harass his daughter. When the girl's parents lodged a complaint with Sreepur police on January 15, police told them that they did not know the accused. They also informed the local UP member about the matter, but he did not take any step. Four months after this, the father and daughter committed suicide.
The girl's mother Halima Begum filed a case accusing seven people of provoking the victims to commit suicide. Although police arrested all seven accused, the UP member is currently on bail. Yasin Faruk, OC of Kamalapur thana and also the investigation officer (IO) of this case, told The Daily Star over phone that in the second week of December police submitted the charge sheet.
According to ASK, last year, from January till October a total of 17 children committed suicide because of sexual harassment and 10 committed suicide in fear of rape.
DAUGHTER RAPED BY FATHER
In November last year, we got the horrifying news of a father (Rahman Bhuiyan) raping his 10-year-old daughter in Ramkantopur village in Sadar upazila of Rajbari in Faridpur. The girl was also raped several times by another man named Sumon. When she protested, she was beaten up by them. Police later arrested both the criminals, the father of the girl and Sumon.
Kamal Hossain Bhuiyan, the investigation officer of the case, told The Daily Star that they have 60 days to investigate the case and that period is not over yet. We can only hope that this case will not be lost into oblivion like many other cases do. 
TEACHER FORCED STUDENTS TO DRINK SEWER WATER
While talking about the many forms of child abuse, let's not downplay the incidents of abuse children suffer in the hands of their teachers. In August 2017, a schoolteacher of Dhaka allegedly forced her students to drink sewer water as punishment. The incident came to light after several of the students fell ill following the incident.
We did not hear about any legal steps being taken against the teacher.
Although corporal punishment was officially banned in 2010 in the country, the law is hardly implemented. According to ASK, the number of incidents of torture of children by their teachers were 105 from January till November in 2017. What is even more shocking is that during this time, five children died because of physical torture by their teachers.
From the above mentioned cases, it is clear why in most cases the perpetrators get away scot-free. Usually the abusers are powerful and influential people who often intimidate the victims and their families to not file cases and go for out-of- court settlements. And the victims' families do not feel empowered to fight the cases and also do not believe that getting justice is possible. The legal procedures in many of the cases linger for an indefinite period which discourage the victims to fight them. Thus, although the incidents of child abuse are extremely high, the numbers of cases filed are significantly less. And it is even rare to hear about any punishment being awarded to the perpetrators.
Legal practitioners believe that the culture of impunity is to blame for this rise in violence against children. They blame the delay in the trial of the accused as the main reason for the alarming rise in crimes of child abuse. Establishment of a separate child rights commission to deal with the issues relating to child abuse and sexual harassment and holding trial of the cases under a special tribunal, are some of the suggestions they have made.
A LANDMARK VERDICT
In the backdrop of such a grim reality, we came to know about a landmark verdict in a child abuse case that gives hope. In July last year, a special court in Dhaka sentenced Nawrin Jahan Nodi to life imprisonment for torturing an 11-year-old domestic help, Aduri. Aduri was found unconscious in a malnourished condition near a dustbin in the capital in 2013. After torturing her for over six months, her employer dumped her body into a dustbin, assuming that she was dead. After being rescued by the locals, Aduri filed a case against her landlord. The court gave its verdict last year.
Unfortunately, Aduri's case is just one. Most of the child abuse cases do not see the light of justice. But the verdict in Aduri's case showed us that through the proper implementation of law, we can actually break this culture of impunity and make our country a better place for children.
Naznin Tithi is a member of the editorial team, The Daily Star.