Safe Motherhood Day 2016: Eradicating Obstetric Fistula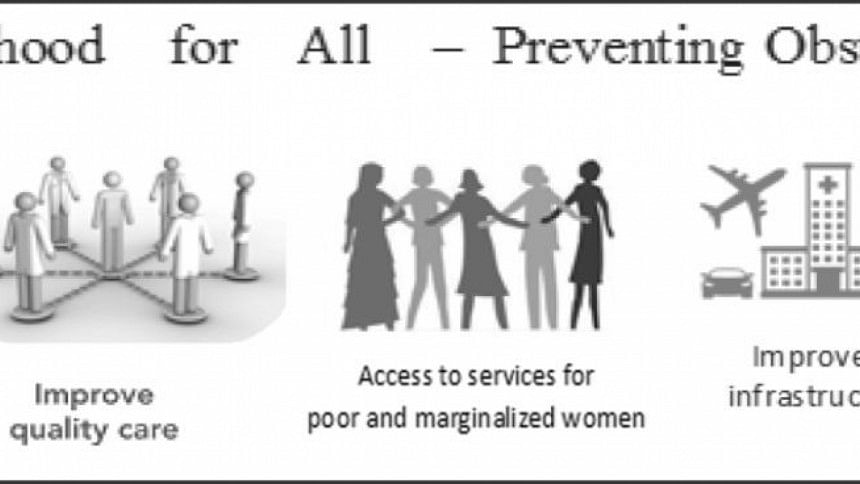 Motherhood is the most natural phenomenon we know, a time which is ideally associated with hope and joy. However there are thousands of women and babies who do not get to enjoy the promise of safe motherhood. Every day, almost 800 women die in pregnancy and childbirth around the world, in Bangladesh alone it is as many as 15 each day. And for every woman who dies, 20 or more experience serious complications.
Most of the deaths and morbidities can be prevented, the necessary medical interventions exist and are well known. The major obstacle lies in women and girls' lack of access to quality care before, during and after childbirth and in a lack of information and knowledge. 
One of the most severe and tragic childbirth injuries affecting an estimated 72,000 women across Bangladesh is Obstetric Fistula.
What is Obstetric Fistula?
It is a hole between the birth canal and bladder or rectum caused by prolonged, obstructed labour without treatment. It leaves women leaking urine, faeces or both, and often leads to chronic medical problems, depression, social isolation and deepening poverty. The most important fact is that obstetric fistula is preventable, its persistence is a sign that the health system is not yet protecting the health and rights of the most vulnerable girls and women adequately.
How does it happen?
Without emergency intervention, obstructed labour can last for days, resulting in death or severe disability. Without the needed timely, high-quality treatment, the obstruction can cut off blood supply to tissues in the woman's pelvis. The dead tissue falls away leaving behind a hole. Tragically in a majority of cases women who develop this condition end up delivering a stillborn baby.
In industrialized countries obstetric fistula has been essentially eliminated through skilled management of obstructed and prolonged labour. The girls and women affected today are usually poor or live far from skilled birth attendant services. Over 60% of deliveries in Bangladesh still happen at home.
Child marriage practices contribute to the high number of cases of obstetric fistula. Girls who get married and fall pregnant at too young an age are physically not mature enough to handle the strains of child birth. The physical injury is then exasperated by the emotional trauma of losing a child.
What are the consequences?
An obstetric fistula, which is left untreated can lead to a number of physical ailments, including infections, kidney disease, painful sores and infertility. The social stigma associated with the condition often times forces girls and women into isolation and abandonment. In many cases husbands divorce their wives, families reject them and communities exclude those affected, driving them further into poverty.
Obstetric fistula is therefore often described as hidden suffering, with affected girls, women and families ashamed and reluctant to speak about the condition. Their suffering goes unnoticed, cases are not identified and there is little knowledge and awareness for the possibility of treatment.
What can be done?
Treatment for obstetric fistula is possible. Reconstructive surgery can usually repair a fistula. In Dhaka, the National Fistula Centre at Dhaka Medical College Hospital is considered the Centre of Excellence when it comes to fistula care. With joint support from UNFPA and USAID there are currently ten government and seven private facilities that provide care for fistula patients.
 Besides the surgery for the physical injury a rehabilitation programme provides counselling and other forms of support which include livelihood skills development. This helps women reintegrate into communities, rebuild their lives and regain dignity and hope.
Prevention is the key to eliminating fistula
*By ensuring that all women have access to skilled birth attendance during delivery, and emergency obstetric care is provided when complications arise fistula can be made very rare. 600 midwives have already been deployed to union and upazila level health centers and more are awaiting the posting. To meet the needs of all girls and women in Bangladesh a total of 22,000 professional midwives need to be educated and deployed, who will be able to ensure that women receive all the care they need before, during and after pregnancy.
*Ending child marriage and postponing the age of girls at first pregnancy will dramatically decrease the risk of developing obstetric fistula.
*Timing and limiting pregnancies: Allowing women access to family planning services significantly reduces the probabilities of developing obstetric fistula and provides them with decision-making power over their own sexual and reproductive health.
*Development of Infrastructure: Affordable, reliable and fast transportation to health centers needs to be ensured, medical centers need to be surgically equipped and staffed adequately.
*Battling Poverty: Fistula is known as the disease of poor. All women, regardless of their socio-economic situation, including the most marginalized and vulnerable, need to be provided with information and access to sexual and reproductive health services.
*Educating and empowering women and communities nationwide: where women are educated about the rights to their body and reproduction and provided the necessary services, the rate of maternal complications, morbidity and mortality decreases. Communities need to be made aware of preventive measures against fistula and the treatments that are currently available. Many women who recover from obstetric fistula through surgery, later on become advocates for fistula and educate other women about the risks and treatment options for obstetric fistula.
UNFPA's goal is to support the Government in eradicating obstetric fistula from Bangladesh in the next five years and promoting safe motherhood. This requires commitment, financial resources and cooperation at policy making level, from health care providers and from communities. Obstetric fistula may be a medical condition, but it can only be eradicated through education and the empowerment of women and fulfillment of sexual and reproductive health and rights.
Source: UNFPA Team.