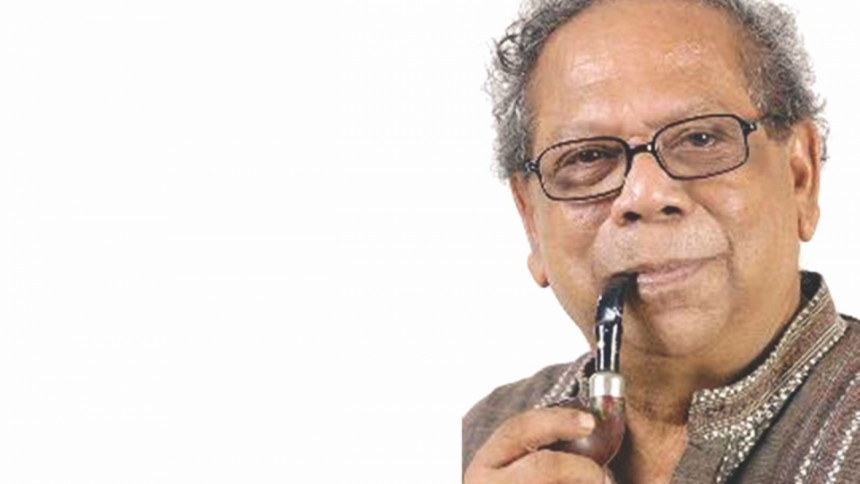 Murtaja Baseer, considered one of the foremost painters of Bangladesh, has established his individual style in art over the years. Throughout his illustrious career, Baseer has gradually transformed his working style from realism and semi-realism to abstract realism.
Born on August 17 in 1932, Murtaja Baseer joined Dacca Art College (now the Faculty of Fine Arts, University of Dhaka) as a student in 1949. In 1954, he graduated from the Government Institute of Arts in Dhaka, and in 1956-58, he studied at the Academy of Fine Arts in Florence and then in Paris, where he studied mosaic and etching at Beaux Arts. On his return to Bangladesh, Baseer joined Chittagong University as an Assistant Professor. He finally retired from teaching in 1998.
Since 1954, Baseer has been featured in many art exhibitions in Bangladesh, America, Europe, and the Soviet Union. He has created a place of his own among Bangladeshi artists. His careful portraiture, with detailed lines and balanced colours, expresses his critical commentary on society. His depiction of Bangladeshi women, in particular, reflects their individuality, strong personality and angst. 
Peace is a recurring theme in Baseer's work. In his collage titled, No More War, he depicts the pillage of the Iraq War and highlights the futility of war. The collage "Statue of Liberty" portrays the fleeing women and children leaving behind their precious assets. 
A folk-themed watercolour portrait by Murtaja Baseer has been displayed in Louvre Museum in Paris, France.  
The painter is still actively exploring the diverse world of art. He has done a series of work articulating the complexities of contemporary life.
Murtaja Baseer is also a poet, short story writer, novelist, researcher, numismatist and filmmaker. He has written novels and was acclaimed for his meticulous style and unique choice of themes. 
Baseer has also worked as a screenplay writer, art director and chief assistant director for the Bangla film Nodi O Nari in 1964, and as an art director for the Urdu film Kaise Kahoon in 1965.
In 1987, he received a fellowship from British Council to carry out research on the folk and traditional art of Bangladesh. He is also a philatelist -- a lesser known fact about him.
In 1988, he visited several museums in Delhi, Calcutta, Banaras and 3,000 villages under nine districts of West Bengal, under the fellowship of the Indian Council for Cultural Relations (ICCR). His work Mudra O Shilalipir Aloke Banglar Habshi Sultan O Tothkalin Samaj was published in 2004. Several articles by Baseer have been published in the Journal of the Numismatic Society of India, a prestigious publication.