Urbanisation trends and sustainable transport
Our future is destined to be urban as urbanisation in developing countries is a defining feature of the 21st century. It is the most significant demographic transformation in our century because it restructures national economies and reshapes the lives of billions of people. Today, about 55 percent of the population globally live in urban areas and about 1.5 million people are being added to the global urban population every week. Each year, urban areas are growing by an average of more than 75 million people—greater than the population of the world's 85 smallest countries combined. This trend is expected to continue—by 2045, the number of people living in cities will increase by 1.5 times to 6 billion, adding 2 billion more urban residents. It is forecasted that the world's population will reach 8.6 billion in 2030 and 9.8 billion in 2050 from the 7.0 billion of 2010 living more than two-thirds of the population will be living in cities in 2050 compared to about half of the population in 2010 (UN, 2017 and WEC, 2011). It is projected that the entire built-up urban area in developing countries will triple between 2000 and 2030 from 200,000 sq km to 600,000 sq km. The additional 400,000 sq km of newly urban built-up area that will be constructed within only 30 years equal the total built-up urban area throughout the world as of 2000. The number of megacities is also projected to increase to between 60 to 100 in 2050 from 22 in 2010, and these will be mostly in developing countries of Asia, Africa, and Latin America (WEC, 2011). These cities will face high levels of social, economic and environmental challenges due to increased road traffic congestion for augmented demand of transport, alongside both economic progress and enhanced living standards.
Today cities are the powerhouse of economic growth and centre of all innovation and empowerment; they contribute over 80 percent of the global gross domestic product (GDP), play a critical role in people's everyday life and are the key to attain the sustainable development goals (SDGs). However, the speed and scale of urbanisation brings challenges, including meeting accelerated demands for affordable housing, sustainable and inclusive transport systems and other infrastructure, basic services and jobs, particularly for the nearly 1 billion urban poor who live in informal settlements to be near opportunities. Global climate change and its current and potential consequences for life, property and prosperity are now accepted as the major challenge for human society in the next 100 years. By 2030, without significant investment to improve the resilience of cities around the world, climate change may push up to 77 million urban residents into poverty (UN, 2017). Cities globally consume about two-thirds of the world's energy and 75 percent of natural resources, and account for about 80 percent of global greenhouse gas (GHG) emissions (WEC, 2011). Once a city is built, its physical form and land use patterns can be locked in for generations. Unplanned development leads to unsustainable sprawl and obstructs achieving development objectives. So, developing a sustainable city along with its basic infrastructure is of utmost important to ensure future sustainability. Building cities that "work"—are inclusive, safe, resilient, and sustainable—requires intensive policy coordination and investment choices. Therefore, city-level actions will be a central part of sustainable development initiatives, where the world needs inclusive and sustainable urbanisation as a milestone in the path towards socio-economic development, as recognised by SDG Goal 11: Sustainable Cities and Communities.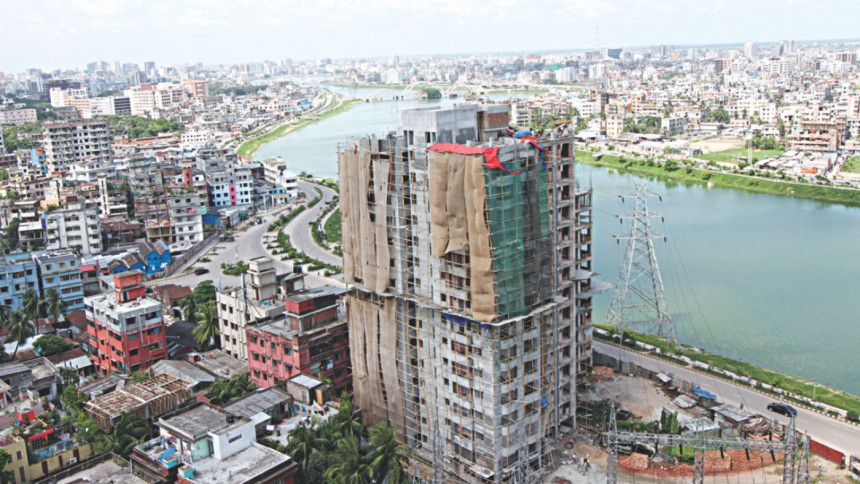 Transport is the life of a city and choices on public transit options are fundamental decisions about a city's future growth and development. It is a key infrastructure sector that acts as a stimulus to economic growth and development, and an important element of strategies for poverty reduction, regional integration and national development including the environmental objective of limiting GHG emissions. As transport is one of the major contributors to global warming through burning fossil fuels, this sector could be one of the prime sectors where policies aiming to reduce GHG emissions will be most important. Sustainable transport that emphasises the use of public transport, bicycles and walking, and discourages the use of individual motorised vehicles like cars and motorcycles is essential to achieve many of the proposed SDGs and the 2030 agenda for sustainable development and it is, therefore, mainstreamed across several SDGs and targets, especially those related to food security, health, energy, infrastructure, cities, and human settlements (UN, 2017). There is a pressing need to improve the sustainability of transport in order to reduce its impact on climate change, better support economic growth, improve energy security and achieve the SDGs. In developing countries, although transport's share of GHG emissions is low, the energy consumption within the transport sector, especially the road transport, is growing much faster than in other sectors. With the threats of increasing GHG emissions and the historical trends of volatile fuel prices, issues of affordability, environmental sustainability and resource optimisation are becoming increasingly important for selecting sustainable modes of transport especially in large developing cities of the world.
It is apparent that the global transportation sector, especially urban transport will face unprecedented challenges related to demographics, motorisation, rapid urbanisation and sprawl, congestion, emissions, increasing number of aging transport infrastructure and growth in fuel demand in days ahead. Today the global transport sector consumes about 25 percent of global energy supplies, of which 77 percent is by road transport, 10 percent each by marine and aviation, while the railways accounts for only three percent (EIA, 2016 and WEC, 2011). Driven by increases in all travel modes by 2050, the energy consumption of the transport sector is estimated to increase by between 80 percent and 130 percent above today's level, which will account for more than one third of global energy supplies and more than half of all oil produced. Most of this demand will come from regions undergoing strong economic and population growth (WEC, 2011). Transport is the second largest source of GHG emissions (23 percent) after the energy sector; road transport at a global level accounts for over 70 percent of emissions, aviation for 12 percent, sea and inland waterways together comprise 11 percent, and railways (freight and passenger) only two percent of total emissions (WB, 2007). The transport sector, particularly the urban transport is going to encounter profound challenges about the advances in transportation, technological innovations and solutions in the days ahead, and how these may be able to satisfy the additional transport demands for about six billion urban people by 2050 at the lowest possible social cost without compromising the environment. In this connection, government policies may play a very critical role in defining the most likely pathway into the future.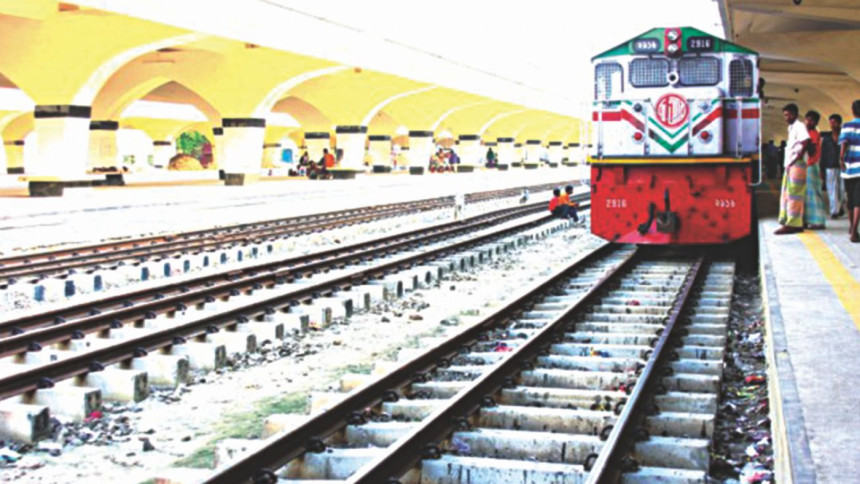 Transport sector developments in Bangladesh have been driven mostly by unrehearsed considerations having no specific focus on future requirements. Despite the substantial expansion of the transport infrastructure since independence in 1971, albeit mostly in the road sector, the services provided to users have not kept up with the demand in terms of economy, quality and safety. The relative roles of transport modes evolved with road transport development at the cost of railways and inland water transport. Expanding the road network has apparently generated some direct benefits both in terms of economic growth and poverty alleviation, but this energy intensive mode of transport, in a country like Bangladesh where the population density is very high and there is a limited supply of land, has created unbalanced development of the sector resulting the additional costs of economy and environment for long term perspective. The unplanned rapid urbanisation and motorisation has been a key cause of numerous transport related problems in Dhaka. Facing these challenges demand re-examining government policies and priorities to develop a strategy which allows for a sustainable contribution of the transport sector to the national development objectives, because transport not only plays a key role in the daily functioning of our lives but can also be a tool for managing growth and development.
Bangladesh is a fast urbanising country where the urban base has expanded rapidly from 7.6 percent to nearly 25.0 percent between 1970 and 2005. Dhaka, the capital city of Bangladesh, has witnessed an extraordinary social and economic development since its independence, and the trend is expected to continue. It alone provides 35 percent to the country's total GDP. But unplanned urbanisation, especially poor transportation planning and lower land utilisation efficiency, has turned the city into a dirty, hazardous and demeaning place for living. Dhaka has already received the dubious distinction of being the second dirtiest city in the world (Forbes, 2008). At the same time, it is consistently ranked as one of the world's least liveable city. Dhaka has ranked the second on a global list of cities with worst air pollution (HEI, 2017). Dhaka is the 7th most stressed city in the world and the most stressed city in Asia for being densely populated and having the worst traffic congestion (Zipjet, 2017). A Buet study shows that pedestrians make up approximately 72 percent of road fatalities, 45 percent of casualties and are involved in about 48 percent of all reported accidents in Dhaka City. Although Dhaka's area is less than one percent of the country's total land area, it supports about 10 percent of the total population and 30 percent of the total urban population. There is hardly any other city in Asia that has grown (in terms of population and area) as rapidly and has changed its "face" as dramatically as Dhaka. During the last four decades, Dhaka has recorded a phenomenal growth in terms of population and area. The city is presently one of the 10th largest mega-cities of the world with a population of about 16.0 million, having the highest population density and an alarming growth rate. The rapid rise in population along with increased and versatile urban land use patterns has generated considerable travel demands as well as numerous transport problems in Dhaka, which has resulted in deterioration in accessibility, level of service, safety, comfort, operational efficiency and the urban environment. The additional population and ongoing urbanisation trends will add new dimensions to the urban fabric of Dhaka in the coming years.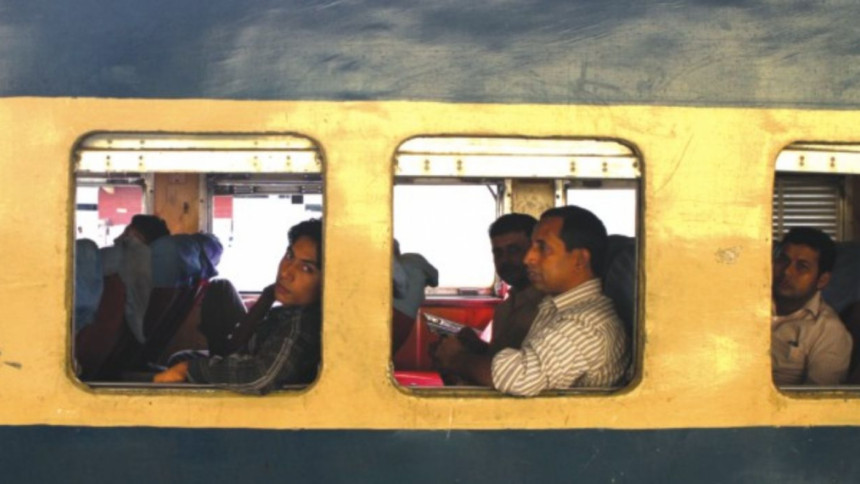 The transportation system of the mega city is predominantly road based and non-motorised transport (mainly rickshaws) has a substantial share. Its transport environment is characterised by mixed-modes of transports (both motorised and non-motorised) using the same road space, mismanagement, conflict of jurisdictions and poor coordination among various authorities and agencies, which lead to intolerable and horrific traffic congestion, erratic delays and increasing environmental problems. Though Dhaka is one of the least motorised cities in the world, its traffic congestion is the most common phenomenon in our everyday life. Since 1995 to 2005, the roads of Dhaka have increased only by five percent, but population and traffic have increased by over 50 percent and 134 percent respectively (DTCB, 2005). Dhaka's road network is nearly 3000 km (of which 200 km primary, 110 km secondary, 50 km feeder and 2640 km narrow roads) with few alternative connector roads; only 400 km footpath, of which 40 percent are being occupied illegally by vendors and others, is available for pedestrians (DTCB, 2005). There are no effective bicycle lanes and safe walkways even. Although a 39-km long railroad passes through the heart of the city, it has little contribution to its transport system due to policy constraints. Likewise, Dhaka is surrounded by waterways, but it is not likely designed to serve the city.
Although the motorisation levels in Dhaka is still very low compared to similar sized cities of the world, the rate of increase of various types of vehicles in recent years is significant and unbalanced. Dhaka has a substantial share in energy consumption as the central place of intense transportation use and economic activities. Dhaka alone has about 37 percent (as high as 55 percent excluding the motorcycles) of the total motor vehicles registered in the country; and about 70 percent and 80 percent of the country's total buses and private cars, respectively. Today the mega city Dhaka is one of the world's most crowded and congested cities. As per World Bank (2017) analysis, many residents in Dhaka often lack access to basic services and in the last 10 years, average traffic speed has dropped from 21 km/hour to 7 km/hour, only slightly above the average walking speed. Its traffic congestion eats up 3.2 million working hours per day and accounts for a loss of at least BDT 550 billion a year. Many have expressed their apprehension that Dhaka is destined to be the world's largest slum if we make further delays to take corrective measures. Its traffic congestion not only causes increased costs, loss of time and psychological strain, but also poses serious threats to our socioeconomic environment. With its present situation of traffic systems, the city stands in dire need for a radical transformation in the structural sense. Until and unless there is an immediate and effective solution, the system will collapse. We need to take a comprehensive view of the present shortcomings and future potentialities of the metropolis to identify and work out plans for formulating strategies to standardise the efficiency of traffic flow and the effectiveness of the transportation system because choices about transportation system determine the kind of city we want to live in. To maintain the economic viability of this city and to keep its environment sustainable, an efficient mass transportation system is imperative.
From the experience of the mega cities of the world, a road system alone cannot satisfy the need for transportation of such a large city like Dhaka. Road transport has, in particular, revolutionised lives, bringing great flexibility and widening horizons; but an over-concentration on road transport has a price—for health, for the economy and for the environment (RHTD, 2013). Policies for more and more road construction have clearly failed to cope with ever increasing demand from rapid motorisation, resulting in a vicious circle. As continued road building to cope with increasing demands for transport is not environmentally or financially sustainable, the desired transport plan for Dhaka must be multi-modal and well-integrated, and use the best features of all modes of transport that can complement one another. The challenge of the exponentially growing Dhaka can be met by moving its future development patterns in more sustainable directions through rationalised and accessible transports which are inclusive and transit oriented. Rail transit has the potential—it is a demand responsive, rapid, cost-effective and environmentally benign urban passenger transport. World cities are increasingly using rail-based mass transit to meet the growing demands and cope with developmental challenges. As of October 2014, 157 cities in 55 countries around the world host approximately 160 metro systems (54 in Asia). The Tokyo metro (130 lines) alone carry as many as 14.6 billion passengers annually. There are about 400 light rail systems worldwide, while over 200 new systems are being planned.
Whether urban rail (metro, commuter or light rail) is essential or not for efficient transport in large developing cities depends on the city and pattern of development itself. When high-density urban development expands widely but employment remains centralised, buses and private cars may not be able to provide efficient transport facilities to the mass people and in this case urban rail with coordinated feeder services becomes predominantly important for carrying large volumes of traffic. The Japanese system of urban transportation by rail, and its medium-range, high-speed railway network is a model for all to emulate. Japan's mass transit systems as well as railways are the envy of the world: fast, clean, frequent and punctual; they are an example to other nations of what can be achieved when government, business and science co-operate for the benefit of all. Tokyo's extensive urban transport system, among the most highly developed in the world, is largely characterised by an intensive use of rail systems. It is likely that the population and employment growth in the Tokyo Metropolitan Region would not have been achieved without the development of an extensive rail network. High-speed, frequent, and reliable rail services have helped expand the area within commuting distance, while allowing employment to grow apace in central Tokyo.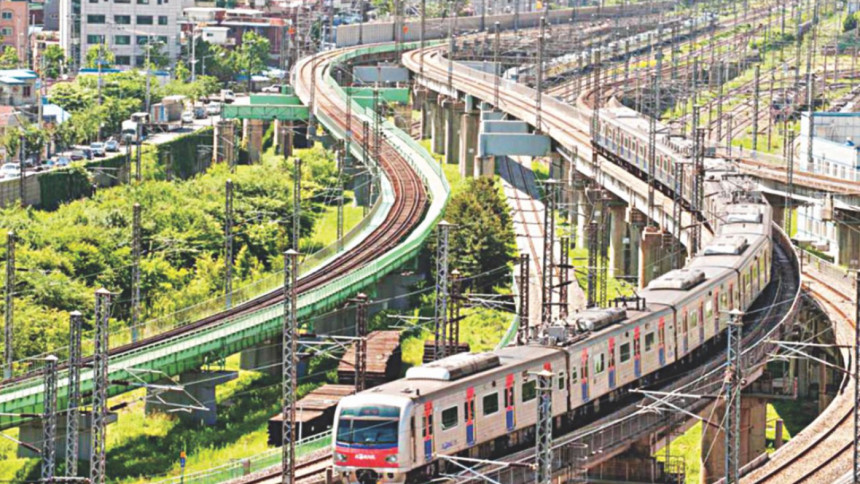 Hong-Kong, Singapore, Seoul, Mumbai, Malaysia and Taipei have also adopted rail-oriented strategies. Delhi Metro is very popular and is being extended to cover many major parts of the City. Commuter Rail services are the life line of Mumbai City. The two most rapidly growing nations of Asia, China and India, have been increasingly introducing urban rail systems, especially the metro, in many big cities in consideration of its capacity to cater to long-term growth. With the rapid development of the national economy and the speeding up of urbanisation, the rail transport is gradually becoming the main way of the urban public transportation globally. The rail transit, as a kind of large capacity, high speed, safety and punctual transportation, not only improves the accessibility of urban traffic, but also raises a new commercial circle. It has a huge impact on the development of urban commercial spaces and to the improvement of citizens' living standard.
The railways in Bangladesh have the potential to play a key role in the context of regional connectivity and trade, and can be a sustainable mode of urban transport. For a large city like Dhaka, especially when it reaches a stage where the concentration of travel demand cannot be efficiently handled by the road-based system, the development of an urban rail system becomes essential. The existing infrastructure and social condition of Dhaka have not enough provision to introduce bus-only lanes and bus prioritisation. Due to lack of sufficient road capacity and limited scope for future expansion, bus services alone will not be able to meet the future transportation demands of the mega city Dhaka. The population of greater Dhaka is expected to be 36.0 million by 2024 with estimated total 70 million person trips a day (STP, 2005). To carry this huge load and considering the long-term investment benefits, heavy-rail based metro systems (like New Delhi) is necessary for the metropolis. The secondary corridors may then justify bus rapid transit (BRT) systems, which may also feed the metro. BRT cannot be an alternative option for heavy rail system to provide demand-responsive transport services by any means. Even the elevated motorways/busways will not solve the problems; rather they will cater to different types of traffic, likely car owners. Instead, a commuter or suburban railway system like Mumbai (having several routes connecting to neighbouring suburban districts and growth centres) can be developed along existing rail corridors through planned development for suburban commuter trips that can easily be integrated into the central railway systems as the existing railroads crisscross some major urban cores. Moreover, Dhaka has unique potential for circular waterways development as it is surrounded by rivers and waterways. This also could accommodate a circular rail system to further ease the traffic load of the city.
To enhance the development effects of the rail system, the construction of urban facilities (compact and mixed-use types) at and around the stations for the improvement of inter-modal connectivity is important. The rail network can make an unrivalled contribution to the sustainable growth of our economy, providing millions of people with access to jobs, goods and services. In core urban areas of the city, streets need to be viewed as places of exchange—both social and economic—and traffic speeds need to be tuned to facilitate that exchange, not high-speed mobility. Streets can become destinations worth visiting, not just thruways to and from the workplace (Toth, 2011). Transit stops and stations can make commuting by rail a pleasure. Major rail stations might be destinations and lifestyle centres that may further blend our commute with our lives. People around the world are increasingly using stations, not just as places to catch a train, but as centres for leisure and business. Of nearly a million weekly visitors to London's St. Pancras station, a quarter come to eat, drink or shop rather than to take a train. Rail stations may play a broader role than providing a means of access to rail networks.
They are increasingly the focal points of major towns and cities and can be centres of economic activity in their own right. This trend will continue as stations become places of experiential retail and also provide facilities such as gyms, hairdressers, meeting spaces and offices. Rail services may focus on the total journey, as passengers seek out the trip that offers the most efficient means of getting from A to B. Information and communication technology based integrated journey information and seamless connections to other transport modes will create a hassle-free, holistic travel experience. Walking facilities and non-motorised transportation shall be the lifeblood of our urban cores. The consequence of these requirements is what is known as transit-oriented development, which may be taken as compact, mixed use, pedestrian and cyclist friendly development oriented towards the use of public transport—this is what Dhaka should adopt for ensuring a sustainable future for transportation and the city.
Being the administrative, commercial and cultural capital of Bangladesh, the mega city Dhaka has a major role to play in the socioeconomic development of the country. But the existing transportation system is a major bottleneck for the development of the city. Bangladesh has made remarkable achievements in developing its transportation system during the last four decades; however, many problems in its business, management, and planning remain. In many cases, previous policies have focused on the construction of additional road infrastructure and capital-intensive, high-cost transport projects with little consideration for future needs, environmental sustainability and land-use consequences. With the graduation from the least development country category, the government and city authorities should take decisions more judiciously to invest in future urban infrastructure, and be realistic while selecting appropriate mass transit options, taking into account long-term needs, and implementation and financial issues. It is important to ensure that the transport sector issues are being addressed in a holistic manner with an integrated policy approach rather than the piece-meal sub-sectoral approach that has been adopted so far. The government's policy of providing long-term public investment should support for developing a creative and smart city; and to realise that, Dhaka may adopt a rail-based mass transit system in a mixed land use and compact city form, which should be developed in a planned and comprehensive manner integrated with efficient land use as well as walking and cycling facilities and other modes of transport that respects commuters' choices and ensures door-to-door services for well-balanced goals that respond to economic, environmental, and social challenges. Stakeholders need to agree on a comprehensive transport strategy plan, ensuring the co-existence of different modes of transport. There must be strong political support and competent management for smooth implementation with clear-cut provisions delineating the respective roles of the different planning and implementing agencies.
To advance with innovations for achieving sustainable development, it is imperative that choices are made, not exclusively on past practices, but also on forthcoming potentials and favoured outcomes. The future balanced mix of transport modes for sustainability is something that will be created, not entered into. Looking forward to 2030, 2040 or 2050 entails us to think in applied terms in the expectation of pushing the limits of inventive reasoning and creative thinking. We are usually thought of as conventional; but there is a need to continue with farsightedness and look into what technological changes are taking place around the globe to grasp innovative reasoning and creative thinking anticipating the present into what's to come in the future.
---
Md Saidur Rahman is an Additional Chief Engineer of Bangladesh Railway, Railbhaban, Dhaka. The views expressed here by the author are his own and do not reflect the views of any group, organisation, or government with which he is affiliated. E-mail: srmilan@gmail.com
---
See

Rethinking Urban Spaces

for more articles from our special supplement
---