Dhaka Circular Light Rail (LRT)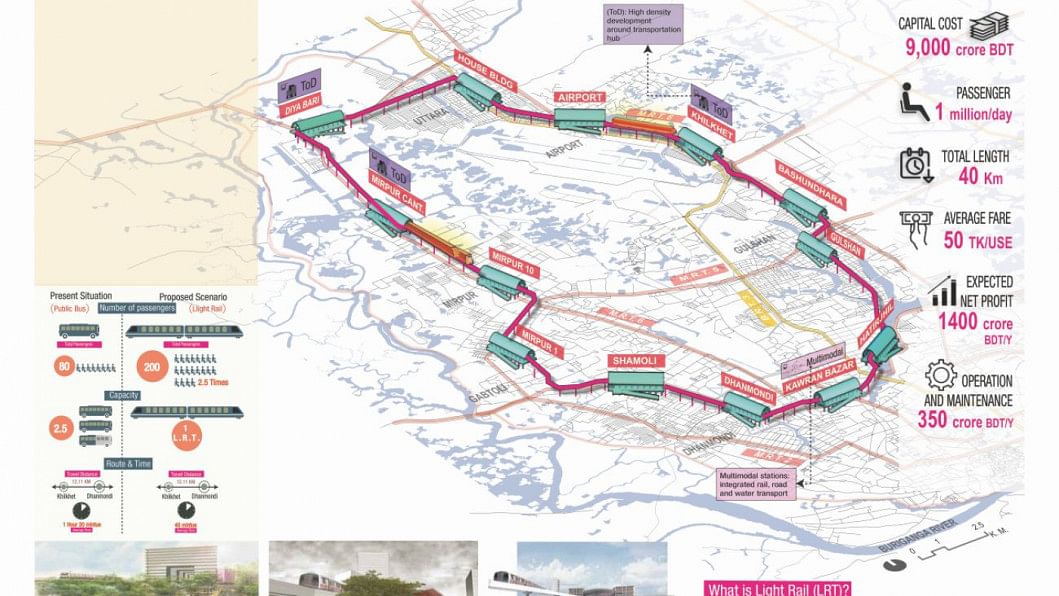 In this city with 15 million people, movement of the private cars always gets priority in planning and development. Government has realised that only increasing roads cannot pull this city out of the current transportation crisis. In response, constructions of MRT 6 and BRT 3 have already started with some others in the pipeline. Our analysis shows that Dhaka needs more public transport besides the ongoing initiatives, especially in the core city. The proposed LRT (Elevated Light Rail) will be a 40km long circular line connecting the major areas of core Dhaka. Elevated Light Rail is an urban public transport using rolling stock similar to a tramway, but operating at a higher capacity on an exclusive right-of-way.
The Key features
The circular LRT line will integrate with MRT, BRT and public buses to bring more choices to people's movement.
Because of the technology needed, LRT will be cheaper than MRT.
LRT will require limited land acquisition and can be executed quickly.
LRT stations can become hubs of new urban development.
LRT will prepare people for the upcoming MRT. Feeder loops will increase the expected ridership.
---
See

Rethinking Urban Spaces

for more articles from our special supplement
---