The Rohingya refugee crisis throughout the years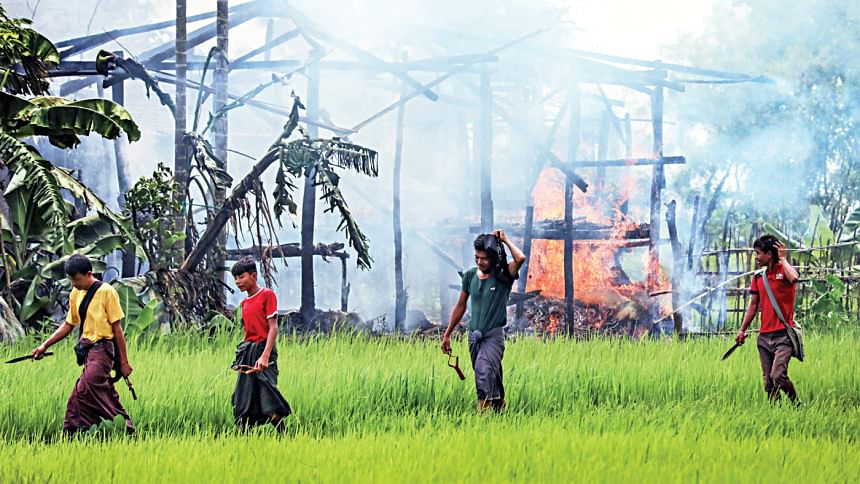 Five years ago, in August 2017, the Myanmar military unleashed a brutal offensive against the Rohingya communities across the country's Rakhine State. The violent crackdown, which the United Nations later described as a "textbook example of ethnic cleansing," saw soldiers raze homes and shoot at villagers, forcing more than 700,000 Rohingyas to flee across the border into Bangladesh.
Despite Bangladesh having to face a myriad of its own challenges, the country sheltered the Rohingyas on humanitarian grounds, hosting the biggest refugee camp in the world.
Although the 2017 exodus is by far the largest, this was not the first time the Rohingya people, one of Myanmar's many ethnic minorities, had been driven out of Myanmar and had to take refuge in Bangladesh.
Waves of violence, repression, and restrictions on freedom of movement led the Rohingyas to flee their homes in Arakan, a region officially known as the Rakhine State, which has been home to Rohingyas for generations, and seek refuge in Cox's Bazar. The Rohingya refugees have fled to Bangladesh in, contestably, five waves -- 1977-1978, 1991-92, 2012, 2016, and 2017.
INFLUX IN 1977-1978
Over 200,000 people fled to Cox's Bazar between 1977 and May 1978, following a spate of torture, rape, and evictions from their homes after the Myanmar military launched Operation Dragon King (Naga Min) in Rakhine State. According to Human Rights Watch (HRW), these evictions took place during efforts to register citizens and screen out foreigners for a national census.
Historical documents show that over 10,000 Rohingya were killed during this operation, apart from those who fled to Bangladesh. Around 40,000 Rohingya women, children, and elderly perished during the journey.
The refugees were sheltered in 13 makeshift refugee camps of Cox's Bazar established with UN assistance, in other camps in Bandarban as well as in some outer areas. The International Committee of the Red Cross and the Bangladesh government supplied emergency relief but were quickly overwhelmed.
However, the Burmese regime took back these refugees under a programme titled "Operation Golden Eagle" following an agreement signed with the Bangladesh government in 1979.
MASS EXODUS IN 1991-92
Myanmar's military junta once again targeted the Rohingya in 1991. An increase in the presence of the Myanmar military in Rakhine State prompted a mass exodus of an estimated 250,000 Rohingya people to Bangladesh in 1991 and 1992. The army was accused of rape, forced labour, and religious persecution at that time.
The Bangladesh government then set up temporary camps for them in the two districts. Although the governments of Bangladesh and Myanmar signed a bilateral agreement on April 28, 1992 for the return of the refugees, the repatriation progressed only at a snail's pace.
Refugee registration cards issued by the Bangladesh government were, however, considered as documents in the verification process run by the UN High Commissioner for Refugees (UNHCR), which set up a sub-office to process the job.
In this process, around 200,000 Rohingya refugees were able to return. Yet, approximately 30,000 were left behind in Bangladesh as they were unable to present sufficient documentation. There were additional Rohingya influxes during 1996-97, and the repatriation process was almost halted from 2005 onwards.
INFLUX IN 2012 AND 2016
Widespread riots and clashes broke out in the Rakhine State between the Buddhists and Rohingya Muslims in June 2012, sparked by the rape and murder on May 28, 2012 of a 28-year-old Arakanese woman. The violence forced thousands of refugees to sneak into Bangladesh.
Following the sectarian violence, government authorities destroyed mosques, conducted violent mass arrests and blocked aid to displaced Muslims, according to an HRW report published in 2013, which accused the Myanmar government of engaging in a "campaign of ethnic cleansing."
At least 125,000 Rohingya and other Muslims, and a smaller number of Arakanese, were displaced to internally displaced person camps, HRW said.
In October 2016, large coordinated attacks hit three Myanmar police posts along the border with Bangladesh, and consequent military operations resulted in another exodus of the Rohingya people who crossed into Bangladesh. Most of the new arrivals settled in Cox's Bazar's makeshift settlement.
According to the UNHCR, more than 74,000 Rohingya refugees fled to Bangladesh over the next few months. Most of the refugees interviewed by UNHCR said their homes had been looted, burned or demolished.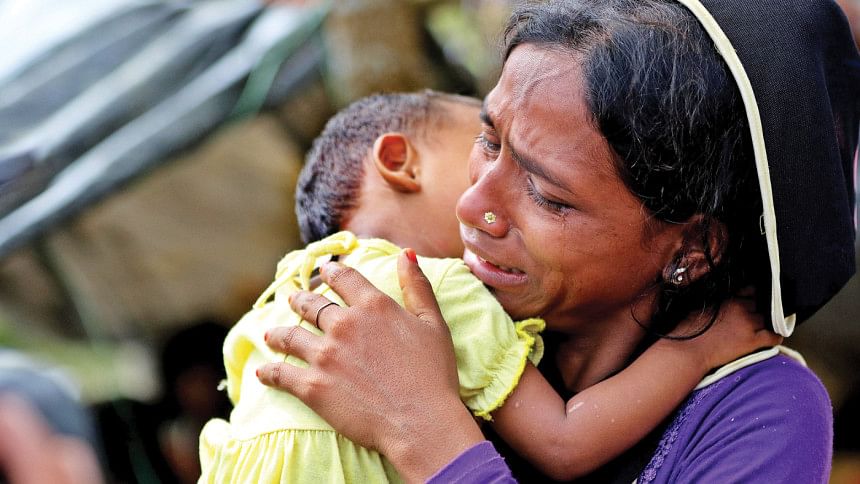 LARGEST INFLUX
Bangladesh saw the largest and fastest refugee influx that began on 25 August, 2017, when violence broke out in Rakhine State. The military burned entire villages to the ground, killed people, separated families, and gang-raped women and girls.
According to the UNHCR, over 940,000 refugees fled to Bangladesh from August 25 to August 31 that year.
The vast majority of the refugees live in 34 extremely congested camps, including the largest single site, the Kutupalong-Balukhali Expansion Site, which hosts more than 635,000 Rohingya refugees.
With them, Bangladesh is currently hosting more than 1.2 million forcibly displaced Myanmar nationals. Five years on, not a single Rohingya refugee has been repatriated despite formal repatriation efforts being made twice, in November 2018 and again in August 2019.