LPG growing in demand
But the industry faces a number of challenges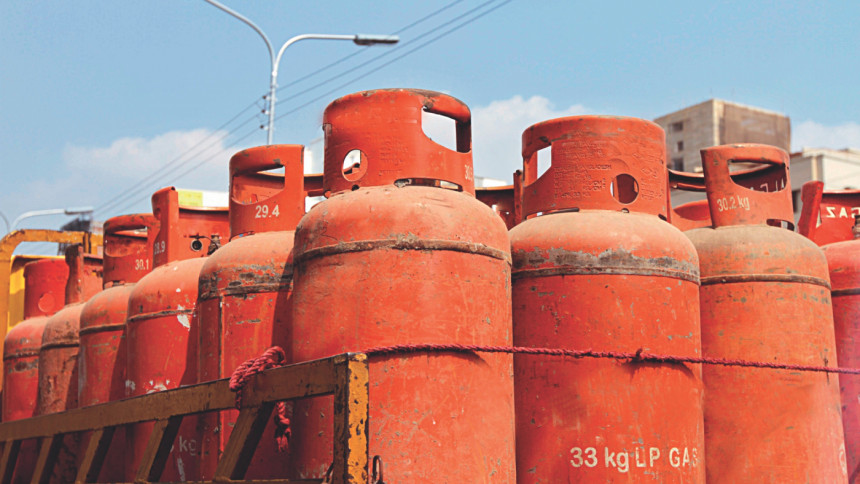 Gone are the days when cooking meals twice a day used to take a toll on Nasrin Akter.
Starting from lighting the chula (traditional wood-fired stove) to sitting by the clay stove amid smokes and heat, the housewife in a village in Satkhira's Kaliganj upazila would spend nearly four hours to prepare food for her six-member family.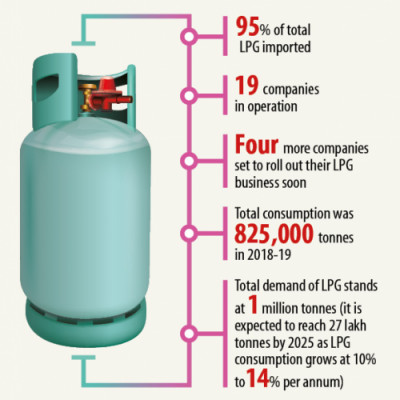 "My eyes would sting when the smoke spewed from the stove. But what got us more worried was collecting firewood. My children often used to collect the firewood," said the 38-year-old mother of two.
But now, Nasrin cooks almost all the food on her modern stove using the liquefied petroleum gas (LPG) cylinder.
"The gas cylinder has made my life easy. The smoke and the tension of collecting firewood have gone away," said a smiling Nasrin, who uses it once a day.
Like Nasrin's family, a large number of semi-urban and rural households in Bangladesh are gradually moving away from traditional fuels (wood/teak) and rapidly adopting LPG cylinders as LPG makes cooking faster and healthier.
Till last year, the number of LPG consumers was 38 lakh against 2.5 lakh in the year 2009, according to the annual report of the Energy and Mineral Resources Division (EMRD) of 2018-19.
LPG, a green and clean hydrocarbon fuel, is a mixture of propane and butane that becomes liquid under pressure, which can then be stored in pressurised containers for use.
It is relatively new in Bangladesh and the demand for LPG is growing exponentially in the country. In order to promote the use of LPG, the government has favourable policies.
Depleting natural gas reserve, unavailability of firewood, rising income of consumers and rapid urbanisation are increasing the demand for LPG. It not only offers portability and convenience, which traditional fuels cannot, but also helps prevent air pollution and the health hazards caused by burning of woods, said industry insiders.
They said apart from households, LPG is also being used in restaurants and in different township projects with local industries also gradually shifting towards LPG for an uninterrupted gas supply.
Nowadays, many vehicles are being converted into LPG from CNG because of availability. LPG enables the scope to expand industries in the areas where there is no access to natural gas, they said.
LPG was first introduced for domestic purposes by state-owned Bangladesh Petroleum Company (BPC) back in 1978. However, it gained popularity since 2008 after the government stopped providing new gas connections to households due to dwindling reserves of natural gas.
Currently, the country's LPG use stands at around 10 lakh tonnes, which was only 47,000 tonnes in 2009. The demand is projected to increase to more than 25 lakh tonnes by 2025 and 35 lakh tonnes by 2030, industry insiders said.
"LPG is the next generation of fuel," said Shamsul Haque Ahmed, chief executive officer of Omera Petrolium Ltd, one of the leading LPG distributors in the country.
LPG is being adopted all over the world and people in the country are becoming more aware about using LPG instead of the other conventional fuels because of its eco-friendly nature, he said.
The prices of LPG cylinder vary in the market.
However, each LPG cylinder (12.5 kg) is now being sold in the local market at Tk 900 to 1,100.
Alongside the only state-owned LP Gas Limited, 19 private companies are operating in the local market. Besides, four more companies are set to roll out their LPG business soon. New players are expected to enter the market as the government has granted licences to 53 companies, according to LPG facility providers.
The industry is largely import-oriented as 95 percent of the total LPG demand is met by import from various countries including Singapore, Malaysia, Saudi Arabia, UAE, Kuwait and some others.
Investment in this industry stands at around Tk 10,000 crore.
"Bottled gas has gained ground as an alternative to piped gas. We think the market will grow soon and we are waiting for that," said Md Jakaria Jalal, general manager (sales) of Bashundhara LP Gas Ltd.
Monzur Morshed Siddiqui, managing director of Total Bangladesh, said the LPG market started witnessing significant growth since 2013-14 due to rising energy demand and the projected shortage of natural gas.
In addition to LPG use in households, there are huge prospects of LPG in the automobile sector because it has significant advantages over CNG.
"Autogas will be growing faster as many vehicles are being converted into LPG from CNG," said Mohammad Yasin Arafat, director of Jamuna Gas.
However, there are some problems in the market that may dent the potential pace of growth of the LPG industry.
Insiders said the presence of too many players in the market is causing unhealthy practices such as unreasonable price wars.
Besides, activities of cross/illegal fillers are a potential threat to consumers' safety, they said, adding that the government should ensure that all LPG cylinders are retested regularly to ensure safety of the users.
Contacted, Nasrul Hamid, state minister for power, energy and mineral resources, said LPG is undoubtedly the future in Bangladesh.
There are only 34 lakh pipeline gas connections while there are around four crore cooking stoves, he said.
"We are promoting it as it is green and clean compared to many other fuels. LPG in the autogas sector will gain popularity as it is cheaper and safer."
"We are now trying to chalk out a formula to bring the price under regulation," he added.