Bangladesh Theatre and Liberation War Plays
Prelude
Chronicling Bangladesh Theatre and Liberation War Plays inevitably persuades one to explore how proscenium theatre culture came in this subcontinent, especially in this part of India, that is Bengal, for, contrasted with our open-stage Jatra that does not divide the audience from the performers, a proscenium stage is the "arch or opening separating the stage from the auditorium together with the area immediately in front of the arch". This Greek tradition came to India sometimes in the mid-18th century and obviously it is a colonial cultural legacy. I believe a brief prelude to this would suit the discussion.
During the period between 1757 and 1947, one after another theatre or amateur theatre came into being thanks to the fancy initiatives of elite Bengalis. This succession took place following the translation and staging of the play Disguise written by a Russian adventurer, Gerasim Stepanovich Lebedev, in Bengal, as the initiator of Western proscenium performance. These theatre activities had been practiced as a source of entertainment for the elite based in Kolkata.
It must be mentioned that no clear evidence are available as to what kind of theatre practices, if any, took place in Dhaka, what is now the capital of Bangladesh. Biswas (2019) rightfully mentioned in his doctoral thesis, "The distance between Dhaka and Kolkata is huge…As a result, any news of cultural activities and entertainment remained out of documentation." (P. 87) Few erratic information is available. For example, a play titled Swarga Sringkhal was staged in Barisal in 1857 while another tiled Ramabhishek was staged in Dhaka in 1872. The staging of Nil Darpan also comes to be known. Information on Purbabanga Rangabhumi, Nababpur, Elysium Theatre, Olympian Theatre, Crown Theatre, Lion Theatre and Diamond Jubilee Theatre has also come to light. We also have knowledge about drama organisations and clubs, which were established towards the beginning of the 20th century, such as, Sabzimahal Dramatic Club, Wari Dramatic Club, Tikatuly Dramatic Club, Armanitola Dramatic Club, Gendaria Dramatic Club, Sangattola Dramatic Club, Farashganj Dramatic Club and the likes. Notably, Vernal Theatre (later The Great Vernal Theatre) was established in 1908 centring round Comilla Town Hall.
The 1947 to 1971 phase, that is, the Pakistan period, saw performances worth mentioning like Tipu Sultan, Noshto Chele, Bijoya, Shabistan, Dui Purush, Shirajudoullah, and a few more playwrights and novelists like Rabindranath, Sharat Chandra Chattopadhya and Tarasankar Bandyapadhya. There were also a number of Dhaka University sponsored productions that included stalwart playwrights of the time like Sikander Abu Zafar, Nurul Momen, Askar Ibne Shaikh, Munir Chowdhury, Syed Waliullah, Saeed Ahmed and Zia Hyder. Most of their plays had socio-political and religious bigotry themes. Thus there was a distinct tone of protest against social inequity, political and cultural oppression, and religious overplay in almost all the plays, and all of them outsourced from the Language Movement of 1952. That was the time when Munir Chowdhury's fabled play Kabar was written. A major step forward in the history of Bangladesh theatre was the establishment of Dhaka University-based theatre group Drama Circle in 1956. Banglapedia rightly evaluates, "This was an amateur group of passionately committed young theatre activists, who played an important role in introducing contemporary Euro-American design concepts and performance techniques through their productions of European classics, contemporary American and local plays." In fact youth-passion, and not amateurism, is still the vital life source of Bangladesh theatre, which in time gave birth to several theatre groups immediately after our independence, and another eventful milestone was the formation of Group Theatre Federation in 1981.
1960-1970 saw an abundance in politically themed plays, which in turn helped find the rationale and logic for our demand for autonomy leading to independence. On one hand there were emblematic plays of Rabindranath—Muktodhara, Raktakorobi, Raja, Acholaioton—and on the other there were plays like Odhikar aar Songramer Sphuron, Kritodaser Hasi, Jolche Aagun Kehete-khamare, Alo Aashche, Auronodoier Pothe, Poster, Shapoth Nilam, Songket, Shamne Lora, Ebarer Songram, Jago Bangali, Bhorer Swapno, Muktir Nesha, Swadhinota Aamar Swadhinota, Swadhinotar Sangram—all of which were loaded with plots of political autonomy and Bengali nationalism. That premised the ultimate establishment of group theatre spirit in 1972 with the launch of theatre shows in exchange of tariff.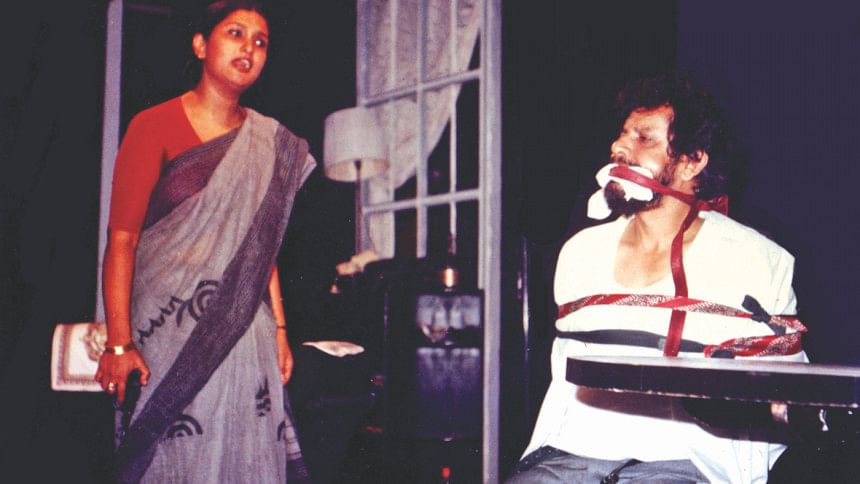 Liberation War aftermath
Though in its initial state Bangladesh group theatre had its slogan-agenda "movement". Gradually it shifted to theatre "practice". Most of the plays staged during the phase of the ascent from "movement" to "practice" depicted the picture of the devastated society undergoing economic transitions. "Swinging between such disappointments and hopes, the themes of the Liberation War sometimes came to the fore figuratively in terms of the success of freedom fighters; sometimes in the form of criticism as to why the success of the war had gotten hijacked; at times through the misinterpretation of the Mujib-regime; and on other occasions under the patronisation of power politics and in the light of different ideologies" (Biswas, 2019). As a result, the theatre activities of Bangladesh were in a messy scene towards the end of the 20th century.
Bala (2019) said, at that time "plays tagged as 'exceptional', 'experimental' were written and staged. It's called the explosion of youth. Drama as a form saw a radical change. Subjects, styles, and applications attained novelty. Fresh dream and raw emotions for a new society and country occupied the mind of the war-returned youth. These manifested themselves in different forms on the stage. Group theatres came into being; various crises of everyday reality surfaced on the stage as social responsibility. Due to the lack of quality Bengali plays, plays in different languages started being translated and adapted. These reflected the contemporary reality. Calls for class struggle too were made on the stage…The last three decades of the last century saw various experimentations regarding adaptations of plays." Bala also discussed the changed stagecraft of Bangladesh in the hands of Delhi National School of Drama graduates, and the application of dramatic forms based on oral tradition of local origin by Selim Al Deen. I concur with Bala's later observation, "The vociferous political and social thoughts of initial days gradually died down." However, different negative political factors are to blame for this.
The key feature of drama in the period between 1972 and 1975 is "a combined expression of struggle and victory, which is exclusively the legacy of our Liberation War. Not only content-wise and thematically but also stylistically, the Liberation War has been reflected in Bangladeshi drama." (Ghosh, 2011, quoted in Biswas, 2019). However, this tradition could continue due to political vicissitudes and regime changes. And whether we admit it or not, this has channelled the cultural taste of our people in a direction resulting in lower turnout of audience for stage plays.
Theatre practices did not stop in the adverse atmosphere. The history of theatre practices since the Pakistan era, as I mentioned earlier, had been built up institutionally and it gathered steam via the group theatre movement post-independence. No military regime could stop its strong current since the Father of the Nation had permeated an indomitable attitude of resistance and determination in the heart of every single Bengali.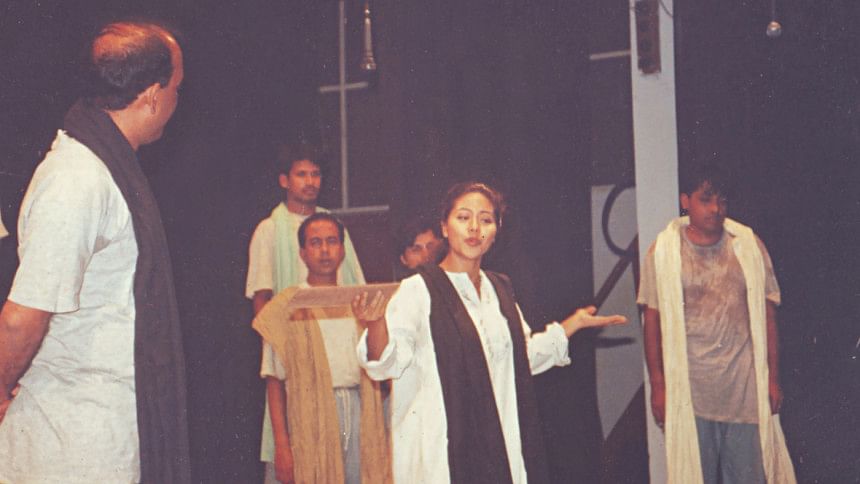 Three representative Liberation War plays
It is extremely regrettable, yet true, that very few impacting and potential plays were written and performed themed on our Liberation War—neither during the movement phase nor during the practice phase. Readily the ones that I can refer to are Shantonu Biswa's Informer; Syed Shamsul Haque's Tora Sob Joidhoni Kor  and Payer Awaj Pawa Jaye; Nasir Uddin Yousuf's Ekattorer Pala; Humayun Ahmed's 1971; Mannan Hira's Ekattorer Khudiram; Mamunur Rashid's Joyjointi; Babul Biswa's Honon; Alok Basu's Ghorami; Pritish Kumar Bal's Kotha 71; and Alamgir Mahmud's Paharadar.
In this connection, reference to yet another kind of theme dominated, in parallel, as an aftermath of the Liberation War—a devastating economic and social state where a decadent and pessimistic mindset prevailed. The playwrights in this group include: Abdullah al Mamun, Mumtazuddin Ahmed and SM Sulaiman.
However, we do not have enough space to discuss pros and cons of all Liberation War plays and as such I will go for three very representative plays: Payer Awaj Pawa Jaye, Joyjointi and Ekattorer Khudiram written by Syed Shamsul Haque, Mamunur Rashid and Mannan Hira, respectively.
'Payer Awaj Pawa Jaye'
The play was written in 1976 while Syed Shamsul Haque was residing in London, and theatrical group Theatre performed it in Dhaka the same year under the direction of Abdullah Al Mamun. The storyline runs like this: after 24 years of Pakistani persecution, in 1971 the Liberation War began in then East Pakistan, with the declaration of independence by Bangabondhu Sheikh Mujibur Rahman. Save merely a handful of people, the entire country supported the war. Against that particular time and backdrop, the setting of the story is seen to be in a remote village of the country where the life and even daily chores of the ordinary villagers depend on the directives of the matbor—the village chief who happens to be a diehard supporter of Pakistan. He calls the fellow villagers to back the cause of Pakistan as it represents Islam, and resist the Liberation War. But the inevitability of the truth reveals in time and the villagers challenge the chief who is all at a loss to satisfy them. The Pakistan army too subjects the chief to cruel and degrading treatment and forces him to offer his daughter to be used by a Captain. When the entire village assembles at his home for the rejoinder to his anti-Liberation stand, his raped daughter lets slip all his secrets and commits suicide.
Religious fundamentalism, combined with bigotry, hypocrisy and chauvinism by persons with vested interests and personal gain, rampantly exploited the illiterate pious commoners during the Liberation War, which is the central theme of the play. Both physiologically and socially, the play deftly painted the state of affairs that prevailed during the war. Though the play is written in verse and was performed in 1976—only after two years of heinous and odious killing of Bangabandhu, and when the military rule was at full throttle too—audience response was remarkable, and the reason was Syed Shamsul Haque dexterously brought about the deep and in-built sensibility of Bengali nationalism, founded on our political history of the Language Movement of 1952, six-point movement of 1966, and Liberation War of 1971.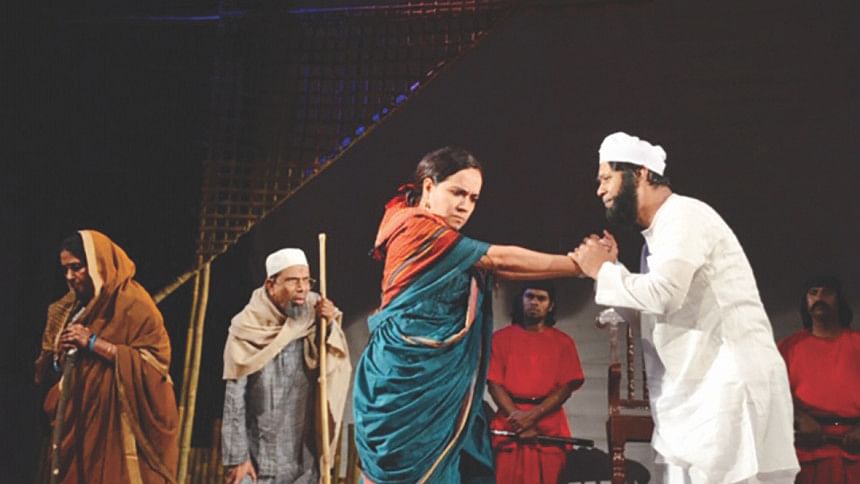 'Joyjointi'
Aaronyk first performed the play, written and directed by Mamunur Rashid, in 1995 in Dhaka. Theatre critics consider this play as an authentic documentation of the minority/ethnic and Bengali folk-culture cleansing operation run by the Pakistan colonial rulers during the Liberation War. The story unfolds in 1971. The Liberation War is already on. The sign of Pakistan's breakup is inevitable and evident. With the atrocious and vindictive motive, the Pakistan army carries on annihilating, raping and evicting the innocent unarmed people of Bangladesh, especially the minorities and ethnics. Nabadwip represents such a minority community who runs a group that performs kirton—Hindu devotional songs—on hire. The group members, most of whom are Hindus, feel threatened, so much so, that they all decide to cross the border to go to India, but on their way, they are all rounded up by the Pakistani army. Inhuman torture follows, symbolising how brutal acts in human history has irreparably harmed and destroyed the grass-root folk and indigenous cultures of a nation, time and again, in the pretext of preserving the integrity of a country that never bothers about humanity and cultural heritage.
The play has a number of symbolic scenes, one such scene is, at the very beginning when Nabadwip conducts a practice session of kirton with his group in his homestead under a shimul tree, but it turns out to be filled with false notes indicating a prologue to the ensuing bad omen—the Pakistan army's atrocities. The play is a unique assimilation of the rhythmic lifestyle of Bengal where we find music, daily chores, as well as the indomitable struggle for existence—both for Muslims and other minority communities. The contrast between music and melee brings about a deep-rooted harmony in the composition of the play. Mammun in his play gives an infinite message that a nation exists not on its religious affinity, which falsely has given birth to Pakistan, but on its secular nationalistic identity, which, to us is Bengali nationalism—the very basis of our Liberation War.
'Ekattorer Khudiram'
Ekattorer Khudiram was written in 1995 by Mannan Hira, and performed by Shomoi Shangskritik Goshthi. The storyline of the play is: for the annual event of a remote rural school, a play titled Khudiram is being rehearsed. Like every year, all are enthused and excited, but deep within runs an uncanny restraint, and that is because of the political ambiance prevailing around. All over the country, all Bengalis are out on the streets calling for their economic, political and cultural autonomy and emancipation. Anti-Pakistan sensitivity is on the rise. The teacher responsible for directing the play parallels the British Raj's oppression and persecution with the attitude of present Pakistani rulers which is detested by the Urdu teacher who, being a fanatic Bihari Muslim, is an intransigent supporter of Pakistan. He, to counter the staging of Khudiram, writes a few plays upholding the Pakistani mindset and values and tries to convince the headmaster to perform them instead. He also bullies Khokon Bannerjee, the Hindu teacher responsible for directing Khudiram, and in collaboration with other Biharis usher in the Pakistan army into the village to realise his vengeance. The army launches dreadful crimes and murders Khokon Bannerjee and many others.
The indisputable call for independence by Bangabandhu on March 7, 1971 got deeply ingrained and instilled in the hearts of all Bengalis so much so that not a single soul save some Pakistani collaborators feared or hesitated to engage in the Liberation War. The playwright, rightfully judging the need of the time, has narrated how indiscriminatingly good and bad students along with their teachers and mentors participated in the struggle for our independence and gave away their lives. That is the sacred, sacrosanct, yet secular spirit of our Liberation War, and that in particular requires to be upheld at any cost.
Conclusion
Thespian theatre activist Ataur Rahman once said "Muktijuddho [Liberation War] is my glory, my pride. But not many ageless and enduring literary works have been created on Muktijuddho. No epic has been written as yet. A handful of literary works exist, that too are very disappointingly substandard. Nonetheless, there has been a great need for profuse literary writing on the history of our Liberation War. But it hasn't happened, and that grieves me a lot."
That is what has also happened in the domain of theatre—not very many plays have been written on our Liberation War, though we as Bengalis hold unanimous pride in it. Most playwrights have engaged themselves in writing on the aftermath of the war, perhaps because of the divided and blurred vision of the war caused by interludes of autocratic rules of vicious intertest. If this trend lingers on, our new generation will inevitably be confused and oblivious of our glorious past.
Abdus Selim teaches English language and literature at Central Women's University. He is a Bangla Academy awardee for translation.
This article has multiple references from the PhD dissertation written by Muhammad Rezaul Alam Babul, 2019.