When dreams turned into reality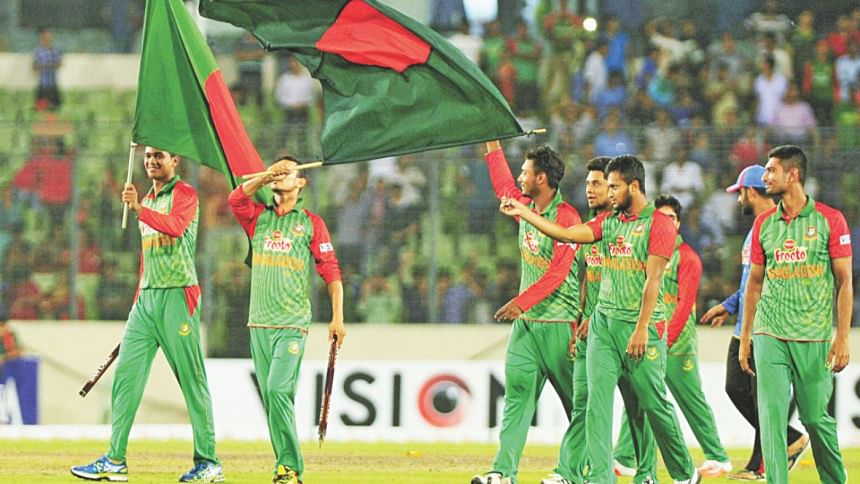 They say newsrooms are never meant to be quiet, not even for a minute. Back in the early days, discrete newsrooms, where editors preferred not to scream their lungs out, used to be compared to velvet coffins: fancy on the outside, but dead inside. 
As fate would have it, on the evening of March 9, 2015, I was seated in one of those typical, 'non-velvety' newsrooms where the noise levels were three-times the usual. It was, after all, game-day and almost everybody in the room had turned into sports analysts. 
There were curses and advice, acknowledgements and criticism; and it all continued until the second-last over of the game when Rubel Hossain was given the ball. 
Now that over was only three balls long but it took Rubel approximately ten minutes to complete it. 
Inside the newsroom there was pin-drop silence – so quiet that, at one point, it started getting a little creepy. 
As soon as Rubel's full-length delivery swung past James Anderson's helpless bat and hit timber though, normalcy was restored. There were group hugs, the phrase 'I told you so' was uttered infinitely and the cogwheels began churning as usual. 
Those ten minutes, which literally froze not just our newsroom, but also most of the country that evening, arguably provided the most powerful of Bangladesh's sporting moments in 2015. 
Going into the World Cup, Mashrafe Bin Mortaza and co. hadn't beaten a Test side except for Zimbabwe in 2014. Prior to that, they had lost 12 out of their 13 ODIs, including a defeat against Afghanistan. To end up qualifying to the quarterfinal of the biggest cricketing event from there on was nothing short of a miracle.
And that was, of course, just the prelude to a series of magical moments. 
Tales from each of Bangladesh's wins against Pakistan, India and South Africa, will no doubt be cherished for years to come. In fact, it would be a crime to talk about all the three series in one sentence, for each of them was historical. 
When one talks about cricketing legends in Bangladesh, the names of a series of Pakistani players almost inevitably enters that discussion. There has always been a sense of awe for our neighbours, mainly because of the amazing talent that they have produced over the years. 
And that is perhaps a reason why Bangladesh's cricketers, aside from the skills aspect, had never managed to beat Pakistan since 1999. They did go close a number of times, but the curse seemed to continue. 
And so when pacers like Taskin Ahmed and Rubel Hossain beat the Pakistan batsmen in an area that had traditionally been their strength; when youngsters such as Soumya Sarkar absolutely creamed the likes of Wahab Riaz; and when Bangladesh eventually managed to cross over the final hurdle and actually beat Pakistan, there was a new wave of optimism that suddenly burst through. 
Riding on that wave, Bangladesh went on to win their next two competitions. Yes, the team was doing well and the momentum was with them too. However, you needed something special to defeat the likes of India and South Africa, and that, for Bangladesh, came in the form of Mustafizur Rahman -- a freak of a bowler, who absolutely changed the entire balance of the Bangladesh team. Looking back at the success that the left-hander has had in 2015, it's actually quite hard to believe that he wasn't a part of Bangladesh's World Cup squad and most of the Pakistan series. 
It won't be an understatement to say that the kind of things that Mustafizur has achieved were unpredictable. None of the sporting pundits predicted it, his teammates didn't either, his uncle who a couple of years ago was desperately trying to get him into a club, definitely didn't predict it. 
At the moment, the left-hander seems to be of a different breed altogether. It's not just his bowling action that's unique, but also his consistent performances throughout the year; now that's a rarity. 
The fact that he was included in the International Cricket Council's ODI XI is a testament to how special the player really is. Just pause everything that you are doing and imagine: a Bangladeshi pacer has just been included amongst the best in the world. A year ago, a person stating these words would have been mocked, made fun of. 
So the question that comes to the fore is whether 2015 has been the best ever for Bangladesh in the field of sports. It's a difficult one to answer really, considering the fact that a majority of the accolades are because of cricket.
Even the national women's team surpassed expectations when they reached the final of the ICC World Twenty20 Qualifiers and received a berth in the main draw, which will take place in India in 2016. 
The fact that they have a new captain, Jahanara Alam, in itself, depicts progress. A year ago, it would have been impossible to think of an eleven without Salma Khatun, someone who has single-handedly represented Bangladesh's women's cricket team for the last few years.
However, the fact that she has been replaced goes on to show that there are newer players coming in and that the team is steadily moving on to the next level. 
When you analyse the sporting events outside cricket, you could say that our performance has been less impressive than 2014. We didn't have an achievement akin to that of Abdullah Hel Baki's silver in the Commonwealth games, nor did Siddikur surprise everyone with an Asian tour win.
There were a number of football tournaments that took place in 2015, although there were only a few notable achievements. Australia's qualifier at the stadium attracted a fierce audience that is almost impossible to witness during cricket matches. 
On the whole, 2015 may not be remembered as the best year for sports in Bangladesh, but it will no doubt be recalled plenty of times in the near future as the year that witnessed the country's most distant cricketing dreams turn into reality. 
The writer is a sports reporter at The Daily Star.