Valiant Soldiers Fighting Cancer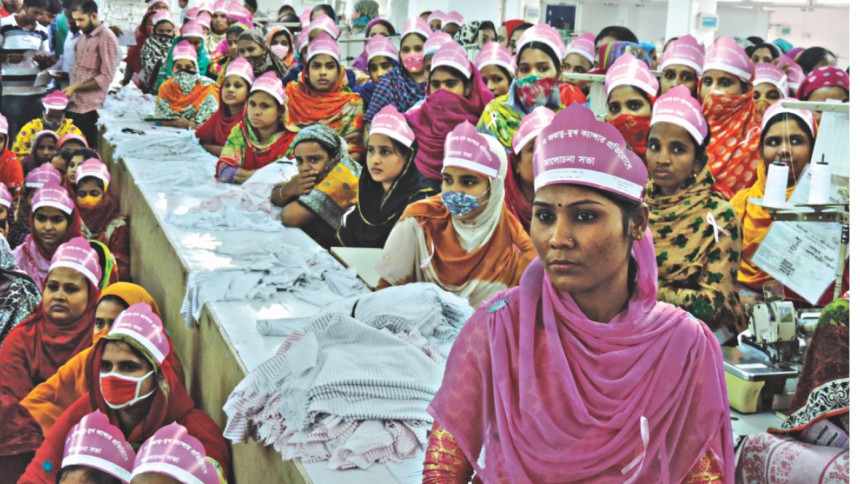 Life is accompanied by many sad ordeals. While most individuals overcome them and move on, some decide to invest their time in taking steps to ensure these unfortunate events do not happen to others. Two friends, Musa Karim Ripon, a 23-year old Economics student from Islamic University in Kushtia, and Saiful Islam Musa, a 24-year old student of Government Homeopathic Medical College in Mirpur-14, Dhaka, fall under the latter. Driven by personal experiences, Ripon and Musa founded a non-profit volunteer organisation called Cancer Awareness Programme for Women (CAP). This noble initiative aims to educate both men and women about breast and cervical cancers, organise cancer awareness campaigns, and run cancer screening camps all over Bangladesh.
Ripon lost his aunt in 2013, who battled against breast cancer for two years. An early diagnosis could have helped save her life. However, Ripon's aunt was really embarrassed to talk about her ailing health. "The social stigma surrounding the discussion and diagnosis of breast cancer stopped my Mami (aunt) from revealing her condition. Her untimely death stirred a feeling of remorse within our family," Ripon shares. "Little did we know about the two more shocks coming our way." Further on, Ripon's own mother was detected with a lump on her breast and his paternal grandmother was diagnosed with cervical cancer. Taking the untimely demise of Ripon's Mami as a lesson, this time, the family did not delay in getting help for both. While Ripon's mother has recovered, his Dadi is not doing too well at present.
While going through the trauma of having to watch his family members suffer, Ripon felt a strong urge to create something meaningful out of his pain. "I always had this thought at the back of my mind; that I needed to do something to help other women avoid the fate my Mami faced," expresses Ripon. He soon approached Musa and shared a plan. On October 31, 2015, Bangladesh Breast Cancer Awareness Forum organised a rally called "Pink Road Show" across Dhaka to raise awareness on breast cancer. "I asked Musa to accompany me to the rally. We felt that attending the event would help us in knowing exactly what to do in order to help the women of Bangladesh fight against such cancers," explains Ripon.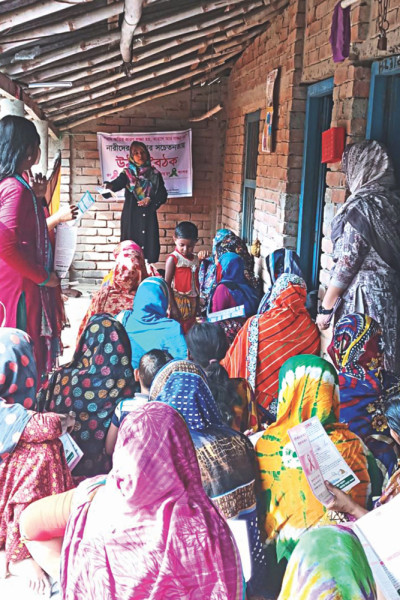 Cancer specialists, survivors, social workers and volunteers participated in "Pink Road Show". They wore pink and distributed leaflets containing important information on breast cancer to demonstrate their solidarity.  Musa and Ripon also attended the day-long event. They came across Dr Habibullah Talukder Ruskin, Associate Professor of the National Institute of Cancer Research and Hospital, and Professor Dr Sabera Khatun of Bangabandhu Sheikh Mujib Medical University. Besides gaining knowledge and appreciation, the two friends took back home the idea to compile an informative guide on breast and cervical cancers. "It took extensive research on our part to design the pamphlet. We incorporated diagrams too, just in case someone does not know how to read," says Musa.
Ripon and Musa then decided to name their effort. "Towards the end of 2015, we decided to proceed under the title Cancer Awareness Programme for Women or CAP. We felt this name would be easily remembered by anyone who comes across our organisation," expresses Musa.
2016 was the stepping stone for CAP. It was the year where they soon realised the social stigma surrounding the topic. Even though Musa and Ripon were ridiculed for their initiative and criticised by friends and family, Ripon's university teachers were always by his side, providing courage and confidence. "My teachers did not fail me. Instead of doubting my purpose, they stood by my side and motivated us for our initiative," says Ripon.
It was not only motivation. Ripon's teachers decided to help the cause by arranging a day long cancer awareness seminar at his university. With more than 150 people attending the event, it was clear that their hard work had paid off.
Soon enough, the pair came to find out that, irregular medical checkups, poor awareness campaigns in rural areas, and scarcity of proper cancer facilities in the country are the main reasons as to why Bangladeshi women have high mortality rate once inflicted with breast or cervical cancer.
To fight back, Musa and Ripon decided to spread awareness about breast and cervical cancers through posters, leaflets, pamphlets and rallies. They held further seminars in the Islamic University and Jiban Nagar Degree College in Kushtia too. Also, in 2017, Ripon and Musa extended their helping hands to the underprivileged women of the Mohakhali slum in Dhaka. CAP organised a day-long breast and cervical cancer awareness and diagnosis campaign where 120 women were provided with free diagnosis tests and medicine. At the Infectious Diseases Hospital's conference room beside the slum, they also held a discussion on "Breast and Cervical Cancer Prevention". Dr Sabera Khatun was invited as the Chief Guest and Professor Ashrafunnessa, also of Bangabandhu Sheikh Mujib Medical University, was present as the Special Guest. "Even though we had very limited funds, we could reach out to many who wanted to help spread the awareness," says Musa.
Currently, the duo are working upon arranging awareness campaigns in different garments industry workspace of Bangladesh. Also, uthan boithok (lawn meetings) are being used as part of the drive to aware and educate rural women about breast and cervical cancers.
"We also have a dream of owning a Cancer Awareness Caravan that would roam around the country, offering free screening and education on breast and cervical cancers," adds Ripon.
 The two valiant soldiers of CAP, Ripon and Musa, hope to save each and every woman of the country from the claws of cancer by spreading awareness, eliminating stigma from the society, and showing the path to recovery. They are dedicated to marching forward, carrying the pink and white badge. Let's hear their call.