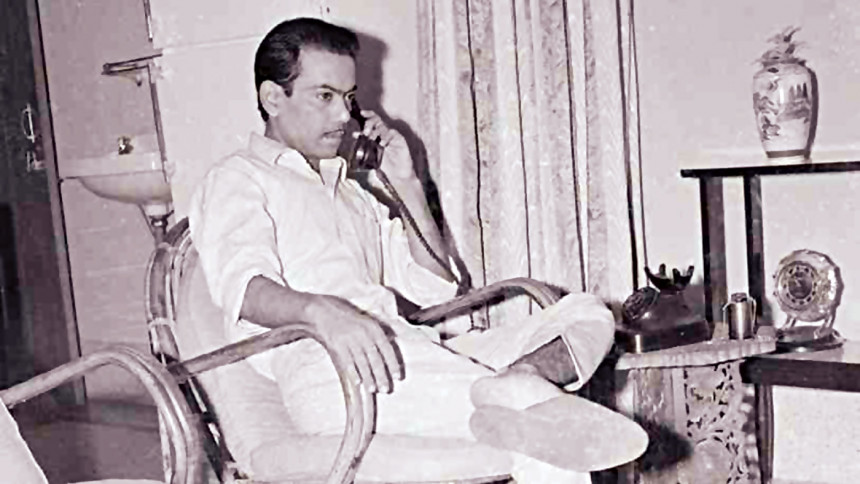 Dear Opu and Topu,
I am writing this letter in the hopes that you will read this someday when you're all grown up.
Once you've grown older, will you remember the days you spent in Kolkata when you were little? Maybe you will forget. Or maybe you will remember.
I am very forgetful, but memories from when I was your age are still flashing before my eyes.
I'm speaking of memories from when I was still a child. There was someone from Odisha who used to cook for our home. I was very dear to them. When nobody was looking, I used to take away the paan from her mouth.
I stole a telebhaja made with chillies one time but eating it had me in tears because it was so spicy. Even after eating a fistful of sugar, the burning did not subside.
There was a balcony on the second floor. I used to stare outside through the gaps in the iron railing. Colourful torn kites interspersed on the telephone lines moved as the wind blew. After the rain, water droplets would slip through my fingers.
I didn't want to leave the balcony when the steamroller would repair the road because back then, there wouldn't be many vehicles moving on our street apart from a few horse carriages of the affluent and hackney rented by regular people. Motor cars weren't found there.
On Chaitra Sankranti, the neighbourhood clowns would come out as entertainment. I only got to see them once in my life, since I then moved to the village. A man used to come and sing Hapu songs quite frequently there. When I got older and moved to Kolkata, I never heard anyone sing a Hapu song again. You're not supposed to know what a Hapu song is. One person sang a few verses of the song and then made a "Ha-pu" sound while spinning a whip and flogging himself. I would retreat from the balcony if anyone came to our street while singing a Hapu song. But there was no point because the man's "Ha-p-pu" sound and self-torture would follow me relentlessly. I used to feel like I was in hell during those times.
Look how I've become busy recounting my memories. This happens when you grow older. If I start thinking about the old days, I can't stop.
It feels great to imagine how, when you're older, you will reminisce your childhood days too.
You came to Kolkata with your mother by overcoming so many obstacles. This was no comfortable car or plane journey from Dhaka to Kolkata. You had to hide from your country's enemies and escape through the jungles and rivers. You might not have understood the situation entirely, but you might get chills thinking about the memories or remember the pain of the journey. You didn't have your father with you.
Your father was in Kolkata back then. Zahir used to spend his days anxiously waiting for you. Meanwhile, something happened.
Zahir Raihan was in Kolkata. As soon as word about this spread, reporters and photographers from the cinema industry flocked to him. While speaking to them, Zahir casually mentioned your journey to Kolkata. This news accidentally spread far and wide through the newspapers. Zahir was in trouble. What if the enemy troops hear the news and detain you? Zahir's face paled with fear. The same Zahir who had never known what fear meant before. This is what love and affection do to a person.
Then, you arrived. Zahir left the one-storey home in Prince Anwar Shah Road and got a spacious apartment on the third floor in Lake Garden for you. You could see so much of the sky from your room's south-facing window. Do you remember?
During the monsoon months, the sky would be filled with grey clouds. And in the autumn? What a clear blue night sky! In the rays of the sweet morning sun, even the cattle shed on the side of the road used to dance in joy. Weren't you afraid of the Bhagalpuri cows standing in line in the alley leading to your stairs? You tried so hard to make them move out of the way, but they wouldn't budge.
How long did you even get your father at home? Poor Zahir. He used to be so busy with work that he didn't even have time to take care of himself. He was the most dependable and closest person to the freedom fighting writers, artists and intellectuals of Bangladesh. He was the one who had to solve all of their problems. Where was the time for him to sit at home? But as a man who constantly thought about others, he wasn't in a good state himself. There's no count of how many days he spent roaming around in the city like a depressed nomad before you arrived. Although, I heard he was drowning in riches back home. He wasn't sad even after losing everything. There's no shortage of talent in the world—but it's rare to find people with such big hearts.
You know, Opu and Topu, I'm not exaggerating at all—I haven't met many people with as big of a heart as Zahir.
Although, we didn't have a close relationship for that long. Most days, I would go to visit him and not find him at his place, or he would come to visit me but not find me. I had only known him for less than a year.
You don't only need personal experiences with someone to know them; you can also learn about them through their interactions with other people. I knew Zahir in the latter way. If Zahir had thought about himself a bit, he could've very easily lived like a king in Kolkata. Instead, even when he was struggling financially, he spent all of his money on the betterment of his country. I can't help but tell you one thing. Once you're older, if you ever feel bad thinking about how you could've lived a more secure and comfortable life growing up, remember that your father's world was much larger than what lies within these four walls, and be proud of that. The sky was his limit, and the world was his oyster. He expressed his deep love for you by loving all people unconditionally.
I won't make this letter very long. I thought of quickly writing some words for you, in case death starts knocking on my door before you grow older. 
You will hear from your elders or read in history books about all that happened in Bangladesh in the past year. Alongside, you should watch a film. You will find it in the archives of old films. It's called "Stop Genocide."
Zahir Raihan made this film. Your father. We got goose bumps watching the film. I don't know what you will think of it. In the film, you will find Bangladesh chained by its invaders, a country that has no resemblance to the Bangladesh of your time. Zahir made this film for you so that you are careful not to let this happen to Bangladesh ever again.
Opu and Topu, you might not understand now what your father has left behind for you, but someday you will. What he has left behind is more valuable than any riches. He has handed you the torch of freedom and socialism. You have to protect him at all costs.
We felt so empty when Zahir left Kolkata. Then suddenly, one day, he appeared. He was going to Ajmer Sharif with your mother. There was no still no trace of Shahidullah. Zahir was supposed to visit with time on his hands because we had a lot to talk about. The gang of murderers are not only changing appearances to save their skins, but also hatching a new demoniacal plot. A few days later, I came home in the evening to hear Zahir had come to visit. He was going to leave for Dhaka the next morning. I went to catch him in the Fairlawn Hotel. We spoke till night-time. I took his hands and told him many times, "Stay safe. Don't do anything reckless."
I will never forget his smile and the sparkle in his eyes.
Everybody knows what happened next.
I didn't cry or mourn too much. I was furious that Zahir did not listen to me.
I had told him to make a new film about a man in Bangladesh searching for his missing brother. But why did he lose himself while trying to look for him?
You have to search for Zahir when you grow up. While searching for him, search for Shahidullah too. Don't search for their bodies; search for their hearts. Search for every place that they poured their hearts into. I want you to grow up and pour your hearts into the same places. It's gotten quite late now. I'll take my leave.  
The article was originally published in Subhash Mukhopadhyay's book titled Khoma Nei (1972). It is translated by Mayabee Arannya.