Sudhirkumar Chakrabarti- The man everyone adored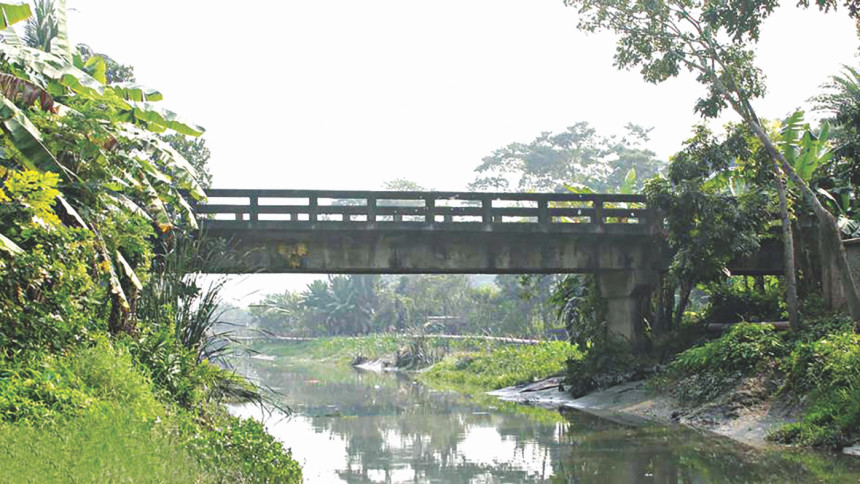 My father was picked up on August 12, 1971 by members of Pakistan defence forces from our home in Sreenath Chatterjee lane in Barishal city. The next day, our family friend Ahmed went (at great personal risk) and retrieved my father's shoes and spectacles from the banks of the Kirtankhola River and gave them to my mother. It is our assumption that he was shot and killed there on the night he was apprehended.
Back then I used to live in our village home at Shyampur of Bakerganj. When news reached me the following after his death, I did not shed too many tears taking consolation in the fact that my beloved father had been spared gruesome torture, rather, death had taken him quickly. Actually being surrounded by death constantly helped dull the senses to bear the shock of such news. Another incident helped to make the loss of father bearable: the need to send my two young brothers to a safe place. It was perhaps God's mercy that my father was taken before he could witness the loss of his son.
I left Dhaka for Barishal in February, '71. My one month old daughter travelled with me. Many people were leaving Dhaka in fear of the impending disaster. I was stunned to see the festive mood in Barishal. School, colleges, offices and courts had all closed down. Still father would go to his chamber regularly. Instead of clients, it was filled with political compatriots where the atmosphere was dense with heated discussions. He used to come home with many people on a daily basis. My brothers' friends also used to come.
Father wasn't a member of any political party, although he was friends with many people belonging to Awami League and other progressive parties. Hiron Chakrabarti, a stalwart of the Communist party lived next door to us. That was a den for party members. During police raids, they used to take shelter in our house. Due to father's inherent belief in the law, he never feared falling prey to political repression. This was a characteristic feature of people who had grown up during the British era. Despite being duped repeatedly during the Pakistani autocracy, he had not learnt to be careful. Although father had managed to evade the mass arrest of minorities during the Indo-Pak war of '65, he was unable to avoid the tragedy of '71. At that time when a general amnesty was declared, he returned with the simple belief that all would be well and paid a terrible price for that belief. The fact is that even the gentlemanly non-political social worker has a political identity, which becomes a liability to an autocratic regime and he has to face the final test at one point of time. History is full of such instances.
I often remember the black night of March 25. There were many people at our house. The discussions went on despite the church bell striking midnight nearby. It was then that father entered looking agitated. He was greatly upset. He started shouting from the gate "tanks have been deployed on city roads, firefight going on at Razarbag, soldiers are attacking the student hostels, thousands are dying!" We all surrounded him. "No news beyond that. Wireless communication has been cut." The next day, we got alarming news: Declaration of Bangladesh's independence. Then we got depressing news: Bangabandhu had been arrested. The news hit father very hard and I never saw him recover from it.
Barishal city nearly emptied when the first air raids on the city started at the end of April. We also left for our home village. I don't have any memories of this house. We had all become foreigners in our own land. The homestead was all but empty, practically a slave's hut. It is from this village my beloved father had come to the city with his two children, built a house on a small plot of land and devoted himself to the tough task of raising them. And he was successful. My eldest uncle and father both got higher education. When my uncle died at an early age, father became the apple of my grandmother's eye. Father started his career in Barishal. He respected his mother deeply. He never used to go to court without saying goodbye to her. "I'm going mother" is something that still rings in my ear to this day.
In 1950, Barishal city was shaken by a series of serious communal riots which ended in many people leaving the country. Our neighbourhood had all but emptied. Our house became home to orphaned dogs and cats. We could hear cries of the foxes in the evening. Most of our relatives had left for Kolkata. Father remained. He never made arrangements for a second home in India. Didn't send his children to be educated there either. Rather he would get annoyed if these subjects were ever raised. Instead he built up and expanded his house here. When he heard that the man I was in love with had no interest in travelling abroad, he gave his blessings for my betrothal and when my husband turned our house into a flower garden, father was ecstatic. He loved to entertain people. That's why our house was always full during Eid-Puja-Roja.  There was a constant stream of visitors that brightened up our household. As he was a man who could transcend the generational gap, father was much loved by his junior colleagues. He stood up for the poor and helpless, take risks and yet as a man, he was most good natured and kind.
When Victory Day arrived on December 16, we were living in Gazibari of Kalikashundapur village, far from Patuakhali town on the banks of the Payra River. After our village home got devastated by Pakistani military forces, we came here. Not just us, but a lot of people from Barishal took shelter in the home of Mohammad Yusuf who was head teacher, Barishal Rahamatpur College. This gregarious person loved father dearly. He still sheds a tear today when remembering father. We witnessed the air bombardment of Patuakhali town from the banks of the Payra River and within a few days learnt of the liberation of Patuakhali and Barishal. Soon after, my young brother, a freedom fighter, arrived at Kalikashundapur aboard a launch. With him came Gafur, the Head Teacher of Babuganj School and Abdul Gafur, the veteran of many memorable operations of the war. Both were armed and attired in war fatigues. We were alive, our loved ones, friends, we were all alive; the next moment was engulfed in emptiness, the shock of what I had been through. I saw my mother bedridden. The person who had stayed composed when saying goodbye to father, one who stood strong like Durga sheltering us every day over the nine months of war and had given us strength was now weak and ill. She who had used her sharp intellect to save us from countless dangers. At the end of it all, she had become broken. The loss of father's shelter laid waste to all the brightness in her life and gave way to a sea of tears, tears that have not stopped flowing to this day.
My husband Dwijen Sharma in a book's dedication wrote in 1974, 'We lived in a small nondescript town. We had a small garden which was sheltered by trees. This is where I sat and wrote. Then came the war. We took to the streets. Then arrived liberation. We returned home. Only one did not return. He who had been head of the family.' There is no mention of people or places. In a sense that was good. Not only my father, it contained nameless other fathers who had selflessly sacrificed everything for our freedom, whose deep love had lit up the lives of countless family members. At times I think - The independence brought by the sacrifice of millions, do we remember them when we enjoy the benefits of freedom? Do tears fill our eyes? It appears not. The social grief of one period has now transformed into personal grief. How cruel is this social reality! Where are we living O Lord!
When I visit Barishal, I roam around the banks of the Kirtankhola River but am no longer enamored by the scenic beauty. Am simply overwhelmed by endless grief. Unknowingly, I search for some sign of father's footprints. Gradually the vision gets blurred and I see nothing more...
Translated by Syed Mansur Hashim
Assistant Editor, The Daily Star