Dr Sadat Ali- My father, my hero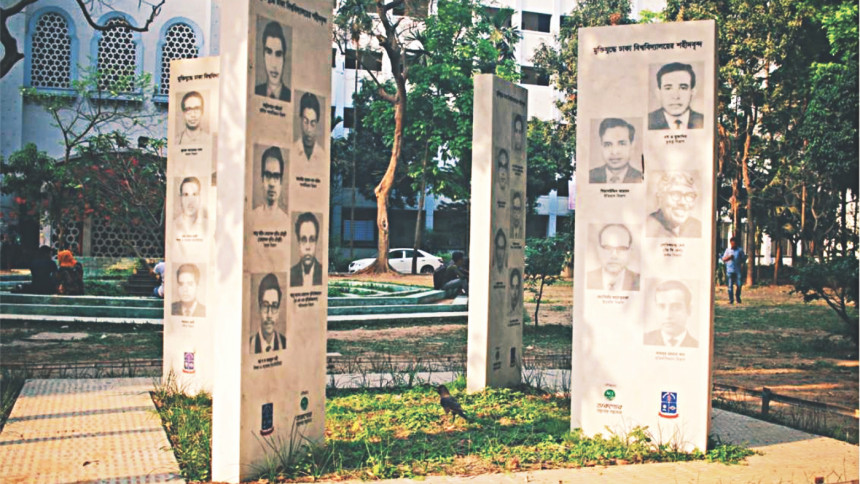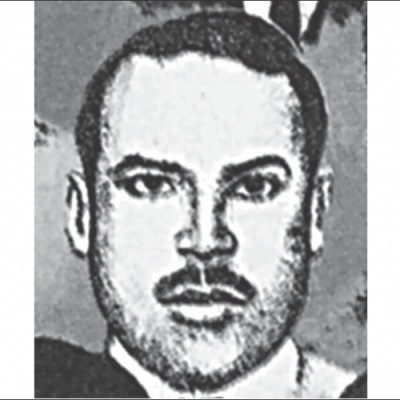 Shaheed Dr Sadat Ali was my father. He was a teacher of Dhaka University. My father was an extremely peace-loving and highly-educated person. Although the memories I have of him are vague, even those are quite rare. Today, 24 years after independence, I've sat down to write about those memories. They are from a time when I was a child aged between 5 and 6.
To me my father was always a star.
We were three sisters and Baba (father) loved us very much. He would pick me up in his arms after coming back home from office and treat my sisters with the same affection.
In the evening he would go to take class at the university, and almost every day he used to take me with him.
My grandfather came to take us back to our hometown right before the war started. One-night Baba was doing some important university work and I had scribbled on it. This angered Baba and so he scolded me. I was so upset that I couldn't get myself to talk to him before going to my grandfather's house, even though I tried very hard to. The pain of not talking to him back then still haunts me today. Why didn't I receive that last bit of affection he had wanted to give me?
In the surrounding of the Meghna River, in Rasulpur village, my father was born into an ordinary family on January 28, 1942. He was very intelligent, and as a result, was easily noticed by the teachers at Rasulpur Junior High School. With everyone's sincere help, he finished his studies at this school and entered Gazipur's Gacha High School as a student of class 9 in 1956. Everyone at the school treated with great fondness. Back then, Ashutosh Bhattacharjya was the school's Bangla teacher. My father's interest in his studies increased substantially because of the inspiration he received from his teachers. My father's contemporary, Humayan Kabir, now assistant teacher of Rasulpur High School, said—"Sadat was then in class 10. It was mentioned during conversation that he had memorised AT Deb's Bangla-English dictionary. At one point, the conversation led to a bet and I asked him the meaning of nearly 2,000 words in one sitting, all of which he answered correctly."
My father had lodged throughout his school life. The owner of the house where he stayed said that he would move his bed two months before his exams so that he could study properly.
In 1958, Baba passed first division Matriculation exam and got admitted to Narsingdi College. In 1960 he passed his Intermediate of Commerce exam and got into Dhaka University. My father, having spent most of his time in his studies, kept improving himself one step at a time. Meanwhile, he got noticed by my Khalu (maternal uncle), Dr Osman Gani, then Vice Chancellor of Dhaka University. It was through him that he got married to my mother on October 5, 1968. In the meantime, he passed BCom with honours in 1963 and M.Com. Masters of Commerce in 1968.
After finishing his student life at the university, for a short time he became lecturer at Narsingdi College's Business Department and soon developed the reputation of being a dedicated teacher. In the pursuit of a better life, he came to Dhaka University's Institute of Education and Research. After working there for some time, he went to America with a government scholarship and got his PhD. degree from Colorado State University in 1969. On May 31, 1969 he was promoted to senior lecturer. Through his own qualification, he became chairman on June 8, 1970 at the Research and Education Centre's Business Administration Department. At the same time, he was working as house tutor at then Jinnah Hall (now Surja Sen Hall). Besides that, he was hoping to obtain another degree after finishing his MA Economics exam. It was during this time that my sisters and I came into my parent's life.
Among my two younger sisters, one was born in 1969 and the other in 1970. Instability descended upon the country after that. It was during this time that he went back to his village home in Rasulpur. But it was perhaps because of bad luck that he came back to Dhaka on April 26, 1971. At this time, he met with his niece's husband Dr Aminul Islam. Baba told him that he would pick up some money from the bank and come over to his house.
But that never happened. Somewhere along the way I lost my father. With a broken heart, my grandfather Md Hazrat Ali, grandmother Momtaz Nesa and my mother's father Md Idris Ali, bade farewell to this world.
What will me emptying the basket of memories I have of him achieve? It is only a yearly programme, an exhibition of my father's items; what difference will it make? In the Ittefaq, Observer and other newspapers, my father's name is sometimes printed as Sabet Ali, sometimes Sadek: in the list of stamp size photographs in these newspapers, the fourth person in the fourth column is my father Shaheed Sadat Ali. What use are names—but I still feel sad, and I still get angry at this country and its people. It is difficult to believe that I had to give up the place where I felt safest and most loved, for this country. I want to ask my countrymen: why is it that we remember those who have left us only once every year? We should revive the spirit of our Liberation War and uphold its true ideals.
Let the '71 generation and Bangladesh government's pledge be to economically and socially support the thousands upon thousands of martyrs' children and families. Through extreme difficulty, my mother managed to educate my sisters and me. Being the wife of a martyr, she managed to raise three daughters through many storms. We are forever indebted to her for everything that she has done for us.
Translated by Eresh Omar Jamal, member of the Editorial team, The Daily Star.