The Killing of Intellectuals in the Shadow of Henry Kissinger
River of Blood, 'Raktanadi', is a much used metaphor to be found in the narratives of the nine month long struggle for freedom of Bangladesh. The blood started to flow on the treacherous night of March 25, 1971 when the Pakistan Army launched its genocidal attack on the Bangali people. The carnage continued for nine months and ended with the ignominious defeat of Pakistan Army and victory of the Bangali people on December 16, 1971. Just two days before the historic event, 'murder most foul' happened in the land with the brutal extermination of leading intellectuals of the country. The river of blood gave rise to an unfathomable ocean of grief. Such brutal mass murder is difficult to explain nevertheless requires study in depth and dimension to learn from history and say 'never again'.
To take a broad view of the mass atrocities committed by the Pakistan Army in 1971 got greater importance over time. One such effort has been undertaken by the Professor of Politics at Princeton University, Gary J. Bass and drawing on previously unheard White House tapes and declassified documents, he came up with the monumental work titled "Blood Telegram : Nixon, Kissinger and a Forgotten Genocide" which exposed Nixon's and Kissinger's "hidden role in a tragedy that was far bloodier than Bosnia." The accusation of their complicity and abetment in the crime of genocide has been strongly raised by the investigative journalist Christopher Hitchens in his book "The Trial of Henry Kissinger". Untimely death ended his crusade against the role of Nixon-Kissinger duo, but many questions still remains unanswered. Such issues raise their head from time to time as we have seen during the Hillary Clinton– Bernie Saunders debate in the Democratic Party nomination for presidential candidacy. In reply to a question regarding foreign policy Hillary Clinton cited Henry Kissinger as her idol and Bernie raised the accusation that along with Chile and Cambodia he also had his hand tainted with blood of Bangladesh. Here it is pertinent to note the observation of Gary J. Bass, "Nixon and Kissinger largely failed at sanitizing their record on Watergate, Vietnam and Cambodia- but on Bangladesh they proved to be remarkably deft at ducking public judgment".
Henry Kissinger in his memoir and massive writings on the history of diplomacy has meticulously evaded the tragic events of the then East Pakistan. But the newly-released White House tapes and huge treasure of declassified documents created further opportunities to revisit history. Here we would like to dwell on how the surrender of Pakistan Army in the Eastern theatre was deferred and delayed by a strange diplomatic move of Henry Kissinger and paved the way to the brutal killing of intellectuals on December 14, 1971.
Right from the start of all-out war between India and Pakistan on December 3, 1971 the joint forces of Bangladesh and India forced the Pak Army to abandon their fortified positions to retreat to the rear. Pakistani Eastern Command could read the writing on the wall. As early on as December 7, Governor A M Malik sent a secret cable to President General Yahya Khan presenting the grim picture with observation that, "No amount of lip sympathy or even material help from world powers except direct physical intervention will help. Is it worth sacrificing so much when the end seems inevitable?"
By December 9, the inevitable became reality and on that day, the Governor's message became stark and sharp. He stated, "Military situation desperate. Once again urge you to consider immediate cease-fire and political settlement. Otherwise once the Indian troops are free from Eastern Wing in a few days even West Wing will be in jeopardy."
General Yahya Khan in his immediate reply showed understanding of the dire situation but nobody in the Central Command was ready to give signal to surrender, rather he put the onus on the shoulder of the Eastern Command with Governor as chief authority. He stated, "Decision about East Pakistan I leave entirely to your good sense and judgment. I will approve any decision you take and I am instructing General Niazi simultaneously to accept your decision." 
Following this signal the Eastern Command initiated the process of negotiated surrender. On December 10, Major General Rao Farman Ali handed over a proposal from Governor A M Malik to Paul Mark Henry, U.N. representative, to arrange handover of power in East Pakistan to the elected representatives and ensure immediate cease-fire with repatriation of Armed Forces of Pakistan to West Pakistan.
It is understandable that with the message sent to the UN representative in Dhaka, hectic diplomatic moves would commence to ensure cessation of hostility and surrender of Pak Army. It was a matter of one or two days when the war would be over with the surrender of Pak Army. But something strange happened in between and on December 11. President Yahya Khan sent a short message to Governor A M Malik retracting his earlier instruction and said, "Do not, repeat, do not take any action on my last message to you. Very important diplomatic and military moves are taking place by our friends."
The question is what prompted the reversal and which important move had been taken by the friends of Pakistan, the global powers? Pakistan Army was about to surrender at the latest by December 12 but that was delayed and they were injected with a new hope that something important was going to happen to bail them out of the defeat and debacle.
What happened in between December 9 and 11 was a secret meeting held at a safe house in East-side of Manhattan, New York between Henry Kissinger and Ambassador Huang Hua, China's permanent representative in the UN. The hastily arranged consultation took place with two or three close aides from each side. Kissinger asked for this urgent meeting and he did not even inform the State Department about it. He was accompanied by Ambassador George Bush, US permanent representative in the UN and another aide.
The top secret memorandum of this conversation has been exposed and published by the National Security Archive, a non-profit independent research organisation. The conversation showed how desperately Henry Kissinger tried to provoke China to take military action in their border with India which will turn the regional conflict into a global one and save Pakistan Army from their imminent defeat. Kissinger, a highly intelligent person, was fully aware of the war situation and must have had access to the secret cables exchanged between the Pakistan GHQ and Eastern Command. He informed Huang Hua, "The Pakistan Army in the East has been destroyed. We are afraid that if nothing is done to stop it, East Pakistan will become a Bhutan and West Pakistan a Nepal."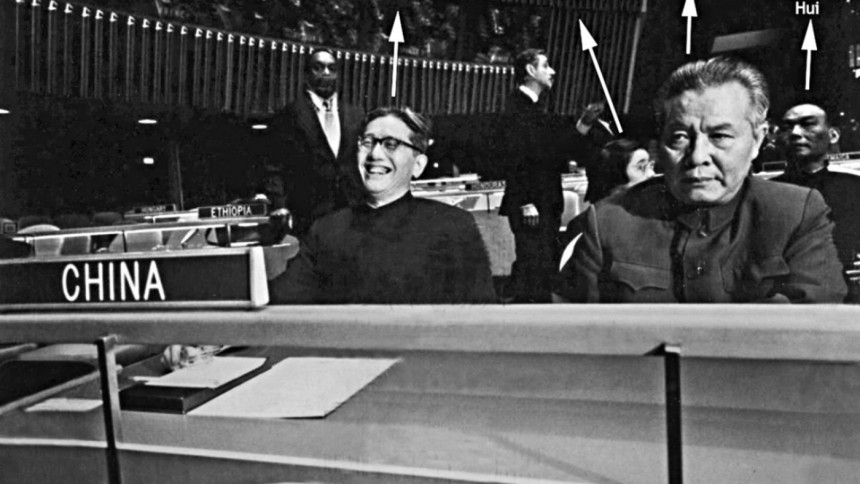 Kissinger also informed the Chinese envoy about the steps taken by the US administration, its mobilisation of the Seventh Fleet in the Pacific and their journey towards the Bay of Bengal. He pleaded China to take similar military action. He assured China that in case of any emergency US will come forward to assist them. He stated, "If the People's Republic were to consider the situation on the Indian Subcontinent a threat to its security and if it took measures to protect its security the US would oppose efforts of others to interfere with the People's Republic."
Kissinger was not only provoking the Chinese, at times he was almost begging as he said, "When I asked for this meeting I did so to suggest Chinese military help to be quite honest. Let us be practical - by tomorrow the Pakistan Army in the East will have surrendered." Interestingly all through the discussion the Chinese envoy proved to be a seasoned diplomat and Kissinger a desperate person. Huang Hua was non-committal, he simply answered that I will convey the message to my Prime Minister.
After this meeting Kissinger must have briefed his President to send urgent message to the Pakistani High Command. We do not know the content of that message but one can understand Henry Kissinger was not ready to accept defeat of his policy and that of Pakistan, so he somehow managed to send a wrong message to Pakistani High Command that dramatic and coordinated actions were going to be taken which rejuvenated the morale and spirit of Pakistani forces. That must be the reason for President Yahya Khan to withdraw his earlier consent to surrender of Pak Forces in Eastern Theatre. His CGS Lt. Gen. Gul Hasan Khan told Gen. A.A.K. Niazi to hold his position as "the yellows are coming from the north and the whites from the South."
Such message delayed the capitulation of Pakistan Army and gave them respite to execute their heinous plan of destruction of Bangali nation with the killing of leading intellectuals of the country. There was no maneuver of Chinese forces on the border with India; the US Seventh Fleet followed by another Fleet from the Soviet Union could not reach the coast of Bengal on time. The collapse of Pakistan Army was delayed but defeat could not be averted. They surrendered unconditionally to the Joint Forces of India and Bangladesh on December 16. But the interregnum, five days of futile battle, gave them opportunity to carry out the barbarous act of killing of the intellectuals.
The nation is still waiting for the public judgment of this heinous crime. Now we know there were many players who paved the way to this brutality. We hope that history will not absolve anyone however even powerful they may be.
The writer is a cultural activist and essayist. He is a founder Trustee of the Liberation War Museum.