Breaking barriers on two wheels
What is an indicator of social progress? In a country like Bangladesh, women still feel unsafe travelling to the nearest grocery store, their own university, and even their workplace. Public transport is not an option for a lot of them due to the various risks of harassment associated with it. In such a situation, mobility is freedom. For a lot of women, this is what riding their bike means.
"I joined my first job back in 2007. I usually had to return home quite late at night during which time finding safe transportation back home was a challenge," shares RS Lina, branch in-charge of Yamaha 3S Centre in Tejgaon. Back in 2007, her father passed away and hence keeping this job was essential for her family. This is when she decided to get her very first motorcycle.
Although at first, the decision to get a bike was solely related to easing her transportation issues, this soon turned into a passion.
"You see, I have always loved travelling. With my bike I could travel anywhere. At first I rode solo to various areas and would sometimes take my brother or my mother along with me as well. It was a thrill like I had never experienced before," exclaimed Lina. Her love for travelling led her to create a Facebook group for likeminded women bikers who love travelling as well. With the members of Creative Minded BD (CMBD), she has managed to arrange long tours to various places in Bangladesh starting from Kaptai, Cox's Bazar, to Comilla and many others.
On the other hand, for Sadia Yeasmin Chowdhury Menal, who works for the marketing department of a reputed private company, her passion for bikes was the primary reason she finally chose to get one for herself in 2015. Although her very first motorcycle was a scooter, she now rides a Yamaha FZS FI V2. "The current bike I ride weighs more than 130 kg. My parents were not very happy with my decision to get this bike in the beginning. They worried that I might not be able to manage such a heavy vehicle," recalls Menal. But the heaviness of the bike did not pose any issues as she managed to tour several areas outside Dhaka with this bike of hers. At present, she has big plans of touring all the 64 districts of Bangladesh and even riding her bike to India.
Even a few years ago, women bikers only really opted for scooters. But, now it seems that the trend is shifting and women are now choosing all types of bikes. In a conversation with the Executive Director of ACI Motors Ltd., Subrata Ranjan Das reveals that their company is also starting to sell a lot of sports bikes to women – a trend that was quite unheard of a few years ago.
 According to Subrata, "Riding bikes in itself is a challenge in Bangladesh due to the road conditions. For women, the challenge is much greater. At ACI Motors Ltd, we want to support these women who are breaking barriers and hence we provide bike riding trainings at our Yamaha Riding Academy (YRA)." YRA started its journey back in 2016 and till date it has trained around 1,200 women. Along with training, the riding academy also helps build a community for the riders.
"In the future, we do not just want to see increasing women bike riders. We want women to have equal economic participation in the country. Being able to ride a bike is a huge step in that direction. The theme of this year's International Women's Day is 'Choose to challenge' and riding motorcycle is still very challenging for the women in our country.  ACI Motors will always try to support these women who try to challenge the limits by taking on this challenge," adds Subrata.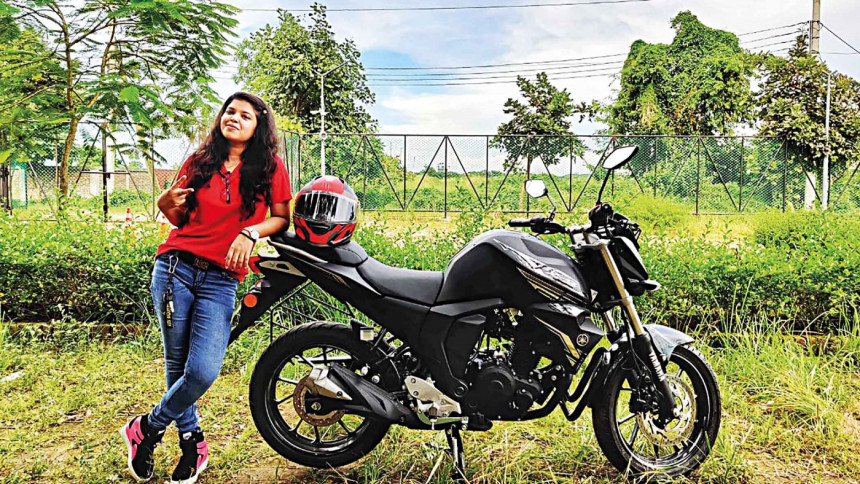 As rosy as all this sounds, the road towards change has not been as smooth for women in Bangladesh.
"When I first bought my bike in 2007, I was living in Khulna. Society was much more conservative. Whenever I used to park my bike outside, I would come back to find spit all over it," recalls Lina. Since those times, she believes that society and women in Bangladesh have come a long way.
"Now whenever I'm waiting in traffic on my bike, I usually see a few other women riders beside me. This makes me feel both safe and proud," she says.
For Menal, the inappropriate comments and constant harassment never really discouraged her but further strengthened her resolve to stay on the road. She mentions that every single female bike rider she has met has faced harassment while riding their bike at least once in their lives which is not okay.
"I wanted to be a role model for other women who were too scared to get their own bikes even though they needed to. I figured that if they saw me on my bike on the streets, it would encourage other women to finally make that decision as well," claims Menal.
It seems that a solution going forward is to have more women bike riders on the road so that this idea of seeing women on motorcycles becomes normalised in Bangladesh's society. This change will not only provide more freedom to women in the country, but also help Bangladesh's society progress in the future.