Women's Day Special
Fatinaaz Feroz: Trailblazing women, inspiring the future generation
In conversation with Fatinaaz Feroz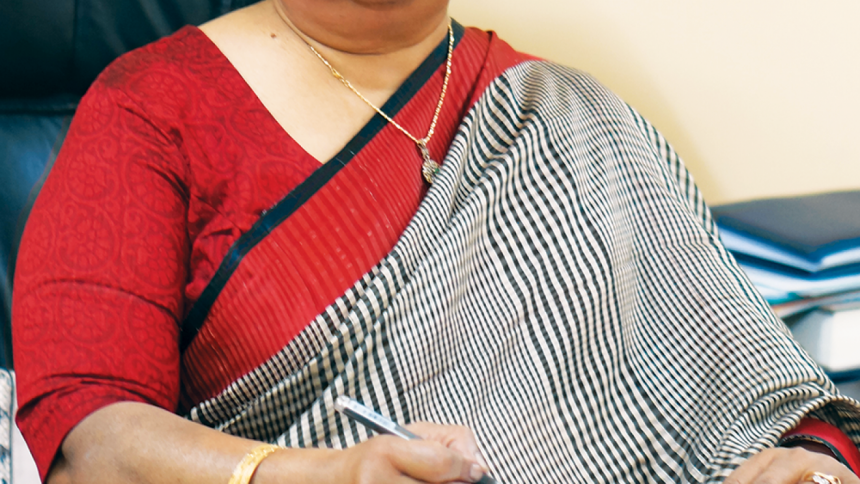 Fatinaaz Feroz, Chairman of Board of Trustees of Stamford University Bangladesh, speaks to The Daily Star about her voyage from a young, passionate student with skills to becoming the leading figure in one of the leading private university in Bangladesh and gives her sage advice in how to take equality and women empowerment to the next level.
1. Briefly tell us about your journey to where you are now?
It's a very long journey comprised of a vast amount of difficulties and struggles. From childhood, my father never differentiated between my brothers and me, and always tried to push me towards becoming the best version of myself. While I was studying in the university, I also applied for certain jobs to test my own skills and ability. Like, I applied for Biman Bangladesh Airlines as an executive. Though I left it because it was hampering my studies, it developed my confidence and my knowledge. We had to struggle hard, we had to work harder to prove we belong in the men's world as they perceived it to be at that time. After graduating, I worked in different companies. I worked in an airline in Gulf Air, worked for the UNDP as an administrator as well. After I got married, another challenge began. I had to look after the family and continue my professional life as well. When I rethink those days, I really think I was a fighter, and the fight towards equality and empowerment is what made me the champion that I am today.

 
2. What pushed you/inspired you to keep moving forward at a time where women empowerment was not that prevalent?
It was the voice within me that kept me pushing forward and breaking boundaries. I think the urge to be equal, to contribute towards society was more forceful in me because I always fought to keep striving forward. Sometimes within my relatives, friends, and other close people used to discourage me. Nevertheless, I proved the naysayers wrong and reached the top through hard work and determination.
3. What is your process of delegation/leadership in your university, which boasts a huge number of staff and individuals?
This is a big university. We have around 300 faculty members, about 300-400 staff members, and around 7000+ students. Luckily, I have a very good and skilled team, I delegate my work to them and give them ample opportunities to develop leadership in themselves in their own respective fields. I have supervisors and in-charge personalities to keep everything in check. As I'm in charge of policymaking, all I'm doing is leading them to success.


4. What can the government do to ensure and improve gender equality and women empowerment even more?
I think our honorable Prime Minister, Sheikh Hasina, is doing a tremendous job in spreading the message of equality and women empowerment countrywide. Even at the public grassroots level, they are encouraging women empowerment by allotting different positions for women, like women's membership in the local government. We now have women competing with men in a lot of sectors, breaking the boundaries and showcasing that they can go the distance as well, given the right amount of opportunity and inclusivity. We have to unleash the potential within these women and give them equal amounts of opportunity. And the government should play a vital role in instigating this change nationwide.
5. Do you think we still have a gap in terms of equal opportunity and equal pay in our country? What can the employers do to improve this situation?
The private sector needs to play a bigger role in empowering women. The private sector should employ more women, have no discrimination towards women in their employment process. One of my youngest daughters is a civil engineer in Canada. When I tell her to come back home, she tells me there's no job for her here. When I looked into this matter, in the newspaper, a private construction company's vacancy announcement, it was written: "No women are encouraged to apply". So, there is still a lot of gap within the private companies and their stance regarding women empowerment and they need to improve and act upon it.

6. What is Stamford University doing in terms of women's education and empowerment?
In this university, we have almost 340 Female faculty and staff members as well. We are giving them the opportunity, training, and platform to prove themselves and climb the pedestal among their own departments. If you talk about the students, we provide special scholarships to women who prove themselves in their own respective departments. We also have a women's forum that enlightens women about their rights, empowers them, and helps them in contributing to society.
7. What would be your advice towards women who want to reach the top of the mountain like you?
Their journey will be quite different from my journey. But in general what I can say is that, educate yourselves, develop your skills, and be focused on your goals. I would also request the families to encourage their daughters to strive for the best. If you want your decision to matter and be taken seriously, you have to educate yourself, become skilled and financially independent. You have to organize and empower your thoughts, work hard and be fearless.