International Women's Day 2019
Celebrating the Unsung Women Changemakers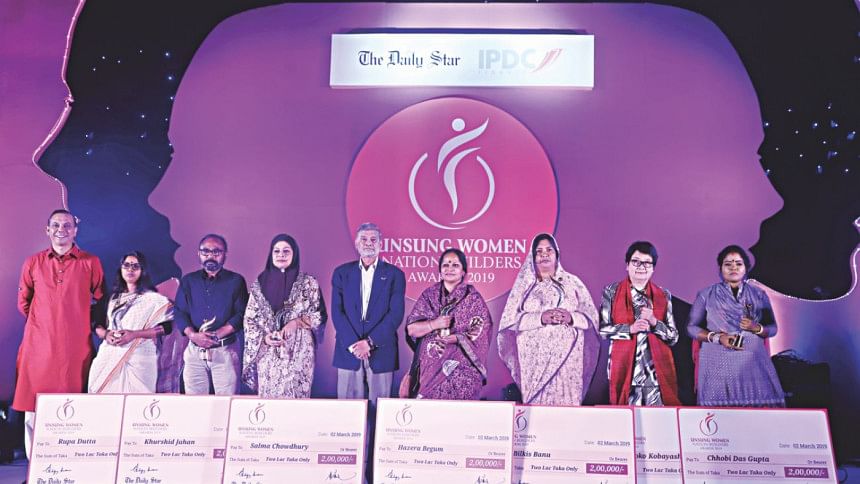 Women have always played a pivotal role in the development of the country but women from the underprivileged class especially have not always been featured strongly in the country's success narratives. The Daily Star, in association with IPDC Finance Limited, has undertaken an initiative to honour these unsung heroes of the nation and provide them with a platform where their inspirational stories will be celebrated.
In the third year of the "Unsung Women Nation Builders Awards", seven women were honoured. An independent jury panel comprising of Rubana Huq, Managing Director of Mohammadi Group; Rasheda K Choudhury, Executive Director of Campaign for Popular Education (CAMPE); and Anisul Hoque, author and journalist, selected the awardees.
---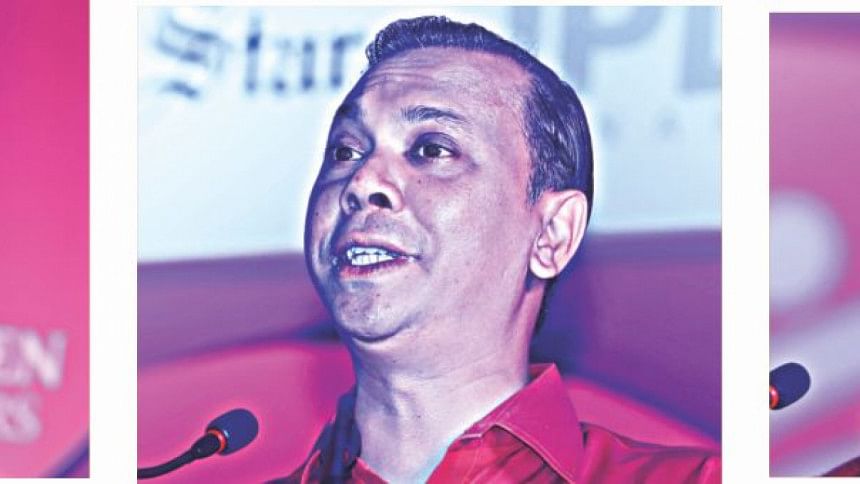 MUHAMMAD ABDUL MANNAN MP
Minister, Ministry of Planning
"The government, under the leadership of Prime Minister Sheikh Hasina, has mainstreamed women and their contribution, breaking various forms of barriers. In this march towards progress, we will take all onboard and make a prosperous country."
MOMINUL ISLAM
Managing Director and CEO, IPDC Finance Limited
"Sacrifices of these seven women transcend even the fairytales. Actually, we ourselves are feeling honoured to have this opportunity of honouring you."
MAHFUZ ANAM
Editor & Publisher, The Daily Star
"We often talk about humanity, people's rights, etc. But these women have demonstrated the real spirit of humanity and love through their actions."
---
From Japan with love
Ninety-year-old Japanese woman, Hiroko Kobayashi has been playing a significant role towards advancing women's education in the rural areas of Bangladesh. Till date, she has financially supported over 100 Bangladeshi girls to complete their school and college degrees in Jhenidah and Panchagarh. It all began in 2003, when Hiroko first came to Bangladesh to work for the Japanese NGO, Hunger Free World. She heard that a female student in Kaliganj of Jhenidah had committed suicide for not having enough money to sit for her Higher School Certificate (HSC) exam. Hiroko, who herself had faced financial challenges while growing up, decided to help poor female students. The only condition she places on the scholarship recipients is that they promise not to marry until they are well-established. She also hopes that they will, in turn, help other poor students in future.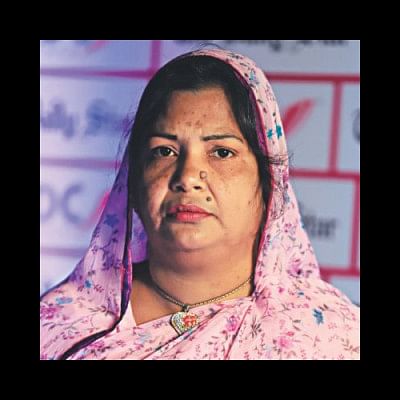 Caring for the uncared for
Inspired by the philanthropic nature of Mother Teresa towards the poor and abandoned, Bilkis Banu established an orphanage called Golap Kha Shishu Sadan in Nageshwari upazila of Kurigram, on a piece of land owned by her husband's family. It is now home to 75 children.
Bilkis has always been passionate about helping children in need. Initially, she used to take care of five orphans at her home and provide free education to poor children in her neighbourhood. In 1999, when a mentally challenged woman came to Bilkis with a baby girl, failing to take care of the child, she took her in and named her Pritilata. That night, she dreamt about Mother Teresa. It was then that she and her husband Rabiul Islam decided to build an orphanage. The children in her orphanage receive formal education as well as take part in physical exercise and cultural events. The orphanage is funded by the earnings from her family, farmland, a hostel and by some private donation. Bilkis plans to construct a new orphanage on 2.25 acres of her family land.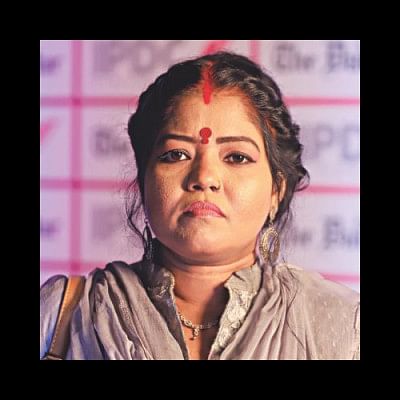 Worker to entrepreneur
Poverty had forced Chhobi Das Gupta to drop out of school before completing secondary level. Chhobi started working at a garments factory when she was only 12, after the death of her father, about 20 years ago. Though she had to support her family of seven members, she dreamt of continuing her education further and become an entrepreneur. She got admitted to Bangladesh Open University but had to stop midway due to financial constraints. However, she was determined to become an entrepreneur and hence kept on saving money.
In early 2016, Chhobi finally established her factory, "Sense Fashion", in Chattogram. Initially she had six workers, 10 sewing machines, and a capital of Tk 7 lakh (Tk 5 lakh from savings and remaining Tk 2 lakh from loans). Chhobi has successfully expanded her business, and today she has 60 sewing machines and more than 100 employees working for her company. "There was a time when I had to wait for salary every month to feed my family. Today, I disburse Tk 6 lakh as monthly salaries to my workers," said the 32-year-old lady hailing from Pashchim Sholkata of Chattogram's Anwara upazila. She is grateful to her husband and his friend for supporting her initiatives through the hardships.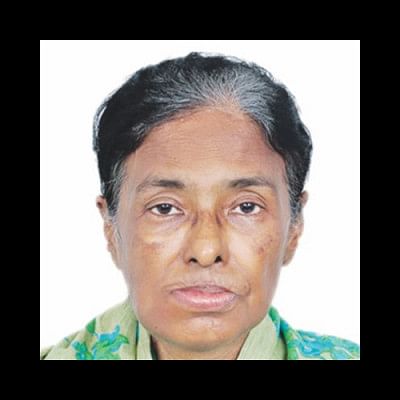 Tigress of Sundarbans
Khurshid was a college student and mother of a five-month-old baby when she joined the Liberation War of 1971. "I was recruited to scrutinise newcomers and arrange training for them, especially women," she said in an interview with The Daily Star last year.
She wanted to be in the frontline, but her commander urged her to oversee the nursing of injured freedom fighters and training of new fighters. She would hop on boats to any of the 14 camps in the forest to treat injured fighters, give logistical support and even spy on to see if anyone of them were a traitor. Khurshid Jahan died of oral cancer in Khulna on February 19, 2019 at the age of 69. She was a banker in the professional life.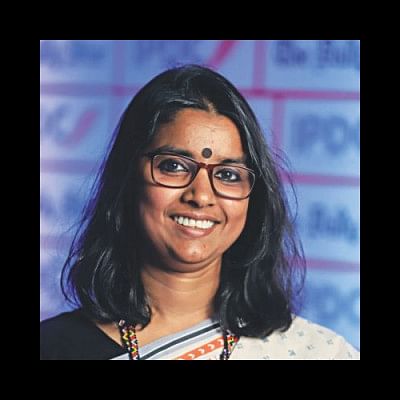 Championing a school rebuild
While working for an international organisation in Chattogram in 2013, Rupa Dutta, 35, got an opportunity to visit the remote parts of Bandarban. There, she discovered a school at Champajhiri Para in Gajaliya union of Lama and was disheartened to see that the school had only one teacher, whose monthly salary was Tk 1,500. While the salary was paid by a missionary, the teacher had to work on a farm to make ends meet and could not concentrate on teaching the 11 students at the school. Rupa then decided to contribute to the teacher's salary and expand the school. Along with her friends Miti, Rajib, Rana and Sanjay, she established a school named Pawmang (flower garden) for the Mro children and renovated it. They also set up a hostel in 2015 with contributions from friends. The village chief, Long Tui donated five acres of land. Different organisations including Colouring Little's Mind, Vertical Dreamers and Crack Platoon contributed to the school that now has 103 students from pre-primary to class five. Rupa said there is a committee comprised of locals, guardians and teachers to manage the school. "We are the advisers and want the committee to take leadership role." A total of 21 students who graduated from the school are now in high schools.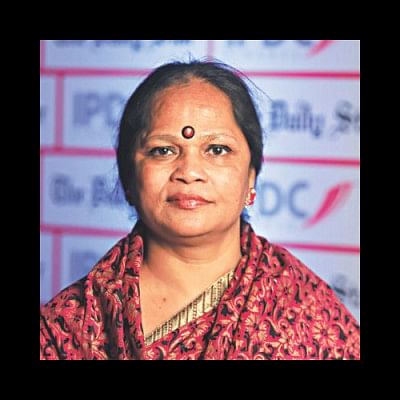 A mother of 40
Hazera Begum had a difficult childhood due to misery, neglect, and struggle. But she turned these into driving forces and became the "amma" of 40 underprivileged children. Most of these children belong to sex workers but Hazera, who herself was a sex worker until the age of 23, is nurturing them at a daycare centre she runs, called"Shishuder Jonno Amra", in Dhaka's Adabor neighbourhood. The 40 children living there attend nearby schools, eat, and play in a safe, homely environment. Hazera left home at the age of eight to escape the torture of her step-mother. Initially, she lived on the streets but was later forced into prostitution. However, she managed to free herself and decided to start afresh. Hazera, now aged 48, had opened the centre with her savings. She had worked for a development organisation for some time after giving up prostitution. Individual donors help her run the centre. Hazera said she came up with the idea of establishing such a centre out of concern for sex workers' children who have no identity, rights or future. "These kids are my family. I am embracing motherhood with these children," she said.
Caring for children with cancer
Salma Choudhury had lost her three-year-old son, Ashiq Husain Choudhury, due to cancer in May 1993.This incident led her to establish "A Shelter for Helpless Ill Children (ASHIC)", Bangladesh's first NGO dedicated to children with cancer. Founded in 1994, the charity aims to support children fighting with cancer. Salma and her husband Afzal Husain Choudhury also donated their familial property to set up a shelter at Dhaka's Bangla Motor and a palliative care unit in Dhanmondi. The foundation runs four play centres at the paediatric units of Dhaka Medical College Hospital, Bangabandhu Sheikh Mujib Medical University Hospital, Sylhet MAG Osmani Medical College Hospital and Chittagong Medical College Hospital. It accommodates children and their parents for free when they come from outside Dhaka for treatment. The palliative care unit gives comfort to the terminally ill patients. "I have suffered a lot and I know other mothers who are in the same situation. I am happy to see children surviving cancer," she shared.