The future of higher education in Bangladesh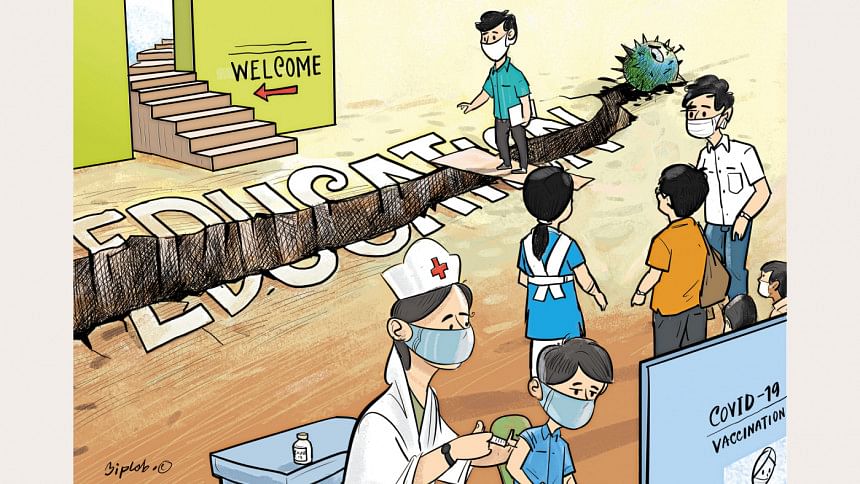 "Whatever lies in the future of our university education, my peers and I will have a tough time adjusting to it as we have become accustomed to online classes. I don't think things will go back to how they were before the Covid-19 pandemic, so I'm both excited and nervous about what's to come," shares Risana Islam, a third-year private university student in Dhaka.
Universities in Bangladesh have begun to reopen their campuses since October 2021 but in different capacities. In particular, many public universities are opting to revert to pre-pandemic learning modes, considering what's best for their student body. On the other hand, private universities are taking on a variety of approaches, with some remaining completely online, some going for a blended approach, and some mostly going in-person with aspects of online education incorporated.
However, the question remains: which approach to higher education will be the most effective as the Covid-19 pandemic slowly reaches its end?
"There is no way to avoid blended learning because teachers and students have already adjusted to online education. At the Canadian University of Bangladesh (CUB), we ensure our on-campus classes are available live online for students staying in remote areas or whose guardians are not allowing them to go to physical classes. We will continue this blended approach even after the pandemic ends," shares Prof Dr HM Jahirul Haque, Senior Advisor, Board of Trustees, Canadian University of Bangladesh.
Educators and researchers worldwide agree that the future of education is blended. However, there seem to be disparities between what different people consider to be a "blended" or "hybrid" approach to education.
"If a hybrid approach means some students will take offline classes while others take the classes online, I am not very keen on it. That's not going to work," comments Prof Imran Rahman, Vice-Chancellor, University of Liberal Arts Bangladesh (ULAB). He expressed his doubts on whether this type of blended approach will be fair to both groups of students, fearing that students gaining face-to-face interactions in the classroom will have an unfair advantage over those joining virtually.
There are also concerns over the quality of internet connectivity, access to proper devices, and the universities' ability to invest in the amount of new technology required to set up a smooth blended learning experience. "Every classroom would need built-in cameras and sound recording systems, which is a challenge," he explains.
The investment in and adaptation to newer technology has become one of the biggest hurdles in shifting to remote learning, and now to blended learning. "We were not ready as a nation technology-wise to transition to online education. At CUB, we had to update our learning management system, Moodle. We installed cameras and microphones in every classroom. We increased our server capacity and bought backup servers to ensure smooth online classes. We are also making some certificate courses available online," says Prof Haque.
"Technology will play a massive role in the future of education. Students will learn on their own using Massive Open Online Courses (MOOCs). This goes along with our liberal arts philosophy, where we try to instil in our students the love for life-long learning by themselves," shares Prof Rahman.
A recent study conducted by Cardiff University and Bangladesh University of Engineering and Technology (BUET) recommended that the blended learning approach be designed according to the country's context and the students' socio-economic status. This includes making the curriculum more flexible. Private universities in Dhaka have already started to implement changes considering such recommendations.
"At CUB, we have modified the curriculum to fit online learning better," shares Prof Haque.
"You have to break up the lessons since it's challenging to get students to engage online," says Prof Rahman of ULAB.
Southeast University, on the other hand, has taken it up a notch by considering all the different occasions during which they can make education more convenient and accessible for their students.
"We will continue some Master's courses online as most students here are service holders living outside Dhaka. For all other courses, we have noticed that most students leave Dhaka city a week before the Eid vacation and return after a week. During these two particular weeks, we will conduct online classes so that learning is not affected. We may take online classes during hartal as well," explains Prof Dr AFM Mafizul Islam, Vice-Chancellor, Southeast University.
Although deciding on the best approach to learning after the Covid-19 pandemic needs more trial-and-error, one thing is certain—we can't return to how the world was before.
Prof Islam explains the situation perfectly: "With our advanced technology, knowledge and experience gathered during the pandemic, we will go ahead either with in-person, online or a combination of both on-campus and e-learning. We will continuously analyse the steps already taken to understand what has worked, what hasn't and how to tackle the challenges we face along the way."