Local Access to Information (a2i) model goes global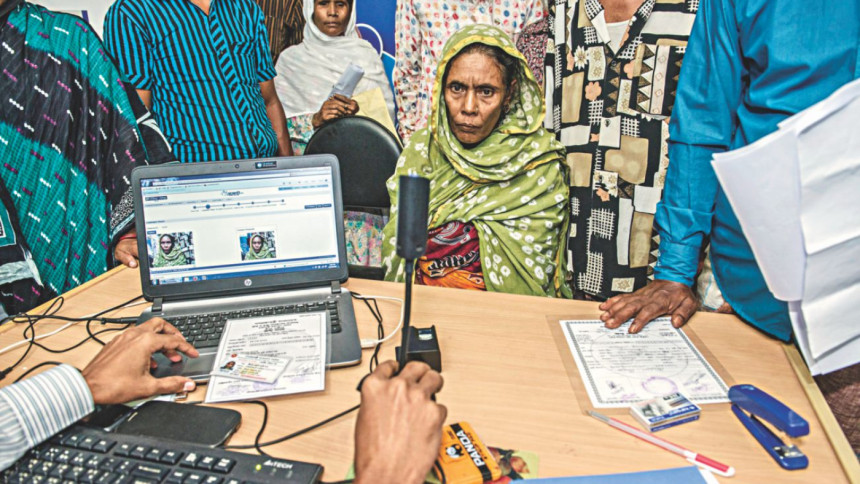 Even the biggest private hospitals inside the city have no centralised record-keeping system through which a patient's past history can be accessed. The onus is always on the patient to painstakingly save every prescription, every diagnostic report. For those of the population who do not have as much access to general medical/health knowledge, the challenge of treasuring all health documents is more than just about good record-keeping--it is the one and only evidence of what is happening within their bodies. Should the papers get lost, many patients fail to explain what kind of past treatment they received. It is not an uncommon scenario to see patients from the lower socioeconomic classes arrive to hospitals with large plastic packets of all their hospital documents down to the little admission slip.
That is why the Access to Information (a2i) cell played with the idea of a project where patients will be given a smart card containing all of their information. The pilot was held in the north of Bangladesh. People over 60 years of age were surveyed and interviewed about their disease history, and their fingerprints were collected. An ID card was provided, and linked up to a database that was provided to different doctors within the union. Once the patient visits the doctor, his or her history is at their fingertips and any further steps taken by the doctor is input and saved into the database. The best part? Even if the patient loses the card, the doctor can always retrieve the history using fingerprints.
They are also running a pilot project of providing telemedicine services in 25 or so centers, where patients from far-off districts can contact specialists in city centers.
It is safe to say that not enough people know about the actual breadth of the innovations being undertaken inside the a2i cell. The eclectic laboratory has been testing out a dizzying array of schemes--and that too, without the overwhelming fanfare and marigold wreaths that usually accompany government projects. Starting from improving record-keeping in health-care to extending e-services to the rural poor, the array of projects showcased and discussed about presents the view of a very different Bangladesh than the one we are used to.
In fact, Bangladesh is at a stage where we are not only coming up ideas ourselves but also exporting them to other developing countries. Towards the end of last year, government officers and diplomats from developing countries came in together at the Prime Minister's Office to learn from the government's a2i projects, and take some home.
Nepal for example gave Bangladesh the job of digitising its voter registration system--something that we have worked on for the last decade. Also turns out that Bangladesh is helping Maldives develop a network of one-stop-shops similar to the 4500 union digital centers we have across the country. Maldives will be making it a boat-based service to be able to reach its far-off islands. As a part of Bangladesh's experience with public service delivery, we are also exporting brains to Bhutan and Fiji to streamline their government services and e-health projects.
That we are now exporting ideas, specialists and technology sheds light on exactly how many digitisation projects are underway. While many are still at the testing-out phase, some have been on the ground for a while and are here to stay.
Nothi for example is something you can use right now as you read this. It is as simple a concept as being a website where you can find all government forms. The landing page of the citizen's portal is pretty much just a clean  drop-down list of all the government departments, with menu items leading to online forms. These include obscure but super important forms for "Stipend for disadvantaged working, lactating mother" to the more generic passport renewal applications.  The forms are arranged by the department, but for those who would not know which form is dispensed by which departments, another tab rearranges the forms by subject. Fun fact: the online forms auto-fill certain fields that exist as duplicates of others.
Shebakunjo or services.gov.bd is a relatively more well-known project that nevertheless needs reiteration. This is a powerhouse where most of anything and everything a citizen might want to know about government services is uploaded in some form or the other. If you have lost your motorbike and do not want to deal with an unfazed and overworked duty officer at the police station, a link inside the portal outlines the steps that need to be taken for the police to take up the matter. An even better example would be if a village bridge is damaged by floods, the villagers can use this portal to figure out how they can get one. The information portal provides a list of all the documents the villagers would know, and one of all the people they would need to contact. It also provides an estimate of the time this whole process would require, until they finally get a bridge--75 days.
Teacher's portal: The teacher's portal is not something the regular person would have come across but what basically does is crowdsource class notes and teaching materials from school teachers. Government teachers upload their materials onto the website for review, critique and reuse. It works almost like a form--users crowd in below a content post and publish their reactions. Those who find it useful also have the option of downloading it. To get teachers to incorporate audio-visual elements into their teaching, the  best content are rewarded by the government.
Perhaps the biggest catalysing force in the provision of these services have been the union digital centers. With more than 4500 of them across the villages, just the fact that these centers exist means that all the services being talked about are actually reaching--or can easily reach--those who need them. Now all that waits to be seen is when they can be fully implemented and popularised. These are just a few. Not all ideas saw light, and an example of this is the BRTC bus tracker that was being developed, which would have improved the daily commute of city-dwellers. That the initiative was at least taken however, means a lot.
The writer is a Reporter of the Star Weekend.