Incentivise cashless transactions
Experts urge govt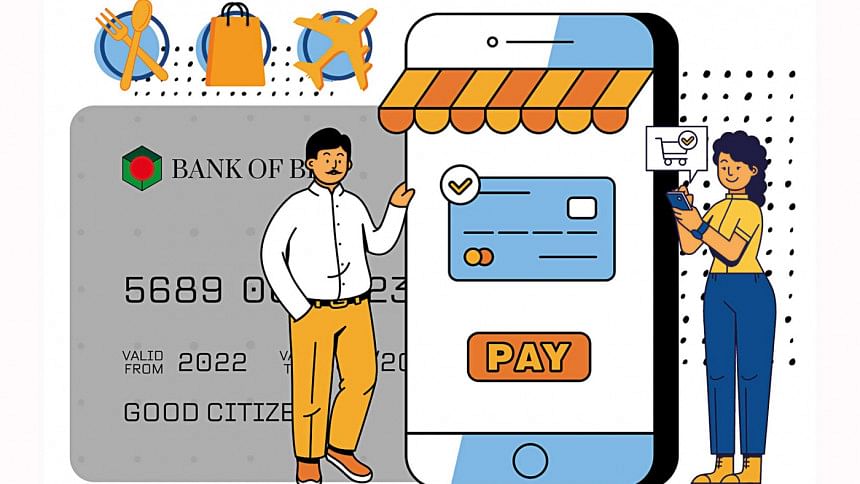 Incentives are necessary to nudge people into using digital payment methods, such as cards and mobile financial services (MFS), so that Bangladesh can achieve its goal of becoming a cashless society.
Although the government and central bank have taken numerous initiatives to reduce the use of hard cash, the country still has a long way to go to this end, according to analysts.
To address the issue, they recommend incentivising cashless transactions so that more people are inclined to give it a try and eventually adopt it for all payments.
About 2.86 crore debit, credit and prepaid cards were issued in Bangladesh as of January 2020 with the total value of transactions made through these cards standing at Tk 27,072 crore, as per central bank data.
Card transactions were 31 per cent higher that month compared to the same period the previous year, when the total value was Tk 20,624 crore.
"Our target or destination should not be a cashless society, but a less-cash society and we are on the right track," said Syed Mohammad Kamal, country manager of MasterCard.
He recommended the government offer a 5 per cent incentive to boost card transactions.
Of the 5 per cent, 3 per cent would go to the cardholder while 2 per cent would be for merchants, Kamal said.
India recently saw a massive rise in cashless transactions after the country provided incentives under its demonetisation program.
Using this example, Kamal said remittance earnings in Bangladesh rose after the government incentivised the use of formal channels.
Although it has been more than two-and-a-half decades since the inception of "plastic money", cashless transactions only started gaining pace in the last decade while the coronavirus pandemic provided a big boost.
"As people increased the use of cashless transactions amid the Covid-19 crisis, this is the right time to offer incentives to push it further," he said.
"The right decision should be taken at the right time, and this is the right time," Kamal added.
The country manager of Mastercard went on to say that the government and Bangladesh Bank have issued a number of supportive policies and regulations in this regard.
"And now the incentives should be offered," he said.
Most private commercial banks started setting up ATM booths in Bangladesh during the mid-2000s, when debit cards started getting popular. However, this had little impact on cashless transactions for many reasons that the central bank took several decisions to address.
Standard Chartered Bank Bangladesh rolled out automated teller machines (ATM) and debit cards in tandem in 1994, which are considered to be the first example of technology integration in the country's banking sector.
The central bank introduced one-time password (OTP) or two factor authentication in 2010 for both debit and credit cards, helping e-commerce gain momentum and encouraging cardholders to purchase goods and services through plastic money.
Considering the potential of electronic payment modes, Bangladesh Bank rolled out the Bangladesh Automated Cheque Processing System (BACPS) in 2010, replacing the regional clearing houses that were operated on a manual basis.
Under this system, banks settle inter-bank cheques within one working day instead of the two to three days needed by the manual system.
More than 10,000 cheques were settled every day with an average transaction size of Tk 72.39 lakh as of December 2021, central bank data shows.
In 2011, Bangladesh Bank introduced the Bangladesh Electronic Fund Transfer Network (BEFTN), which allows corporate entities to pay wages and salaries to their staff and make bulk payments. People can also pay utility bills, loan installments and insurance premiums through the platform.
Till last December, some 4.77 lakh items were processed through the BEFTN with an average transaction size of Tk 48,254.
The central bank rolled out MFS in 2011, and they have become hugely popular among people from all walks of life as it is easy and available all over the country.
The number of registered MFS clients stood at 11.4 crore in January, when the industry's average daily transaction was Tk 2,366 crore. The transaction was 3.08 per cent higher than that of the previous month, the data showed.
In 2012, the central bank set up the National Payment Switch Bangladesh (NPSB) with a view to attaining interoperability among banks for card-based and online retail transactions.
At present, the NPSB is processing interbank ATMs, Point of Sales (POS) and the internet banking fund transfer (IBFT) transactions.
In a major move, the central bank launched the Real-time Gross Settlement System (RTGS) in 2015 that facilitated a safe and efficient interbank payment system in a digital manner.
The system allows banks to transfer funds from one bank's account to another on a real-time and gross basis.
The RTGS is designed to settle high-value (more than or equal to Tk 1 lakh) local currency as well as foreign currency transactions on a real time basis.