Wiser is winner
Smart use of credit cards brings multiple benefits to users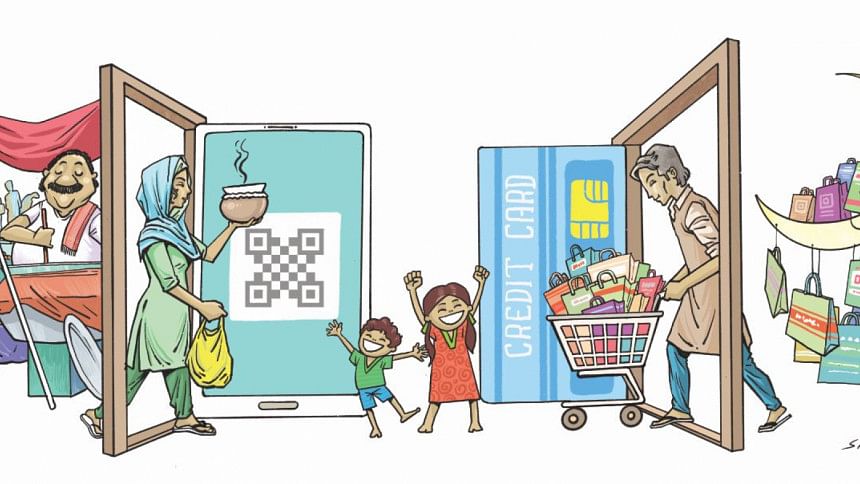 Credit card: two words the mention of which turn many into full-blown cynics.
While it is undeniable that anyone who has a credit card risks running up too much debt -- a milestone that might take several years and lots of sacrifice to get rid of -- if used wisely the benefits can outweigh the downsides.
One such wise use would be getting all members of one's family supplementary cards issued under the head of the family's card.
Kamran Ahmed, a businessman, had figured it out a while back. He has a Visa Signature credit card from Standard Chartered Bank that came with two free supplementary cards, which he gave to his son, a university student, and his wife, a homemaker.
The family of three uses the credit card for all expenses that can be made with plastic money, and in so doing, Ahmed knows exactly how much was spent every month and where the money went, which made budgeting easier.
As the primary cardholder, Ahmed could set spending limits on the supplementary cards, so the possibility of his son and wife overspending is eliminated.
But what is of greater relief to him, being the busy businessman that he is, that he does not have to worry about handing out monthly allowances to his wife and son; they simply use their credit cards and he pays the bill in one go every month.
He even uses the card to pay for his household's utility, mobile, internet and club bills every month through the Auto Billspay feature. Every month, the bills are automatically debited from his Visa Signature Card -- without his doing anything.
The combined spending of the three cards almost always exceeds the ceiling set for enjoying cashbacks and he racks up loyalty points thick and fast. The points later come in handy when the time comes to pay the Tk 10,000 annual fee for the credit card.
"The card was a lifesaver the other day. My friends came over to watch the cricket match and they wanted munchies and the househelp was away. I ordered pizza and I paid for it with the card," his son told The Daily Star.
His son, who requested not to be named, says he prefers not carrying cash with him.
"I don't have to worry about change. It is just more convenient," he added.
His wife also has an equally positive experience.
"I can buy whatever I like without having to worry if I have enough cash on me," said his wife Rowshan Ahmed.
With the credit card the items can be purchased on equated monthly instalments, meaning, instead of dropping a huge sum in one-go to acquire the product, its cost can be spread over a six-, 12-, 24- or even 36-month period, so the purchase would not be taxing on one's pocket in the end.
She has availed this facility to replace many of her household appliances, without troubling her husband.
"Thanks to the credit card, I feel I have been freed from many picayune chores," said Ahmed, adding that the card comes in handy when he goes abroad on business trips.
The card provides passenger handling service at the Hazrat Shahjalal International Airport, so one does not have to lift suitcases to check in counters or off conveyor belt when arriving.
It also gives access to airport lounges all around the world, meaning the trip starts off on a relaxed note.
Thanks to Bangladesh Bank's tripling of the limit for international online purchases to $300 per transaction last year, planning for a foreign trip has become exponentially convenient if one has a credit card.
Not only can one take advantage of the deals for hotels and air tickets but also buy entry permits to tourist attractions beforehand, doing away with the hassle of queuing up for hours at end sometimes.
The credit card also comes in handy when it comes to getting by in a foreign city: Ahmed calls an Uber ride from his mobile and the fare for the trip is deducted from the credit card.
While abroad, the option of having another payment source by way of a credit card is of great help in case of unforeseen emergencies or purchases.
Back at home, all year round, he buys subscription to acclaimed foreign publications like the New York Times, the Washington Post, the Financial Times, the New Yorker and so on, as well as books from Amazon and mobile apps from Google's Play Store to keep him informed on the latest developments in his line of livelihood.
All very well, but a credit card, essentially, means one purchases goods and services in credit to the bank, so the bill must be cleared, preferably in full every month, without fail. Otherwise, it negatively impacts one's credit score.
And here too, Ahmed has simplified matters: he has set up a standing instruction with his bank such that the full bill amount is debited every month when it is due.