Go cashless to tide through Eid expenses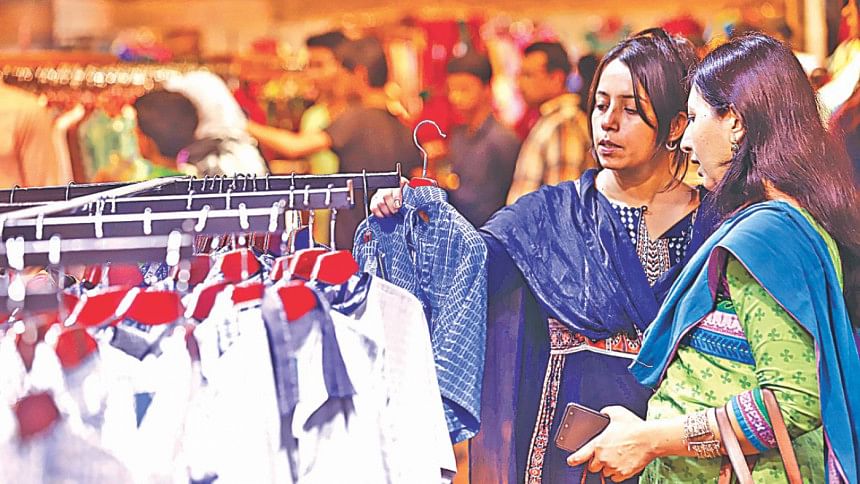 The holy month of Ramadan that crescendos in Eid-ul-Fitr is undoubtedly the dearest for people in Bangladesh.
Not only does one have to spend more on grocery shopping for Ramadan, you also have to give charity in keeping with the spirit of the month, meaning your regular expenditure sees a spike.
This is before we get to the part of shopping for Eid-ul-Fitr, which is typically celebrated with new outfits, gifts and grand feasts.
So taxing on the wallet is the month that many save throughout the year to be able to handle the expenses at ease.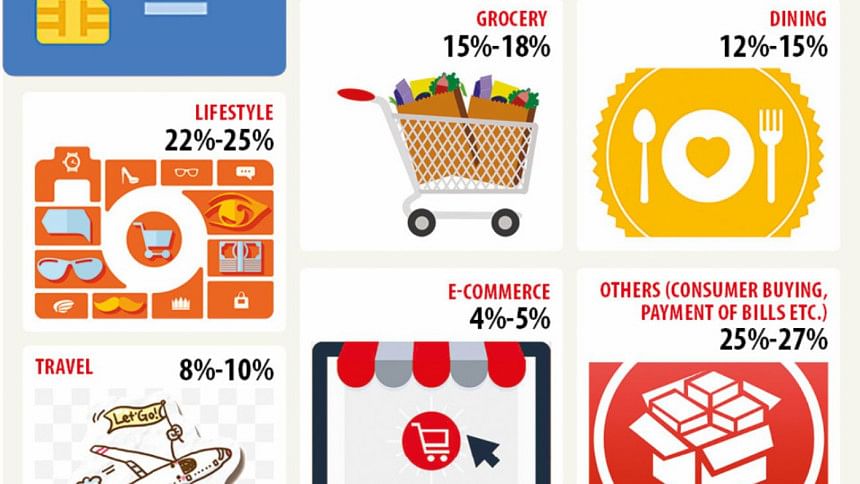 But, if one goes cashless when shopping during the month -- and throughout the year, for that matter -- one can save a pretty penny.
Almost all banks and other financial service providers have struck deals with grocery chains, lifestyle stores, restaurants, hotels and airlines that at least 10 percent discount or cashback or buy one get one free offer can be availed when paying with their cards or through their platform.
For instance, Mutual Trust Bank has come up with a number of offers to help its customers tide through the Ramadan and Eid expenses, said Anwar Hossain, head of cards division.
The bank has tied up with a host of lifestyle brands such that MTB cardholders can get up to 50 percent discount/cash back on purchases.
It has become a recent trend to eat out for iftar and suhoor and MTB has taken care of this area too: it has struck deal with as many as 60 restaurants and hotels, including five-star ones, for buy one get one free offer for its cardholders.
Similarly, City Bank has brought a vast array of offers for its cardholders in this month of Ramadan, according to Masudul Haque Bhuiyan, its head of cards division.
City Bank customers can enjoy up to 35 percent discount and cashback at more than 40 retail partners such as Astorion, Gentle Park, Gems Gallery, Bishwo Rang, Manyavar, Belmonte, Le Reve and Deligram.
There are dining discounts of up to 20 percent and buy one get one free offers too at more than 35 dining partners including Bread & Beyond, King's Confectionery, Handi, Absolute Thai, Bunka & Sky Pool of Six Seasons Hotel, Amaya of Amari, Latest Recipe of Le Méridien, Water Garden Brasserie of Radisson Blu Dhaka, The Exchange of Radisson Blu Chittagong, The Eatery of Four Points by Sheraton, and Elements of InterContinental Dhaka.
Going away for a mini break during the Eid holidays has become a trend amongst city dwellers, and City Bank has taken care of that too: it is offering 15 percent discount on base fare at Travel Booking BD and 20 percent savings on Biman Holiday.
"It's a win-win situation for both parties," Bhuiyan said, adding that City's credit card transactions soar by double-digits during the month.
Brac Bank is working on providing similar offers for its cardholders, including discounts at the ever-popular lifestyle brand Aarong.
Mastercard is running 'The Swiss Delight' campaign for the month of Ramadan and Eid-ul-Fitr, where it is offering an all-expenses paid, five-days-four-nights trip for two to Switzerland to the person who spent the most between May 1 and June 15. 
There are other exciting prizes to be won, including travel packages to other exciting locations.
All Mastercard-branded cards issued by AB Bank, Al-Arafah Bank, Brac Bank, Bank Asia, Eastern Bank, Dhaka Bank, Dutch-Bangla Bank, Mutual Trust Bank, National Bank, Prime Bank, Premier Bank, Pubali Bank, City Bank, United Commercial Bank, Southeast Bank, Standard Chartered and LankaBangla Finance will be signed up for the contest.
Cardholders will be able to earn 2 points for a retail transaction of Tk 1,000 or above.
The global financial service provider is also offering discounts at lifestyle store and buy one get one free dining offers during the period, too.
The campaign is meant to encourage cardholders to use digital payment during the biggest shopping season of the year, said Syed Mohammad Kamal, country manager of Mastercard.
Other than savings, those signed up on credit card programmes with loyalty schemes can rack up reward points thick and fast, which can be exchanged later on for treats.
The variety of benefits on credit cards during the month means it is easy to spend beyond one's means, so a little judiciousness is also advisable to not fall into a vicious cycle of debt.