A cashless society a distant dream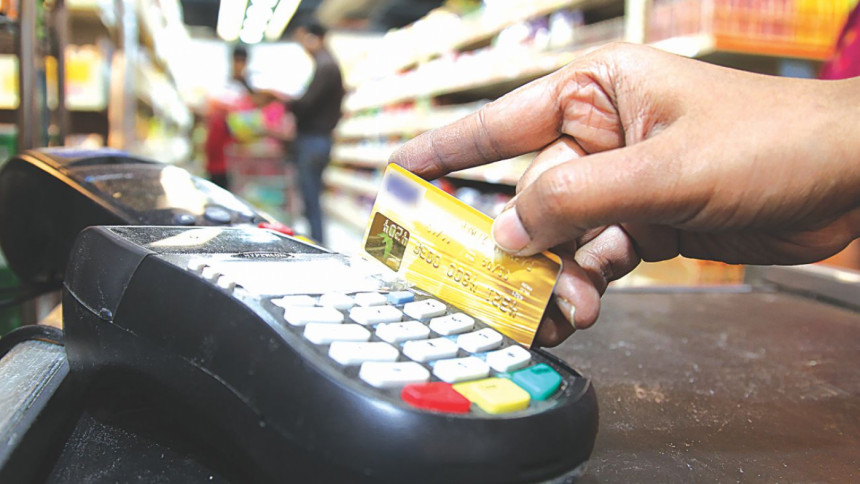 Bangladesh has a long way to go to become a cashless society as only six percent of the total transactions are now settled through the electronic mode.
In Bangladesh, going cashless indicates the use of credit and debit cards, automated teller machines (ATM), point of sale (PoS).
There are 14.66 million debit cards and 1.13 million credit cards in circulation, according to the Bangladesh Bank.
But debit card only will help in going cashless if people use it to purchase goods and services, said Mashrur Arefin, managing director of City Bank.
At present, only 2-3 percent of the debit cardholders make purchases with it.
"They mostly use it to take out cash from the ATM, which is the opposite of going cashless."
Lenders have so far disseminated credit card to only eight to ten districts, meaning the country's majority of the population are not accustomed to this mode of payment, according to Arefin.
"A strong collaboration is required among banks, mobile operators and payment service providers to give momentum to the cashless movement," he added. 
At present, only 8 percent of the utility bills and 2.6 percent of the salaries are paid through the digital platforms, according to a central bank report on "Reducing the Cash Transaction".
Mutual Trust Bank though is sanguine about changing the status quo, according to Anwar Hossain, its head of card division.
"We are working relentlessly," he said, adding that the bank has been conducting awareness programmes about the benefits of going cashless.
MTB is hopeful that cashless transactions will catch on in a big way and in the next five years will make up to 10 percent of total transactions.
The bank will promote the virtues of credit card use in every district, he said, adding that the bank has recently set up airport lounges in Chattogram and Sylhet to tempt people.
The electronic payment mode has an important role to play in making the economy vibrant as it encourages people to engage in economic activities, said the central bank report.
Considering the potential of the electronic mode of payment, for the first time in 2010 the central bank rolled out the Bangladesh Automated Cheque Processing System (BACPS), replacing the regional clearing houses, which were operated on manual basis.
Under the system, banks are now settling the inter-bank cheque within one working day instead of two to three days needed by the manual system.
In 2011, the central bank introduced the Bangladesh Electronic Fund Transfer Network that offers corporate entities to pay wages and salaries to their staff and also allows them to make bulk payment.
People can also pay utility bills, loan instalments and insurance premium through the platform.
Banks are strictly instructed not to take any additional charges for transactions settled by customers through it.
Many banks show reluctance in settling transactions through the platform due to it being free of charge, which is considered one of the major bars in popularising the service, the report said.
In 2012, the central bank set up the National Payment Switch Bangladesh (NPSB) with a view to attaining interoperability among banks for card-based and online retail transactions.
At present, the NPSB is processing interbank ATMs, POSs and the internet banking fund transfer (IBFT) transactions.
In a major move, the central bank launched the Real-time Gross Settlement System (RTGS) in 2015, facilitating safe, secured and efficient interbank payment system in a digital manner.
The system allows banks to transfer funds from one bank's account to that of another on a real-time and on gross basis.
The RTGS is designed to settle high-value (more than or equal to Tk 1 lakh) local currency as well as foreign currency transactions on real-time basis.
The central bank report recommended that the high-value ceiling be decreased to Tk 25,000 in order to popularise RTGS more. 
Prior to that, the central bank rolled out mobile financial services (MFS) in 2011, which has got huge popularity among the people from all walks of life.
Currently, MFS transactions average Tk 1,100 crore daily.
Interoperability among MFS is yet to be introduced, which has created a barrier to expanding the service further, said a BB official.