App-based wallet boosts transaction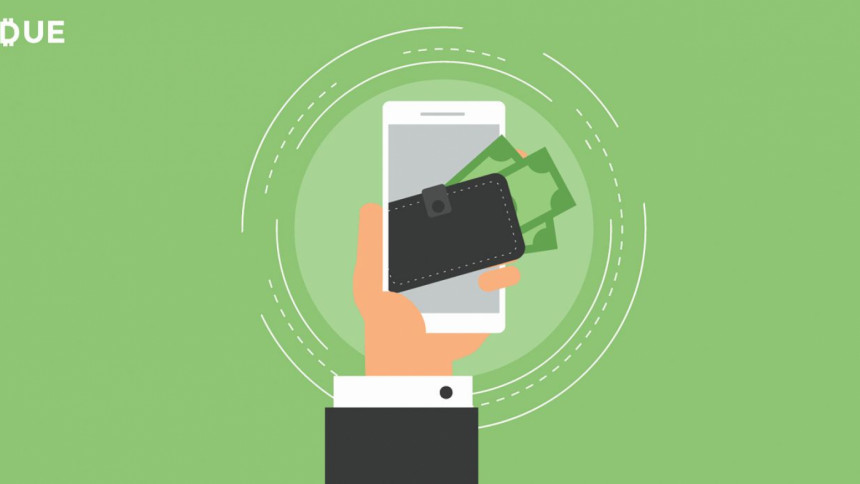 The financial industry in Bangladesh is increasingly embracing mobile application-based transaction -- a move that is gaining traction and holds the potential not only to make the country a cashless economy but also a card-less one.
More than 1 crore people currently use app to carry out transaction in Bangladesh, both in the mobile financial services segment and the banking segment, according to Abul Kashem Md Shirin, managing director and chief executive officer of Dutch-Bangla Bank Ltd.
"The growth rate of the transaction value is increasing rapidly."
Alongside the fast-expanding mobile financial services (MFS), bank cards are being used through mobile app, making carrying cards almost irrelevant.
Using cards and the MFS on apps is very convenient and this is the recent trend in the banking sector.
"People are comfortable with it. Days will come when people will only carry a smart device and all the services will readily be available on that," Shirin said. 
Customers can use Dutch-Bangla Bank's card Nexus and other cards through apps on its MFS brand Rocket. About 20 lakh customers of the private commercial bank are using it, while it is 25 percent for Rocket.
bKash, one of the largest MFS players in the world, introduced an app last year and about 50 lakh users are currently using it for regular transaction. The app channels 15 percent to 20 percent of the total transacted amount involved, said a senior official of the company.
Taking into account the services offered by other banks, the total number of customers using app-based services will definitely cross one crore, Shirin said.
"Still, there is huge room to grow as there is a vast unbanked population around us."
Industry people say carrying cash or even cards are troublesome whereas it is easy to pay bills by scanning a QR (quick response) code.
"Within the next few years, all transactions will be carried out on apps as this is the most convenient way of transaction," said Zakaria Swapan, CEO of iPay Systems Ltd, the country's first online payment service platform, which has connected all banks to its platform.
He says China is the perfect example for cashless transaction carried out through apps. "Definitely, we also need to move to that direction because of convenience and easy to use."
Swapan, who has developed his product for both app and web version, says no doubt application will lead the market and this revolution will change the whole transaction ecosystem of the country.
Recently, bKash has enabled its customers who are using the app for transaction to add money directly from any banking accounts of six commercial banks and Mastercard in a boost to the country's mobile app-based transaction.
"We are trying to make the customers transaction process easier and bring convenience and that's why we are trying to bring lots of new kind of services on our platform," said Shamsuddin Haider Dalim, head of corporate communications at bKash.
He says the instantly add money service from six banks and Mastercard helps bring comfort.
Within a short time, bKash is going to introduce another feature to allow bKash account customers to transfer money to regular banking accounts.
"This kind of service will definitely help the users and people will be interested to use mobile app," Dalim added.
bKash, which has about 3.1 crore active users, also brings lots of services such as bill payment, salary disbursement, tuition fees for schools, and merchant transaction payments.  It regularly offers huge amount of cash back to customers on various occasions.
Nagad, the latest entrant to the country's MFS scenario, is getting positive response from the market as its users are mostly using mobile app. Its majority share is held by state-run Bangladesh Post Office and it is run by a private management.
Dmoney, another digital financial service provider, has obtained licence from the central bank to link up banking accounts to phone and make online transactions through smartphone apps.
Two mobile phone operators, Grameenphone and Robi have two app-based transaction services respectively GPay and Robi Cash, which enable users to perform a wide range of payment transactions such as utility bill, train ticketing and airtime purchase.
Some new entrepreneurs are also trying to secure permission from the central bank to roll out app-based transaction platforms. PayWell and UUMOO are two of them.