Ride safe, ride smart
Motorcycle and bike-sharing services have brought some relief but safety remains a concern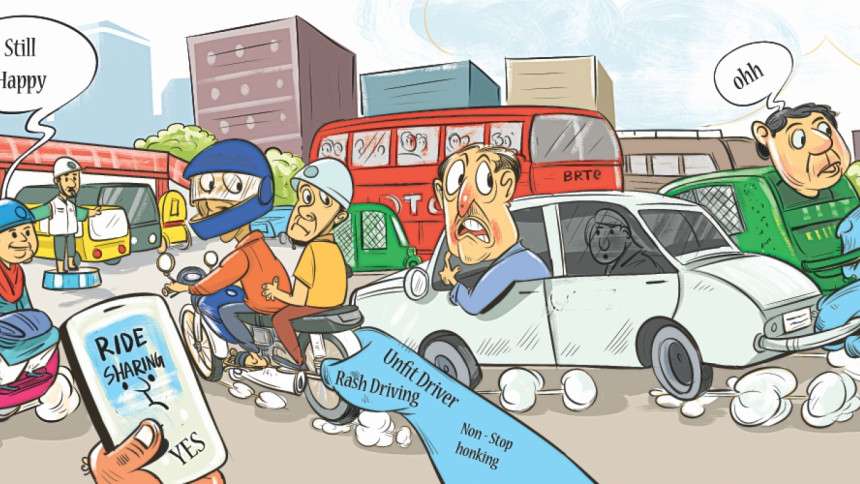 Nihad Nowsher, 26, a service holder, has to travel regularly from Mirpur, one of the most jam-packed areas of the capital. He has been using ride-sharing services for daily commute for over a year.
"Earlier, it used to take about more than half an hour just to get out of our area; ride-sharing services have brought relief to this unbearable situation. Now, on average, I can save 40-50 minutes per trip and attend my regular activities on time. It is also comfortable compared to overcrowded public transports."
Afsary Adiba Priyanka, junior manager at a private company, prefers riding her own bike. "I have been riding my bike for two years and I learnt bike-riding through YouTube tutorials. Commuting via bike saves me a lot of time and helps me maintain a balanced life," shares Priyanka.
Due to the absence of proper traffic management and adequate public transport facilities, Dhaka city dwellers continue to endure traffic jams. Traffic congestion, according to the World Bank, eats up 3.2 million working hours per day in Dhaka and average traffic speed has dropped from 21kmph to 7kmph in the last 10 years.
However, motorcycle and ridesharing services have brought some relief to this situation. As a result, the demand for motorcycle is seeing a rapid rise.
Besides faster mobility, rising income, steady growth of economy and favourable government policies that encourage local production are contributing towards the increase in sales of bikes.
 "The motorcycle market is estimated to sell approximately 6 lakh units by the end of 2019 and this market will continue to grow," informs Subrata Ranjan Das, Executive Director, ACI Motors Ltd.
The introduction of ride-sharing services has also created employment opportunities for bike riders.
Maliha Quadir, founder and managing director of the ridesharing company Shohoz.com, shares,
"Our riders are mostly students and office-goers, many of whom work part-time with us while maintaining another job. This gives them the opportunity to earn extra money without having to work under a boss or manager. Thus, they may be regarded as micro-entrepreneurs."
However, safety still remains a concern regarding bike rides.
"The accident rate of motorbikes has increased 30-40 percent from 2018 to 2019, which is alarming," opines Dr Md Mizanur Rahman, director, Accident Research Unit (ARI), Buet.
He adds that the presence of a large number of motorbikes and the arbitrary driving of bikes are factors behind higher accident rates.
"Poor driving skills raise the risks of accidents," says Prof Moazzem Hossain, a transportation and traffic engineering expert of Buet. He emphasises on strong government regulatory mechanisms to ensure that the drivers are competent.
A BRTA official opines that the motorbike-selling companies should open a road safety wing to raise awareness.
It is assuring that some leading motorcycle companies such as Uttara Motors, Rancon Motor Bikes, and ACI Motors are providing training opportunities to new bike riders.
"We always promote road safety and look to improve the overall image of bikers in the country. Our Suzuki Riding School in Tejgaon is open to the public (male and female) where riders may register and can learn the art of bike riding," shares Quazi Ashiq Ur Rahman, CEO of Rancon Motor Bikes Limited.
Maliha Quadir of Shohoz adds, "We are running a safety programme with BRAC. Even though we have limitations, like any other company, we strictly follow the guidelines provided by BRTA."