Fridge in high demand despite economic crisis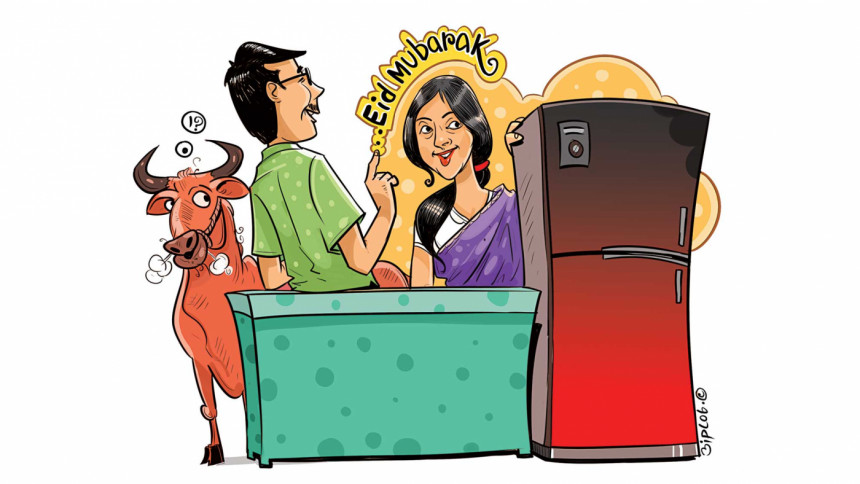 Manufacturers and retailers are hopping to see a rise in demand of refrigerators since the country is rapidly recovering from the impacts of Covid-19 pandemic.
The consumers who did not spend money in purchasing or replacing the necessary home appliances during the pandemic would buy refrigerators this year, according to industry insiders.
However, they are assuming that refrigerator sales may not hit expected levels this year due to a number of reasons, including the devaluation of the local currency against US dollars and an increase in shipping costs, according to market players.
The industry insiders say refrigerator sales usually rise ahead of Eid-ul-Azha as people require more storage space to keep the meat of their sacrificial animals.
Livestock ranging from cows and buffalos to camels and goats are sacrificed during the three-day festival, and seeing as people need a place to keep the meat, there is a roughly 40 to 50 per cent bump in sales during this period.
Besides, the surge in sales centring Eid is also propelled by various purchase offers, such as discounts, cashback and prizes.
According to the analysis of market players, refrigerator sales will remain within 25 lakhs units this year while the prediction was 28 lakh units as the economy got back to normalcy.
However, various market players said the reality of the overall financial condition of the people is not healthy due to inflationary pressure in the economy.
And so, they too have been left concerned by the 8 to 12 per cent price hike of refrigerators due to the immediate impact of the rising dollar value.
"With this backdrop, only the consumers who absolutely need a refrigerator will buy the product," said Anika Rahman, product manager (product planning of consumer electronics) at Samsung Electronics Bangladesh.
Rahman went on to say that consumers traditionally wait for Eid offers to purchase refrigerators during this period, but this year the scenario is quite different.
Although almost all companies are giving different offers to attract customers, the response has been very slow.
Local manufacturers, such as Walton Hi-Tech Industries, Vision Electronics and Minister Hi-Tech Park, cater to about 80 per cent of the domestic demand for refrigerators.
On the other hand, only 19 per cent of the market is occupied by foreign brands like Singer, Samsung, Sharp, LG, and Toshiba, according to a study by Marketing Watch Bangladesh in March last year.
The local refrigerator market has been growing rapidly for almost two decades as the usage rate is increasing at a much higher rate in rural and suburban areas compared to cities.
Rapid development of the middle and upper class is also behind the growth of the refrigerator market. 
In addition, a rise in the number of small families and female employees, sub-urbanisation process through electrification in rural areas, affordability of locally built refrigerators and buyer friendly conditions have also spurred demand.
As per the study, the refrigerator market was monopolised by foreign brands until 2010, when the market share of domestic brands was negligible.
Since 2010 however, foreign brands have been increasingly losing market share to domestic brands and as a result, Bangladesh no longer has to spend as much foreign currency on international brands.
At the same time, development in the industry has shown that the standard of living of people in Bangladesh is improving. In the five years between 2015 and 2019, the refrigerator industry has grown at an average rate of 15 per cent.
However, in the case of three categories of refrigerator products, the growth rate varies widely. For example, the growth rate of frost refrigerators is 10.5 per cent, non-frost refrigerators 40 per cent and chest refrigerators 11 per cent.
This growing demand for domestic brands is driven by the ever-increasing use of new technologies, such as automatic temperature control systems, energy-efficient inverter technology, real-time temperature displays, turbo mode, supercool mode, and so on.
Walton, Marcel and Jamuna Electronics are leading pioneers of domestic brands in using such technologies.
Rahman said there is a customer segment who prefer high-end products and their numbers will increase day by day along with the country's economic growth.
Samsung has about 41 locally assembled models of refrigerators circulating in the domestic market.
However, refrigerator prices will increase as the government proposed imposing 5 per cent value-added tax (VAT) on locally made units.
The previous VAT exemption for locally produced air conditioners, refrigerators and freezers created an interest among home appliance makers in Bangladesh as firms were increasingly setting up full-fledged facilities, cutting their reliance on assembly.
For the last decade, the National Board of Revenue has been encouraging the manufacturing of major home appliances by withdrawing the indirect tax on the required raw material imports and production.
Initially, only a few came forward to avail the benefit.
The revenue authority began to register increased applications from local electronics sellers in 2017 as they looked to stay competitive since a 15 per cent VAT waiver provided a considerable advantage in terms of pricing.
Now, 10 local companies are making refrigerators, freezers and air conditioners.
According to industry insiders, the imposition of 5 per cent VAT will create the burden on consumers as prices will increase on this basis.
"Sales are still as usual like previous years. The situation may improve within the next couple of weeks," said Manzurul Karim, general manager of Esquire Electronics, the local distributor of Japanese brands General and Sharp.
According to him, they had to adjust prices due to the increased dollar price.
Karim said the sales growth was predicted to increase by at least 25 per cent this year as the economy has recovered from the pandemic.
However, the inflationary pressure caused for a number of reasons has prevented the predicted growth as customers are not able to spend as much money on purchasing home appliances, particularly refrigerators, ahead of Eid-ul-Azah.   
Among local brands, Walton led the way in local production by setting up a manufacturing plant in 2008. In 2016, the company even started manufacturing compressors, which is a vital component for refrigerators.
Transcom Electronics, Minister, Vision, Jamuna, Singer Bangladesh, and Samsung later joined Walton as they are either locally manufacturing or assembling refrigerators. Higher electricity generation has also helped the sector grow.
Walton's manufacturing capacity has reached around 14,000 units per day in more than 200 models including all categories with prices ranging between Tk 12,990 and Tk 99,990.
Anisur Rahman Mollick, chief business officer, Walton Refrigerator claimed they have achieved around 75 per cent market share refrigerator segment in local market as they produce products for lower middle class to high end customers.
Besides, Walton offers one-year replacement guaranty, and 12 years' compressor warranty including five years after sales services at free of cost, he said.     
According to him sales growth is better than last two years while the record will not be outstanding due to ongoing reality of the economy.   
Transcom Electronics started to assemble refrigerators in 2014.
Established in 2016, Vision Electronics, a sister concern of Pran-RFL Group, manufactures 10,075 units of refrigerators annually at its factory in Palash upazila, Narsingdi.
Vision has more than 100 glass door models, spacious chest freezers, a good range of mini-fridges and all the supportive categories required in the Bangladesh market.
Korean electronics giant Samsung partnered with Fair Electronics to establish a manufacturing plant in Narsingdi in 2018. The plant has a manufacturing capacity of 400,000 units per year.
Japanese brands are not yet interested in setting up manufacturing plants in Bangladesh as the market size is not big enough for them.
The estimated size of the domestic refrigerator market in 2021 was $779 million. According to data from the Export Promotion Bureau, the value of refrigerator and equipment exports accounted for $12.263 million in FY 2021.
FACTORS BEHIND THE GROWTH OF REFRIGERATOR SALES
Rising per capita income of the people helped the industry during the last decade as Bangladesh's per capita income reached $2,824 this fiscal year while it was $781 in 2010.
The companies are providing equal monthly instalment facilities to customers, which helps increase sales as customers feel encouraged to purchase refrigerators.
The companies also appoint dealers in rural areas to reach the products to the peoples' doorsteps. For this reason, sales have increased in rural areas.
Besides, during the last one decade, the country's infrastructure development contributed to the growth in sales of refrigerators in the country as well.