Shahidullah, a linguist and language activist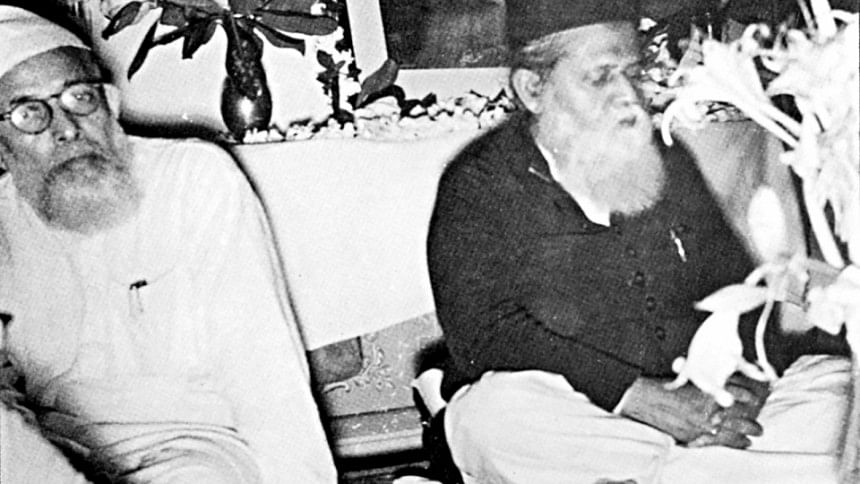 By the time Muhammad Shahidullah was old enough to begin his secondary education, he already knew five languages. Besides his mother tongue of Bangla, he not only learnt Urdu, Persian and Arabic—perceived to be the languages of Muslims—but he also became proficient in Sanskrit, the primary liturgical language of Hinduism.
While studying in Howrah Zilla School, Shahidullah met Harinath De, his teacher and mentor. Harinath De was a legendary polyglot who learnt 34 languages—20 European and 14 Indian ones—in a very short lifespan of 34 years. He successfully infused his passion for learning new languages into Shahidullah. By the end of his life, Shahidullah knew 24.
However, Shahidullah developed a special interest in learning a particular language: Sanskrit. In a society that was divided strictly along religious lines, it was very unusual for a Muslim student to have fondness for Sanskrit. When Shahidullah graduated with honours in Sanskrit, he became the university's first Muslim student to have achieved this remarkable feat.
In fact, he was so adamant about mastering this language that he went so far as to sue a Brahmin teacher at Calcutta University who had refused to teach him Vedas, a major Hindu religious text, as part of his master's course because he was a Muslim. His case stirred an uproar when Maulana Mohammad Ali, a prominent Muslim writer, penned a scathing editorial titled The Shahidullah Affair in The Comrade newspaper highlighting the discriminatory behaviour of the university. Liberal Hindu intellectuals found the conduct disturbing. Suren Banerjee, editor of The Bengali, wrote of the conservative Brahmin pundit: "Today, these orthodox pundits should be thrown into the Ganges." Calcutta University Syndicate tried to convince the teachers in vain and regretted its inability afterwards.
Later, the case ended up in Delhi High Court which eventually ruled that the university accept Shahidullah as a student in its Sanskrit programme, or create a new department to accommodate him. The university did the latter and created the comparative philology department. It was while studying in this department that Shahidullah met his old mentor Harinath De as a professor, though briefly.
He was the first student, and the only in his batch, to have received a master's degree from the department. He might not have studied Sanskrit exclusively as he had insisted, but his academic works in comparative philology allowed him to learn and study a wide range of languages and proved instrumental in his career.
Seven years later, Shahidullah joined the department as "Sarat Kumar Lahiri Research Assistant in Bengali Philology" at the request of Sir Ashutosh Mukherjee, the vice chancellor of the university who was sympathetic to him. The next year, in 1920, as part of his assignment, Shahidullah published one of his most important papers titled "Outlines of an Historical Grammar of the Bengali Language" in the Journal of the Department of Letters of the University of Calcutta. This lengthy essay was instrumental in composing subsequent historical Bangla grammar. Subhadra Kumar Sen, a professor of phonetics and linguistics at Calcutta University who wrote a book named after Shahidullah covering his life and work, observed of the paper: "This is a compact introductory essay on the principles and application of Historical-Comparative Grammar."
In 1921, when Dhaka University was founded, he joined its Bengali and Sanskrit department as a lecturer. Four years later, he shattered a popular myth that Bangla had originated from Sanskrit. He later contended that it was Gaudi Prakrit, not Magadhi Prakrit as believed by many contemporary linguists including Suniti Kumar Chatterji, from which the Bangla language had descended.
However, he did not disavow his old love Sanskrit. In 1926, he enrolled himself at University of Sorbonne, Paris where he studied Vedic (Sanskrit), Avesta (ancient Persian), Tibetan languages and comparative philology. At Sorbonne, Shahidullah had the rare privilege of undertaking research under Jules Bloch, the most prominent scholar of Indo-Aryan linguistics of that time.
By this time, Haraprasad Shastri, a fellow Sanskrit scholar and Shahidullah's teacher, rediscovered a palm-leaf manuscript of Charyapada, the earliest specimens of the Bangla language. Shastri let Shahidullah, among a few others, to study the ancient text, written in Abahattha language, an ancient form of the Bangla language we use today. Two years later, he submitted his thesis titled "Les Chants Mystiques de Kanha et de Saraha (Songs of the mystics Kanha and Saraha)", deciphering the works of two of the Buddhist poets who composed Charyapada. According to Professor Subhadra Kumar Sen, the biographer, the doctoral dissertation was Shahidullah's most significant work.
Shahidullah, in his lifetime, contributed to nearly all branches of linguistics, but his activist persona occupied a big part of his legacy. He was one of the first to demand Bangla to be the state language of Pakistan.
Soon after the creation of Pakistan, East Pakistan was dominated by questions of language. As Congress had chosen Hindi as the state language of India, Pakistani ideologues thought they should make Urdu their state language. Ziauddin Ahmed, the then vice chancellor of Aligarh University, was one of the first to demand that Urdu be made Pakistan's state language. Ziauddin's opinion was important because he was also the chairman of East Pakistan Educational Reconstruction Committee in which Shahidullah was invited to join as a member but he declined.
In response to Ziauddin's advocacy of Urdu, Shahidullah wrote an op-ed titled "Pakistan's Language Problem" in Weekly Comrade and Azadi newspapers. In this opinion piece, he detailed his arguments as to why Bangla should be made the first state language of Pakistan. He was liberal enough to propose Urdu to be made the second state language although it was not a native language in any part of Pakistan. 
"It is a mistake to think that in a state there can be only one state language... In Canada, English and French; in Belgium, French and Flemish; and in Switzerland, French, Italian and German are recognised as state languages. It would be a retrograde step to make Urdu the sole state language of Pakistan, in imitation of or out of revenge for the recent Congress decision in favour of Hindi..."
However, West Pakistani rulers did not pay heed and went ahead with making Urdu the state language of Pakistan. In fact, Muhammad Ali Jinnah, Pakistan's founder, clarified in Dhaka University Convocation the next year that, "There can be only one state language if the component parts of this state are to march forward in unison and that language, in my opinion, can only be Urdu."
His speech instantly triggered a populist outburst which culminated in the events on February 21, 1952, when, according to Shahidullah's biographer Professor Sen, "his students as he rightly observed to Sukumar Sen in a private conversation had literally and freely shed their blood for the sake of their mother tongue."
---
Nazmul Ahasan is a member of the editorial team at The Daily Star.