Aid to Trade, now Strategic Partnership: What's next?
When it comes to US-Bangladesh relationship, one naturally points to the global superpower's pro-Pakistani role during the Liberation War in 1971. Then comes the infamous tag "basket case" for Bangladesh by the then Secretary of State Henry Kissinger.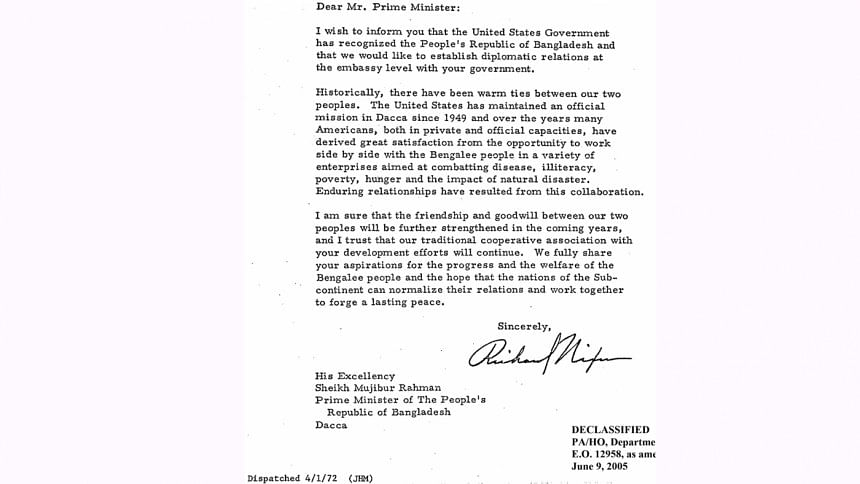 When it comes to US-Bangladesh relationship, one naturally points to the global superpower's pro-Pakistani role during the Liberation War in 1971. Then comes the infamous tag "basket case" for Bangladesh by the then Secretary of State Henry Kissinger.
Bangladesh's former ambassador to the US M Humayun Kabir said, while the US government opposed Bangladesh's independence for its global strategic position against the communist Soviet bloc, its people, especially the media and civil society, supported Bangladesh. George Harrison's "Concert for Bangladesh" in New York, which raised money for the Bangladeshi refugees, is a classic example. Many Congressmen and officials of the Nixon administration, including Senator Edward Kennedy and US Consul General Archer K Blood in Dhaka, were on the side of Bangladesh. The US also provided $103 million in humanitarian assistance for Bangladesh refugees in India in 1971.
After Bangladesh's victory on December 16, Washington, however, was quick to recognise Bangladesh on April 4, 1972. It also supported Bangladesh in getting UN membership, whereas China vetoed.
"The US believed in the doctrine of reality as Bangladesh became independent. They are very pragmatic," said Foreign Minister AK Abdul Momen.
Bangabandhu, too, was pragmatic because he had realised that the US help was required for rebuilding the war-ravaged Bangladesh, said Shariful Islam, assistant professor of International Relations at Rajshahi University, who researched US-Bangladesh relationship.
As the Prime Minister of Bangladesh, Bangabandhu met the then US President Gerald R Ford at the White House in October, 1974 and spoke of economic and food grains problems in Bangladesh and the need for a long-term plan for flood control, assistance for repayment of loans, and reconstructing the war-torn country. Ford assured food supply aid and the two countries signed an agreement.
"In the aftermath of the war, the US came forward very strongly to help the war-ravaged Bangladesh. For the first 20 years, the relationship was dominated by aid," said M Humayun Kabir, also president of Bangladesh Enterprise Institute. Food and agriculture, health, education, disaster management, women empowerment, governance, and human rights were some of the major areas of US assistance, which has amounted to some USD 8 billion as of now.
In 1980, the US provided GSP facility for Bangladeshi products to its market, facilitating development of trade. The aid-based relationship began to shift to trade in 1991 with the restoration of democracy, he said.
In the next one and a half decade, with more socio-economic progress, Bangladesh gained more importance from Washington and the relationship became more structured in 2012, when the two countries started partnership dialogues and signed the Trade and Investment Cooperation Forum Agreement (TICFA) in 2013. Dhaka and Washington now hold regular dialogues on security, defence, and comprehensive economic partnership.
The US is the biggest destination of Bangladesh's export, which is worth 7 billion dollars. Bangladesh's import from the US is worth 2 billion dollars.
Bangladesh, which saw its per capita income rise from USD 85 in 1971 to USD 2,591 in 2022, aspires to graduate out of LDC by 2026. Some 800,000 Bangladeshis live in the US and make significant contribution to their economy, society, and politics.
Dhaka has also been able to change Washington's mindset. It now considers Bangladesh as a strategic partner not only in South Asia but in the Indo-Pacific, mainly because of Bangladesh's strategic location between South and Southeast Asia, and the country's emergence of a regional leadership through BIMSTEC, Indian Ocean Rim Association, and SAARC. Bangladesh became a leader in disaster management, demonstrating important leadership in the LDC and Climate Vulnerable Forum.
"Bangladesh knows the importance of helping neighbours, such as providing Covid-19 assistance to the Maldives, or supporting Sri Lanka last year with a currency swap at the height of its cash crisis," said Peter Haas, US Ambassador to Bangladesh– in striking contrast to what Henry Kissinger once said.
At a recent international conference in Dhaka, the US Ambassador said, by committing to the peaceful resolution of its land and maritime border disputes, Bangladesh has made the Bay of Bengal an example for the world to follow. He committed to work with Bangladesh and other partners to ensure the region's seas and skies are governed and used according to international law.
While these words are encouraging, Dhaka is frustrated over some issues. Washington is yet to reinstate the GSP that was suspended following the Rana Plaza collapse in 2013. Dhaka faced a severe blow when the Biden administration slapped sanctions on RAB and seven of its former and current officials in December last year. The US also dropped Bangladesh from its Democracy Summit last year, angering the Awami League government, which has been in power since 2009.
Dhaka says RAB played an important role in combating militancy, which was a major global agenda for Washington after 9/11. Washington appreciates that but also wants Dhaka to behave more maturely, said Humayun Kabir. Following the Russian invasion in Ukraine, Washington crystalised its position – there are groups of countries: democracies and autocracies – and that it would only support the democracies.
"With the relationship becoming mature, the US now wants Bangladesh to behave maturely in every aspect – call it democracy, governance, or human rights," he said.
With that also comes the US' Indo-Pacific Strategy (IPS), as the region became the world's focus. The main objective of the IPS is ensuring open and free navigation in the seas, while also preventing any illegal and arbitrary behaviour by any countries.
Analysts say that China, going ahead with its global Belt and Road Initiative, is also in the mind of the world powers. The US, Australia, Japan, and India have a security alliance called the Quadrilateral Security Dialogue – the Quad – while Australia, UK, and US signed another military deal last year, under which US and UK will help Australia acquire nuclear-powered submarines.
As the world transitions to a new polarisation, how Bangladesh, which maintains a neutral foreign policy, will navigate has become a pertinent question, especially as it buys majority of its defence equipment from China and significantly depends on Chinese funding for its ever-increasing infrastructure demand.
Officials say Dhaka is diversifying its defence purchase to reduce reliance on China. During US Under Secretary of State for Political Affairs Victoria Nuland's visit from March 19-21, drafts of two defence deals – General Security of Military Information Agreement (GSOMIA) and the Acquisition Cross-Servicing Agreement (ACSA) – were shared with Bangladesh.
GSOMIA ensures that governments protect classified military information, while ACSA allows US forces to exchange basic support such as food, fuel, transportation, ammunition, and equipment.
Foreign Minister Momen said Dhaka is examining these agreements, and will sign for the interest of the country, if necessary, but not under any pressure.
Foreign policy analysts say Bangladesh can surely sign defence deals for strengthening its defence capacity, but in no way should go for any military alliance. They say it is natural that the US will advance geopolitical interests, but Dhaka needs to explain its priority, which is the economy. The US has provided naval ships to Bangladesh, and there is no problem in working with the US on security aspect.
"If we can engage efficiently with the US, and explain that we will need China for our economy, and not for anything else, we will be able to do that. What we need is to have creative, dynamic, and productive diplomacy," Humayun Kabir said.
"We need to thoroughly know how the great powers work, their policymaking process, the various dimensions of their work. That's how we can design our diplomacy," he said.