Stitched in time: The saga of Nakshi Kantha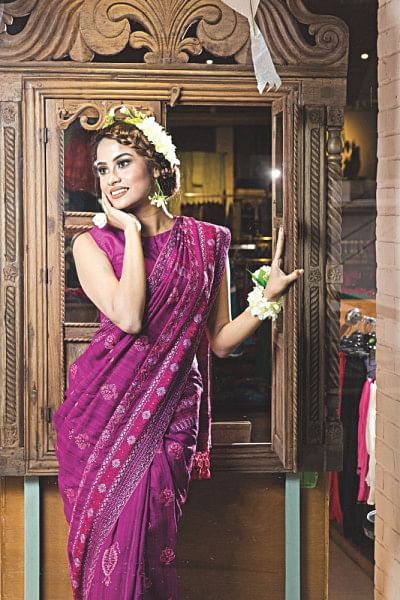 The Europeans may have lauded masterpieces of tapestry, but the iconic 'Nakshi Kantha' is a canvas indigenous to Bengal that holds a similar power to visually arrest any observer that lays their eyes upon one.
A Nakshi Kantha is an art of Bengal that speaks of tales witnessed and lived. It is an animated articulation of traditions, struggles and ways of living of rural Bengal and is no less than a testimony of the maker's self-expression. And who better to understand rural Bengal than the ordinary women who lived and breathed it? And, so, it's these women, brimming with artisanal skill and technique, who went on to make history at needlepoint with spectacular, embroidered tapestries.
Nakshi Kantha was born during a time when people knew their neighbours. The embroidered quilts come from a humble beginnings. In an attempt to stay warm in cold winter nights, or to remain snug indoors during monsoon showers, women in different districts of Bengal up-cycled soft, discarded 'dhotis' and saris by layering more and more of the old clothes to form winter quilts and coverlets.
"European markets have always pined over Bengal's cotton and silk for their finesse and quality, and after being worn, rural women saw no reason to just throw them away. Instead, they found another use for them," said author and social worker Maleka Khan — an exponent of the Nakshi Kantha heritage of Bangladesh.
"When making a kantha out of these old clothes, the layers were held together with delicate stitches made from threads drawn out from borders of old saris to bring the kantha to life. To accomplish this exact purpose, the colourful borders were torn off and put away for safekeeping, as well as taking out the threads which were wound around needles," she further said.
Rural women took to piles of old clothes sewn with drawn-out threads like an artist with a blank canvas and a paintbrush. Warm, summer days saw the nameless artisans huddled on cool 'shital patis' under shadows of pergolas lush with growing vines, while lazy afternoons screamed choruses of laughter and chatter radiating from courtyards.
After a long day of chores with nothing else left to do, the women sat down to amuse themselves by the latest circulating tale, all the while putting yet another stitch on the Nakshi Kantha they had been simultaneously working on for days, even months.
A picture may be worth a thousand words, but it's the making of the work of art that deserves all the glory. Undoubtedly, a kantha means more to the maker than to the onlooker. Rural women looked at the kantha as a medium of expression of the self and the feelings associated with donning multiple avatars of an agriculturist, a homemaker, a rearer and so on. Juggling so many counterparts found voice in a Nakshi Kantha, as the emotions were illustrated on the fabled fabrics with colours, designs, and motifs.
A Nakshi Kantha is a multiracial and a multi-religious expression. The patterns adorning a kantha will take you back as they depict chronological narratives of chariot processions, wedding rituals, and nocturnal blossoms. Typically, stitches on a kantha rhythmically follow centrepieces of conch shells, lotuses, brazen suns and wheels and the choice depends on the story the maker is trying to tell.
A mother giving her daughter away in marriage may present her with a Nakshi Kantha on her big day and choose a swastika as the focal design to wish her good fortune with every pull of the thread upon the quilt.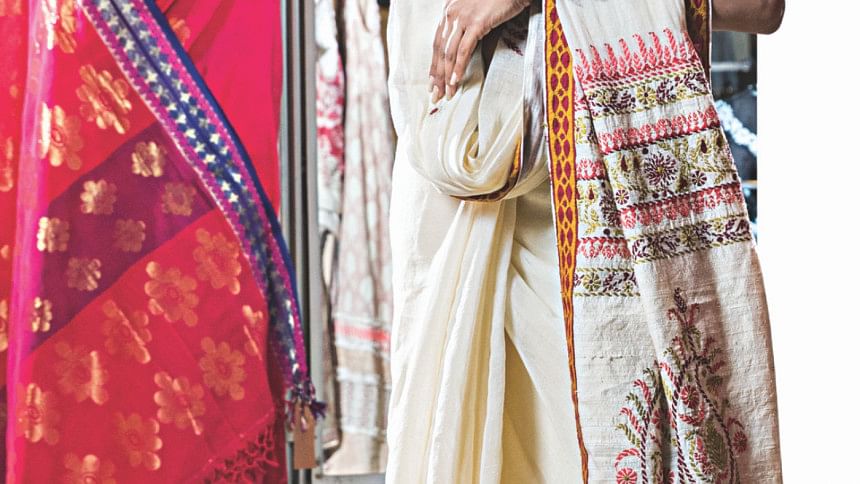 The Bengali form of baby showers involved everything being done in sevens, or in multiples of seven. In the village, this may be celebrated by gifting kanthas decorated with patterns of solar eclipses symbolising exponential growth and new life. Whatever the motif, no two kanthas are ever exactly the same. And, thus, here, the magic of a Nakshi Kantha truly lies.
When producing the masterwork that is a Nakshi Kantha, every district has its own style, particularly highlighted in the borders of the kanthas. Women of Mymensingh usually mark their kanthas with never-ending rings of diamonds mimicking warped waves along the borders, whereas makers in Faridpur leave their territorial mark with a continual string of leaves or inverted fishes on the edges, among more designs of course. Other districts famous for their own kind of kanthas are Rangpur, Jessore, and Rajshahi.
Fashioned out of need and evolving through the passage of time, Nakshi Kanthas, in all their complex simplicity, sparked inspirations, notably in Bengali folk culture's treasured poet, Jasimuddin.
Penning a gripping verse of a tragic saga, 'Nakshi Kanthar Math' (1920s), the narrative speaks of a rural woman waiting for her love to return as she creates a Nakshi Kantha by stitching her sorrows away with every threaded pattern and design. And with this tale, the world of literature was hooked, with more poets, and even minstrels following suit.
Another little known facet of the iconic Nakshi Kantha is its unsung role during the Liberation War of 1971. When tens of millions of people were forced to flee to India to escape the brutality of the war, personal belongings, or whatever remained of it, were bundled and fastened in knapsacks fashioned out of familiar Nakshi Kanthas that reminded the Bengali refugees of a comfortable and safe time. Moreover, the kantha was even used as a tool to enforce occupational therapy during the war, with Maleka Khan being one to adopt the method.
"The trauma afflicted by the Pakistani troops on the women of Bengal in '71 left them emotionally numb and physically irresponsive. It was as if their mouths were numbed and their ears deaf; nevertheless, their eyes screamed with silent tears," recounts Khan, her experience as a rehabilitator.
"After trying to initiate response many times, we finally noticed one of the girls stealing away laughter. If she can laugh, she can surely talk."
"Upon nudging her to open up, she asked for a needle and a thread, which I provided from torn borders of old saris at once. Conjuring up all her concentration, stitch by stitch and layer by layer, I stood by in wonder as she created a small kantha with a plain border and a simple design.
"This is how we eventually nursed some of the victims back to health: by engaging them in an everyday skill that allowed their subconscious minds to cope and, thankfully, overcome," said Khan while recollecting the days of the War.
Turn the clock to now, and you will see a brand new reception of the once-folk Nakshi Kantha. Lacking the recognition and support it needed to survive, let alone thrive, classic stitching techniques and motifs of the past somewhat faded in the pass-me-downs from one artisan to another. But rising like a phoenix from embers, we now have a Nakshi Kantha of the millennial that has evolved to become a connoisseur's delight, a cornerstone at art exhibitions and, more importantly, a statement of high fashion authentically rooted in Bengal. And to deliver on the demand stand fashion giants such as 'Living Blue: Best of Bangladesh.'
A high-end brand, Living Blue is a community of artisans, dyers and quilters, operating mainly out of Rangpur, specialising in authentic Bengal indigo tie-dying and Shibori (a Japanese dying technique), the fashion house prides itself on reviving old stitches and styles, particularly, the 'Lohori Kantha,' in which thick yarn is used for close pattern darning. This, eventually, exposed the humble quilts to national recognition and an international audience.
"The heart of a kantha lies in the groundwork of the fabric. With a Lohori Kantha, layers of khadi fabric and a contrast of aligned and non-aligned stitch-work creates a ripple effect like that of waves of water that can only be felt upon touching. Such is the delicacy of the quilt," elaborated Anowarul Haq, Director of Extreme Rural Poverty Programme of CARE Bangladesh (dedicated to improve livelihoods of poor people in the north), under which the textile label of Living Blue was formed.
A testament of the quilting history of Rajshahi, the iconic Lohori Kantha was looking down the dark barrel of extinction when Living Blue stepped in.
"At Living Blue, we have revived Lohori Kanthas over five years in research on product development," states Haq. "Workshops were organised and, as part of the project, we took selected quilters and craftsmen from different districts to the National Museum of Bangladesh to view antique collections of Nakshi Kanthas. Bubbling with excitement, many recognised the techniques and motifs on display to be like the ones they grew up watching their grandmothers stitch decades ago. Soon afterwards, reproductions focusing on the Lohori groundwork of a Kantha and inspired from displayed motifs with creative freedom for the artisan to incorporate his own styles were ordered," he recalls.
And that's how Living Blue now boasts their own collection of Lohori Kanthas, among white khadi quilts and cushion covers. But their arsenal has not been fully unearthed just yet.
"We took the idea of a traditional Nakshi Kantha and tried to contemporise it to master products that are ultra-modern and chic," informs Mishael Aziz Ahmad, of Living Blue.
And so, the traditional concept of a Nakshi Kantha was deconstructed to use the unique stitch work and patterns on silk scarves, stoles, pocket squares and haute couture textiles that mark high-fashion, unlike any other atelier. Such couture textiles saw the home brand collaborating with various international designers such as Anais Guery and Ombre Claire.
The striking pieces, along with the authentic kanthas spoke to customers in the USA, the UK, Germany and other European countries. It garnered an international appreciation so high that it led to Living Blue's pieces to be showcased in Berlin and Paris Fashion Weeks, and the prestigious Santa Fe International Folk Art Market.
Living Blue employs thousands of artisans from northern Bangladesh, all of whom enjoy a viable livelihood and economic stability.
"We offer a fair trade to the artisans who work for us. Besides fair wage, they get benefits like dividends, bonuses and medical insurance. Moreover, we give them enough reign and time to work on a particular quilt or textile to depict scenes and emotions that really speak of their individuality," stated Ahmad.
"This is largely why the artisans love producing what they do and we, at Living Blue, can boast quality and fine stitching reminiscent of a well-done Nakshi Kantha that once was," he reasoned.
With revitalisation in tow, local artists in rural parts of Bangladesh have found new job opportunities and more platforms to practise a craft that is Bengal's very own.
Other brands bringing back Bengal's Nakshi Kantha may be Aarong and Mayasir. Priding itself upon having the pioneering role in reviving the art of Nakshi Kantha, Aarong's modern collections of saris, sherwanis, bed covers, and framed wall hangings take inspirations from the epic quilts in the embroideries and borders. Crafted to meet urban demand, they still carry a flare of the old charm of a classic Nakshi Kantha.
Moreover, Maheen Khan, a designer worth her salt, led Mayasir to work with national heirlooms to breathe life into traditional art forms. And, in so doing, the brand experimented extensively with the-one-and-only Nakshi Kantha to launch saris in silk, chiffon silk and muslin that is sure to steal any heart that loves traditionalism and sophistication.
From discarded rags to a whole kantha, Bengal's traditional quilts will defy grammar and symmetry to tell stories confined in the deepest corners of the makers' hearts. Forgotten but revived, revolutionised although with a twist of modernism, the animated tapestries are not what they used to be. But vintage or contemporary, a Nakshi Kantha will still ignite a certain pull in your bones. It defines us as a nation and speaks of where we come from. It evokes an appreciation for the history it has made and for the one that is still in the making. And that makes it a Bengal canvas of jewels incomparable to all other.
By Ramisa Haque
Photo: LS Archive/Sazzad Ibne Sayed/Maheen Khan