Silver jubilee special
Food security: It's not only about production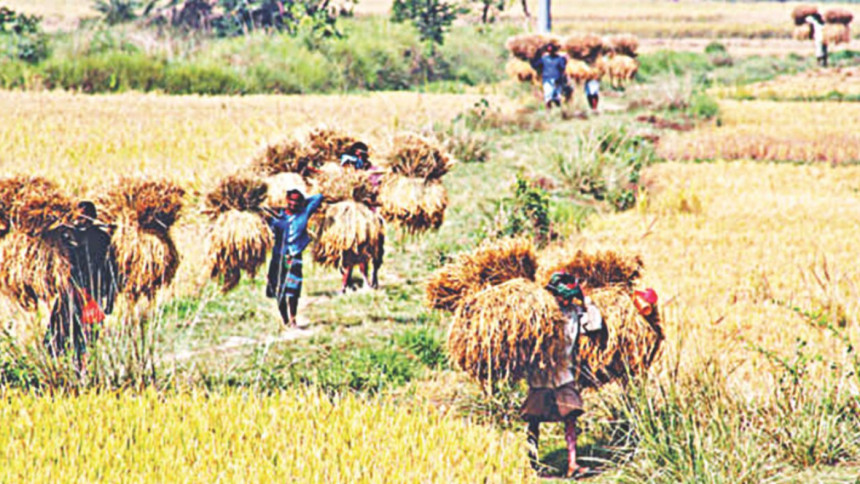 Food security exists when all people, at all times, have access to sufficient, safe and nutritious food to maintain healthy and productive lives. The key elements of food security are: (a) availability of enough food from domestic production and/or imports to meet the demand, (b) access of the food to all people at all times through enough incomes and affordable prices, (c) proper hygiene and sanitary practices and safe water for utilisation of food to have optimum impact on health and nutrition, and (d) a regulatory framework in place and its proper implementation for controlling contamination to ensure food safety.
So when we talk about food security status in Bangladesh, we need to keep in mind that it's not only about food production. Food security is a larger canvas - where production of food is definitely an important part but, that's not all of it.
Once production of food is enough to meet consumers' demand, it fulfils one criterion of food security but a whole range of other issues still remain to be addressed. Even after producing sufficient volume of food grains, system may fail ensuring its availability at all the places, all the time in a certain geographical territory, in certain market, in certain pocket. Once foods are transported, marketed and managed properly and distributed in every nook and corner, still some consumers can miss out accessing the same because of their poor buying capacity. So the question of making food available, making food affordable are no less important issues than the challenge of producing food for the people.
Besides, the full cycle of food production is equally important. Maintaining proper hygiene and sanitary practices are crucial. Unless foods are produced safe, consumers would remain exposed to unsafe food. This is a public health concern. From farm-to-fork food can be contaminated, adulterated at any stage of production, marketing, preserving and distribution cycle. Unless necessary regulatory frameworks are in place; and even if, those are in place, but not enforced than we are asking for a great public health danger.   
Right at the moment Bangladesh is a case of success as far as producing food is concern, particularly rice, the staple. But, is it safe to have food in Bangladesh remains a big question. Food contamination and food adulteration remain a nagging problem here. Thanks to 18 million farming households and their back-breaking jobs that Bangladesh today able to grow over 35 million tonnes of food grains annually, over three times higher what it used to produce back in 1971 (11 million tonnes). Unfortunately, our regulators, policy planners, and political leadership in charge of ensuring food safety governance, failed us in having access to safe food yet. Till the time we have safe and unadulterated safe food in our plates, food security will remain a far cry no matter how much we produce, how efficiently we market, how wonderfully we distribute.
At times, unsafe food is worse than no food. People can survive starvation for limited period but, may have to die from consumption of adulterated food.
We have heard enough of outdated laws such as pure food act, and heard enough of government enacting stringent, modern laws in place but any visible enforcement is yet to come by. Couple of years gone by since parliament passed safe food laws and it has been almost a year now that safe food authority is formed but public confidence on safety of food items served to their dishes is still very low. 
Over the last three/four decades, Bangladesh as well as entire South Asia has overcome the problem of food availability. All countries now have enough food for people to meet their minimum energy requirements. However many people still lack money to buy sufficient quantities of nutritious food. This is manifested in high level of malnutrition, hunger and poverty.
Rising income inequality acts as deterrent in reducing poverty, hunger and malnutrition in a faster pace. This is evident from the fact that in Bangladesh, India and Pakistan more than two out of every five children are stunted (low height for age), one in three are underweight (low weight for age), and over 15% are wasted (low weight for height). Similarly, about half of the women in these three largest countries of South Asia are suffering from anaemia.
Over the last three decades, food production and availability has increased at a good pace in Bangladesh as well as entire of South Asia. Food production grew annually by 1.2% between 1980 and 2010 regionally. This increase was attributed to the impressive performance of Bangladesh, India and Pakistan, where per capita food production increased by 1.1%, 1.4% and 1.0% respectively. While India and Pakistan are self-sufficient in the production of most food commodities, Bangladesh and Sri Lanka have also become self-reliant in production of their staple rice. As a result, South Asia's per capita food availability increased from 2,259 kcal/person/day to 2,434 kcal/person/day between 1991 and 2011.
Malnutrition, poverty and hunger have decreased in Bangladesh over the last three decades. This can be attributed to pro-poor growth policies coupled with specific educational and nutritional interventions. The government's budget allocation for the social sector has increased significantly and non-government organisations played an important role as well. Also, the country has formulated a comprehensive social safety net which has benefited the population, particularly the vulnerable ones.
The nutritional status of women has improved over the last several decades, yet disparities exist by income and social status. In 2011, nearly a quarter of women (aged 15-49 years) suffered from chronic energy deficiency (with a BMI of less than 18.5) compared to half of the women in late 1990s. Micronutrient deficiencies in iron, iodine and vitamin A are also a challenge. Though decreasing, yet anaemia among pregnant women is still high.
Thanks to farm mechanisation, agricultural technology developments, better breeding and farm subsidy and other policy supports, farmers in Bangladesh are still being able to grow more crops from fast depleting farmlands. Resources (land, water, etc.) are scarce; demand for food is on the rise thanks to an increasing population. Choice is limited here. Higher demand for housing, road-building and industrialisation is taking away fertile farmlands while challenge is getting bigger and bigger in meeting greater food demand of increasing population. Though the birth rate is stabilised yet because of an existing large population base, Bangladesh needs to grow nearly half a million tonnes of additional rice year-on-year just to keep pace with the increased number of mouths to be fed.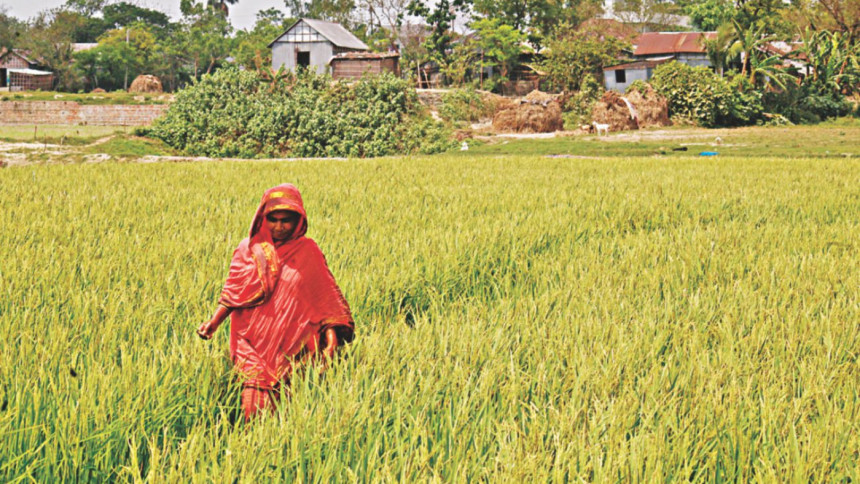 Almost 30% of the households do not own any land and another 30% own only up to half an acre. Such tiny landownership is insufficient to meet the food needs of four to five-member households, whatever advanced technology the farmer use. There has been no move, whatsoever, for any sorts of land reforms. Tenancy farming is order of the day. People who own land largely don't do farming while people who don't own land mostly do the job as lessees. Economic disparities, relative opportunity costs, flourishing non-farm sectors have got something to do about this phenomenon.     
Despite such huge challenges it's to the credit of laborious farmers and supporting farm policies that Bangladesh is being able to self-sufficient in rice production. In wheat, we're largely import-dependent but in maize growth has been fantastic over the last two decades. There has been tremendous growth in yields of potato and vegetables and rise in fish productions is quite significant as far as meeting nutritional needs is concerned. But still for the poorer section of the population, rice-centric dietary habit and serious absence of dietary diversities remain a great challenge.
Probably that explains why the number of undernourished people in Bangladesh has remained almost static in recent years despite the country's commendable improvement in food security status since 1990. Number of undernourished people stands at 26.3 million in 2015 compared to 26.5 million in 2010-12, said the State of Food Insecurity (Sofi) report-2015, a UN Food and Agriculture Organisation (FAO) flagship published annually on the eve of World Food Day (October 16).
Sofi statistics show that number of Bangladeshi undernourished people dropped from 36 million in 1990 to 27.7 million in 2000 and further down to 24.3 million in the 2005-07 period. But the pace has rather lost momentum in recent years as the number of undernourished people increased to 26.5 million in 2010-12, from which it has dropped by a mere 0.2 million now.
Undernourishment means that a person is not able to acquire enough food to meet the daily minimum dietary energy requirements over a period of one year.
Bangladesh has done well and we all know that it achieved some of the vital MDGs even ahead of time. In fact, Bangladesh is one of the forerunners in achieving the first of eight Millennium Development Goals – reducing extreme poverty rates by a half (from 58% to 29%) between 1990 and 2015.
Probably we have reached a point now that we need to identify the 'pockets' where things are not moving fast. We have to look into the areas where people lost their traditional occupations; we have to look into the vulnerabilities of elderly people; people lacking skills, differently-able persons and ethnic minorities. In order to further reduce the number of undernourished people, Bangladesh also needs to focus on people living in shoals, river-erosion areas, khas lands and saline-prone areas.
The writer is Assignment Editor The Daily Star.