Roundtable: Analytics for Public Good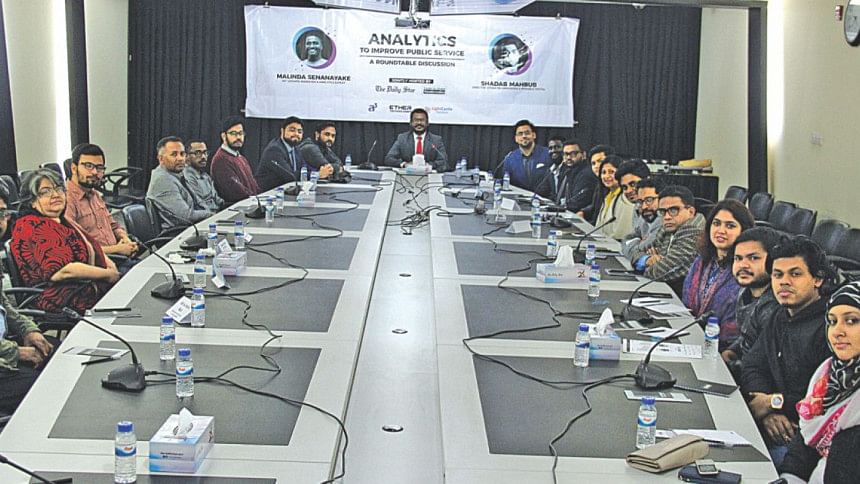 On January 18, 2018, WebAble Digital arranged "Analytics to Improve Public Service" co-hosted by The Daily Star, a roundtable discussion with public service specialists to initiate the conversation on analytics and how measuring efforts will help realise a "Digital Bangladesh" that can lead to a better quality of public service.
"Though it may sound like a daunting challenge, in reality, it could be as simple as solving for a single metric," explains Malinda Senanayake, Founder of the Analytics Movement, in his keynote presentation. "We need to implement mechanisms to monitor very simple metrics and not spend a lot of money in the process," he argued while demonstrating that the best way to improve the academic performance of school students was by monitoring their emotional engagement in the classroom with simple pen-and-paper surveys.
Amongst the roundtable speakers were Shadab Mahbub, Managing Director, Ether Technologies; Sawsan Eskander, Chief Innovation Officer, Praava Health; Jannat Adib Chowdhury, Manager, Capitalisation and External Relations, Swisscontact-Katalyst; Major SK Abu Mahadi (retd); Parveen S Huda, Project Manager, BRAC University; Rubayat Khan, JEEON; Farzeen Ferdous Alam, OGGRO Ventures; A K Osman Haruni, Senior Advisor, Food and Nutrition Security, Embassy of the Kingdom of the Netherlands; Mir Sakib, Cramstack; Mainul Hasan Alin, UniCap Securities Limited; and Nayeema Reza, Maya Apa.
The roundtable participants agreed that, as the world enters into the era of digital transformation with limited resources, one has to learn to prioritise every challenge by adopting a transparent, agile and  data driven approach to bridge the gap between policy and implementation.