Zakiya Islam's dream of battling food adulteration
Having a glimpse at the extent to which food adulteration is pervading the market would prove that food safety is a crucial issue in Bangladesh. To that end, many young people are thinking about ways to build an environment, free from the clutch of food adulteration.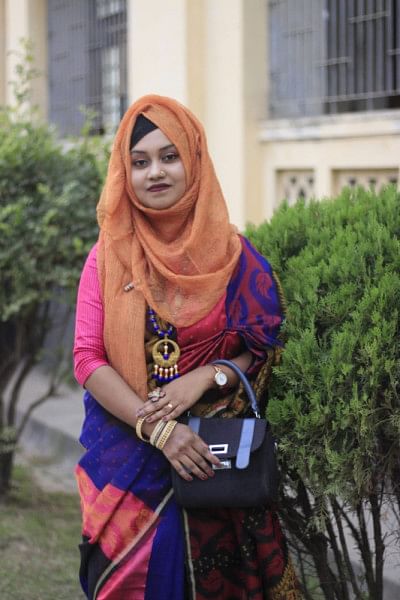 To make that dream come true, Zakiya Islam, a graduate from Sher-e-Bangla Agricultural University, aligned her career with the promise of food safety and purity.
In December 2019, Zakiya completed her graduation in Agricultural Science. She is the first and only graduate so far to secure the highest CGPA (4.0) upon the completion of her undergraduate programme in the history of Sher-e-Bangla Agricultural University. She earned a perfect CGPA in every semester. She is now doing her master's in Agricultural Chemistry at the same university.
"If you believe in yourself, anything is possible. You just have to have faith in your abilities and always strive for your best," said Zakiya when asked about the secret behind her success. "In 2015, I got admitted to the university and the same year, my father, a government employee, passed away due to cancer. I was going through a difficult time then. Despite everything, I was not distracted from my studies," she said.
Zakiya is the youngest among three siblings. In the first year of her high school, she stood first in her annual exams. She got GPA 5 in both SSC and HSC examinations from Gaibandha Government Girls' High School and Gaibandha Government College.
"I take thorough notes during lecture and go through different academic research papers and video tutorials – and I don't shy away from asking my teachers for help," says Zakiya. "I had jaundice during my first semester and due to the illness, I missed many of my classes. But I kept working hard."
Nagao Natural Environment Foundation, a Japanese institution, gave scholarships worth Tk 80,000 to each of 50 students from five universities in Bangladesh. Zakiya is one of the recipients of this scholarship. She also received the Dean's Academic Excellence Award.
"I think food adulteration with poisonous chemicals happens at a dangerous level in our country, posing a severe health threat to our next generation. I want to work on the country's agricultural development in the near future," she says.
"Without the support of my mother and teachers, I would not have been successful," concludes Zakiya.