Team Ramen represents Bangladesh in regional final
HSBC Business Case Competition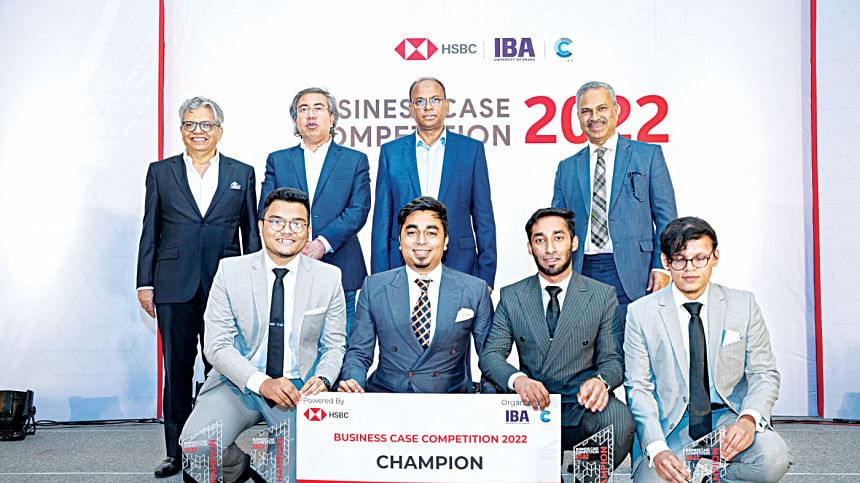 Bringing a shift in the business case format, by going from a classroom to a global competition framework, HSBC/HKU Asia Pacific Business Case Competition strengthens the traditional qualities of a case solving competition.
The competition aims to improve students' business case solving abilities, through a global perspective, while also developing future business leaders. As a result, students' career options and employability will also be widened, bridging the gap between academics and the international business communities.
This year, Team Ramen from Institute of Business Administration (IBA), University of Dhaka, won the national round and got the opportunity to represent Bangladesh in the regional finale. The team consists of Abdullah Azwad Rafeed, Afnan Faruk, Sadman Sakib Pantho and Syed Shadab Tajwar.
"The competition has been thrilling and we have learned something new each round. We have always enjoyed solving business cases and when it comes to case competitions, it does not get bigger than HSBC," Afnan shared. They formed this team of four in 2019 to compete in the intra-rounds of the HSBC-IBA Business Case Competition. Unfortunately, the team did not qualify for the national rounds back then.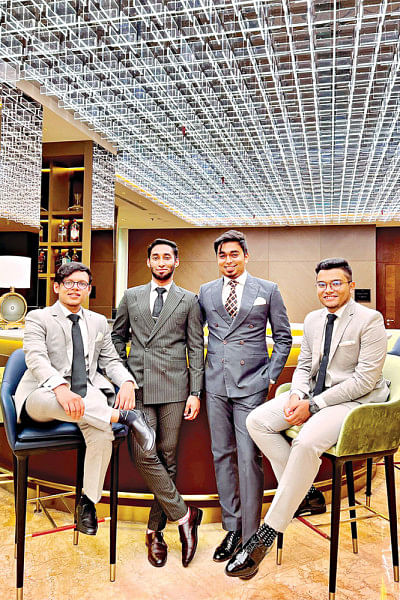 "Being able to compete in the national rounds in our final year as undergraduate students, and then going on to win it truly makes it feel like things have come full circle," added Afnan.
Team Ramen had to go through a total of five rounds, where the first two rounds were intra-rounds, where they competed against other teams from IBA. Finally, four teams qualified for the national rounds.
A total of 50 teams from over 20 universities competed in the national rounds. In each round, the teams had four hours to solve the case provided, followed by 10 minutes for the presentation. These cases covered different topics ranging from HR solutions to blockchain technology and how businesses can develop environment-friendly solutions.
In the national finale, they competed against 3 other teams from IBA and one team from Bangladesh University of Professionals. The final case featured the global fast-fashion business sensation "SHEIN". 
"It focused on the brand's growth during the pandemic and how it could potentially be a bubble. It also had concerns regarding whether its way of operating is unsustainable and if they are maintaining proper working conditions. Lastly, the case also challenged us to look into how the brand could potentially expand their business," explained Shadab.
Throughout the rounds, Team Ramen worked tirelessly to give their absolute best and were confident with their analysis and the solutions that they were proposing.
"We have always believed that this is one of the most important elements to succeeding, and it sets the tone for all of us," asserted Shadab.
The international rounds came to a conclusion on June 2, 2022. Team Ramen finished in the competition as a finalist, with the team from Shaheed Sukhdev College of Business Studies from India finishing as second runner-up and the team from University of Toronto from Canada finishing as first runner-up. The overall champion was University of Malaya from Malaysia.
Although the basic format for the international rounds was the same, the case solving duration was increased to six hours and with the presentation time being 20 minutes. Team Ramen's first-round case focused on the Chinese company WeChat Pay and how they are helping small and medium sized enterprises thrive.
Both the national and international rounds required the teams to communicate their solutions using handwritten slides, meaning they had to illustrate and write everything on a piece of A4 paper.
"This was very new to us since we have always prepared our presentations on PowerPoint, and the trickiest part was figuring out the most effective and efficient way of crafting these handwritten slides to communicate our ideas clearly," explained Sadman. He also noted this as one of the most fun parts of the competition for him.
"It is a matter of great honour for us to represent Bangladesh in any capacity on the international stage. We were initially supposed to go to Hong Kong but it was shifted online due to the pandemic. Regardless of the modality, this has been a moment of joy and pride for us," concluded Azwad.
The author is a student of IBA, DU and a freelance journalist who likes reading, scribbling, and blogging. Email: [email protected].