Team OLEEK: The national champion of Student to Startup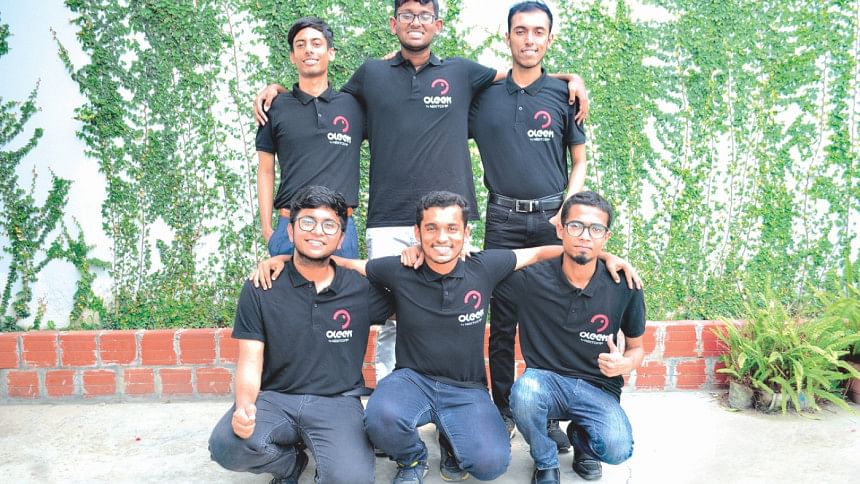 Student to Startup, held at Sheikh Hasina National Youth Centre, Savar, aims to catapult the young generation of entrepreneurs to the next level and accelerate the pace of innovation that shall lead the economy to a self-sustained path towards growth. It intends to create an accelerator and its accompanying ecosystem of entrepreneurs, investors, mentors and advisors to promote Bangladesh as a global hub for tech entrepreneurship. It also supports active collaboration of the entrepreneurs to industry, academia, financial institutions and government to stimulate innovation. Out of the 2200 teams across the nation, 120 teams from 40 different universities made it to the main event to pitch their innovative ideas. In the end, only 30 teams were selected for the grand finale.
Notable guests including State Minister for Information and Communication Technology (ICT), Zunaid Ahmed Palak, Director of Centre for Research and Information (CRI), Sabbir Bin Shams, Minister of Post and Telecommunication, Mustafa Jabbar and Director of Bangladesh Computer Council, Parthoprotim Biswas were present during the final round. The top ten teams were declared champions and each team was given BDT 10 lakhs seed funding, and would also be provided with necessities, including insightful mentorship and personal workspace at the ICT Tower.
The national champion of Student to Startup Chapter 1, OLEEK works for the development of augmented reality to create a new and improved medium for an immersive model that offers customers a wide array of mixed reality features, to ensure progress and precision in the ever-growing world of retail. "We want to play a major role in the industrialisation of our country in the coming years as we are determined to create a technological revolution powered by the youth," said their Chief Technology Officer, Khandoker Anan (Dhaka College). Their project has already received countless awards and attributes. Apart from being the national champions, the team also won the Gold Award at the Augmented Reality Planet Project, organised by Asia-Europe Foundation in 2015, for working with augmented reality; Best Project Display Award in IUT Esonance in 2017; and the Best Stall Award in Digital World in collaboration with the Education Ministry in 2017.
"When I first began the journey with my peers, we barely had any clues about developing interactive technology. We are thankful for the valuable guidance from our mentor, Azadul Haq sir, former manager of Kinder Morgan Inc and former system manager at NASA, we were able to form a great team," mentioned Chief Executive Officer Shafin Rahman Shimanta (Bangladesh University of Professionals). He further added that the primary goal was to establish their very own tech start-up. Existing social issues forced these young entrepreneurs to acquire their own identity, and during their initial days of establishment, even their families were not quite supportive as they were more worried about academic excellence.
OLEEK provides lucrative solutions in various areas including super-markets, apparel, furniture, footwear, education, entertainment, architecture and many more. Both the application and the web version are scheduled to launch online. In order to include paramount 3D graphic models and visuals, they have partnered with Cycore Studios, a leading 3D animation studio of Bangladesh. The team recently secured a place in the top 100 teams for the local final round of GP Accelerator, an initiative that empowers tech startups. The team cherishes the initiative by the government for empowering young entrepreneurs and building the perfect ecosystem for thriving ideas across the nation.