YOUNG ACHIEVER
Reigning over the hockey field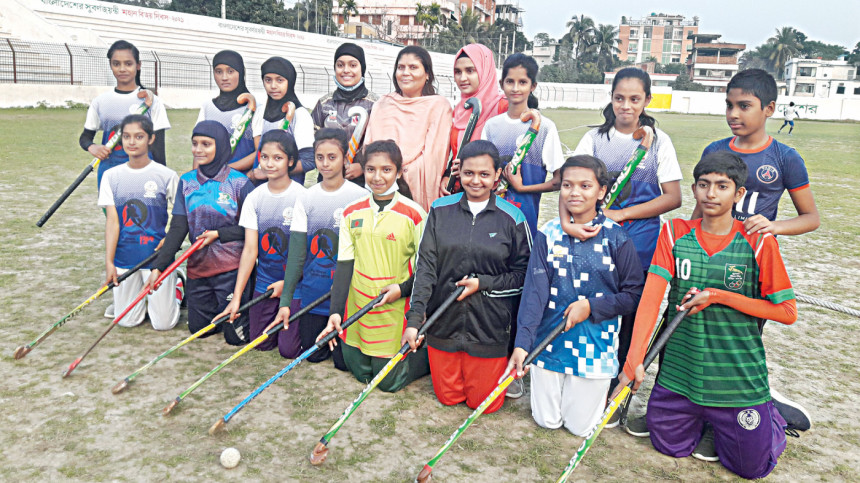 A girls' hockey team in Jhenidah has made their presence felt at various competitions. This correspondent visited Jhenidah Bir Shrestha Hamidur Rahman Stadium to talk to the players of the team. Seventeen girls were practicing under the guidance of their coach and physical instructor, Suriyea Begum, a teacher at Fazar Ali Girls' School and College.
The passionate coach formed the hockey team in 2015. Since then, after school hours, she has been training the girls at Jhenidah Bir Shrestha Hamidur Rahman Stadium. The girls won the Walton Inter-District Competition in 2016, and went on to compete at the Bangabandhu Bangladesh Games in 2021, where they were the runners-up against Narail.
Sharmin Aktar from the team is a second-year HSC student. She started playing hockey in 2015, when she was a sixth grader. She won the title of Best Goalkeeper at the Walton Inter-District Competition 2016.
Sharmin's step-father, Sahjahan Mollah works at the Ansar Battalion, while her mother runs a tea stall. The young hockey player hopes to get a job in defence in the future.
Shanta Moni, another member of the hockey team, is an eighth grader.
Her father died a few years back. Her mother, Nasima Khatun, works in an NGO.
Shanta expects to get a job in the police force.
All the girls belong to low-income families. Suriyea Begum hopes to stand by them for as long as she can. She is confident that as hockey players, they will make Bangladesh proud.