Participating in Bangladesh Youth Delegation to India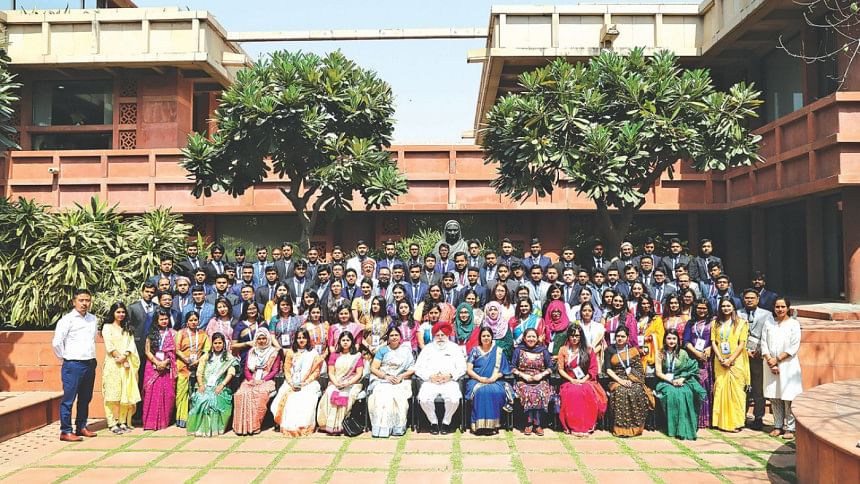 For their seventh batch, Bangladesh Youth Delegation to India, which began in 2012, selected 40 young women and 60 young men in six months. This year, I was fortunate enough to be one of the members.
I sat for an interview and joined the Indian High Commission's reception programme in Dhaka on March 27, before leaving Dhaka on March 28 for Delhi, on an eight-day tour of India. Deputy Minister of Education Mohibul Hasan Chowdhury, the captain of our national cricket team, Mashrafe Bin Mortaza, MP, and High Commissioner of India to Bangladesh Riva Ganguly Das, were the guests at the reception programme. After we reached Delhi, officials from the Ministry of Youth Affairs and Sports welcomed us at the Indira Gandhi International Airport. Political Secretary Nabanita Chakr abarti and Media-Culture Coordinator Kallyan Kanti Das from the Indian High Commission guided us during the tour. From teachers, doctors, engineers to poets, painters, dancers and journalists, the people in the team were from different professional backgrounds. 
We visited the Indian Parliament building, where the Electronics and Information Technology Minister SS Ahluwalia welcomed us. Ahluwalia, a Punjabi, spoke in Bangla with me, which was surprising. Afterwards we visited the Indira Gandhi National Center for Art, National War Memorial and India Gate too. Lalon singer Kohinur Akter Golapi and Rabindra Sangeet singer Nur-E Rajia Momo presented songs for us at a musical evening, arranged by the Ministry of Youth Affairs and Sports. At our next stop, Agra, we visited the Taj Mahal and Agra Fort, the main residence of the Mughal emperors. We also paid a visit to the historical Akshardham Temple. We further went to the National Skill Training Institute and Ramoji Film City in Hyderabad. On our last day in the city, we visited the Pullela Gopichand Badminton Academy, Salar Jung Museum and Golconda Fort. On April 4, we returned to Bangladesh via Kolkata. The tour served as a great cultural exchange between India and Bangladesh.
The author is a poet and a delegate of the 100-member Bangladesh Youth Delegation 2019 to India and the Coordinator of Daily Star Books. This article was translated into English by journalist Tarique Choyon.